iOS 5: How to Use Notification Center
Apple's iOS 5 release date is finally here today. I'm really excited to see how the new Notification Center will change one of the worst elements in iOS 5.
Android handles Notifications better than iOS 4, but Apple seems to have caught up with Notification Center – the place where you see all of your reminders, alarms, email notifications, and more.
On both the iPad and iPhone, you will see a small bar across the top of the screen when you get a notification called alerts. You can swipe down from the top and it will reveal a list with all of your notifications categorized by kind.
For example, you will see To Do reminders in one section, appointment notifications in another, and email messages in a third. Other kinds of notifications will include text messages or app messages, like We Rule reminding you that your beans are ready to harvest.
You won't be interrupted by a notification, which would previously pop-up and interrupt whatever you were doing with iOS 4. On iOS 5 the notification flashes at the top of the screen but lets you keep working. You can later swipe down to get more information or do it immediately.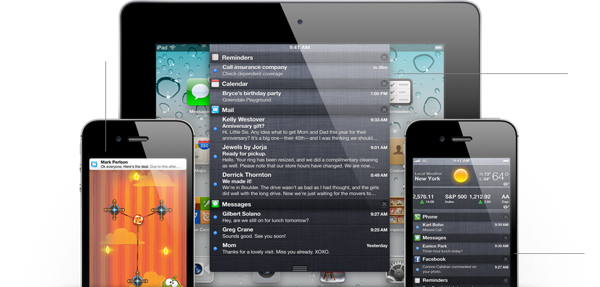 The Notification Center lets you tap each notification to go to that item. Hit the calendar entry to open the iOS calendar or the text message to open Messages.
In addition to notifications you can see weather and stocks too.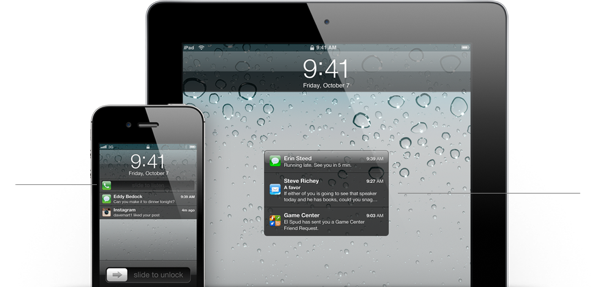 On the iOS 5 lock screen you will also see your notifications. If you get a voice mail, hit the home button and your phone will wake up. Slide the Phone app icon to quickly go to  your voice mail. Swipe other notifications to quickly deal with them as well. This way you don't have to slide the unlock button, open the app, and then deal with the notification.
The new Notification Center saves you time and actions making it simpler.
Fortunately, Apple included some user customization in the iOS 5 Settings page. If you tap Settings you can find them. The Notifications screen lets you pick which apps can use the new feature.
You can also turn the feature on or off, tell it how many times to show and whether to include Badge Icons, Previews, and how many times to repeat the Alert. If you don't want them on your Lock Screen you can turn that off too.
The style of Alerts can be changed to show them as a banner at the top, a pop-up alert like similar to the old system, or no alerts at all. To turn any of these features on or off just tapp on the On/Off icons like you see above from the iPad version.
The video below shows you how the iOS 5 Notification center works, allowing you to get subtle notifications and swipe down to view notifications when you are ready.
https://www.youtube.com/watch?feature=player_profilepage&v=LLJIef-e-7g#t=47s
This new Notification Center catches iOS up to Android. Users will find it a welcome upgrade whether you are upgrading your iPad or older iPhone or getting a new iPhone 4S when it launches Friday.

As an Amazon Associate I earn from qualifying purchases.