iOS 5 Lets You Customize Your Own Vibration Patterns
iOS 5 is going to be bringing a ton of features along with it this fall among them wireless syncing,  a notification center, deep Twitter integration, and better camera features just to name a few. In total there are around 200 new features however not all of them were touched on at WWDC and one of the quirkier ones to get discovered over the last few days is the ability to create your own custom vibration patterns.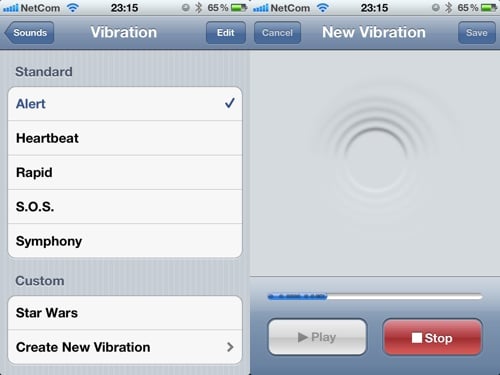 Tucked away in the Accessibility section of the settings in iOS 5, Apple has included a custom vibration center that will allow you to make your own vibrations for calls, texts, emails, notifications and so on.
While it's in there because Apple wants to "make it easier for people with mobility, hearing, vision, and cognitive disabilities to get the most from their iOS devices", it's certainly a feature that everyone will enjoy, especially those that get a lot of unwanted phone calls or hate having a ringer on.
There are several default patterns like 'Heartbeat' and 'Symphony' but the coolest part is the little pad to the left that allows you to tap out your own. So it's not an earth shaking feature, but it's just another reason to get excited about the update.
Via: MacRumors

As an Amazon Associate I earn from qualifying purchases.