iOS 6.0.1 on iPhone 5: Final Impressions and Performance
Last week, Apple released its first update for the iOS 6 operating system it rolled out back in September in iOS 6.0.1. Without any hesitation at all, I decided to install the update in the hopes that it would shore up some of the minor issues I had been experiencing with iOS 6. On Thursday, iOS 6.0.1 was working well on my iPhone 5. But how about after a full weekend immersed in the new software? Here are my final impressions of iOS 6.0.1, Apple's first iOS 6 update.
Like many others, iOS 6 brought some small issues to the table, a couple of which, for me, were extremely irritating. So, after spending a few weeks dealing with them, I was hopeful that the iOS 6.0.1 update would bring some relief and return things to normal.
As I said in my first impressions, my experience with iOS 6 has, for the most part, been a good one. There are some features like Do Not Disturb and the new Sharing functionality that I use a lot and there are some duds like Apple Maps and Passbook that I don't use at all. At least not right now. Still that's not to say that iOS 6 wasn't without its bugs.
Read: iOS 6.0.1 on iPhone 5: First Impressions and Performance.
In the weeks leading up to the release of iOS 6.0.1, I had been experiencing those pesky static keyboard issues that many iPhone 5 owners had been complaining about. I had also been experiencing issues with my Wi-Fi connection where the connection would just drop for no reason. I know I wasn't the only one annoyed with these issues and wasn't the only one hoping that Apple had noticed them.
Fortunately, it did and overall, my experience with iOS 6.0.1 is much better than the experience I had with iOS 6. So, with that, here are my final impressions of iOS 6.0.1 in terms of what it does and its performance.
Overall Performance
After using my iPhone 5 extensively with iOS 6.0.1 over the weekend, it's clear that iOS 6.0.1 does nothing to hinder the speeds and performance that I have come to love from my new iPhone. Everything still works like it should. Apps work as they did before iOS 6, the UI is fast, and I'm still able to run an assortment of applications without any kind of slow down.
One thing I've also noticed is that the hiccups that I occasionally experienced on the lock screen, where the phone wouldn't turn on and allow me to unlock the phone, seem to be fixed. I'm still not sure if iOS 6.0.1 fixed it or not but since the update, every time I hit a physical button, the screen turns on and I'm able to unlock my phone.
Battery Life
Once in awhile, with iOS updates for the iPhone 3GS, I'd see battery life either take a hit or improve after a few days of using it. In particular, one of the iOS 5 updates did quite a bit of damage to my battery life, only to see it improve with the next iOS 5 update.
With iOS 6.0.1 on my iPhone 5, I haven't noticed anything change for the better or for the worse. Battery life is still good even when using the phone on AT&T's 4G LTE or HSPA+ networks.
So, don't expect any improvements if you're experiencing any kind of battery issues. Instead, you may want to try some of our battery tips to obtain better iPhone 5 battery life.
Bug Fixes
With iOS 6.0.1, Apple promised a host of bug fixes. And as far as I can see, the company delivered on those promises.
With iOS 6, I was experiencing issues with my WPA2 Wi-Fi connection where the phone would just suddenly drop Wi-Fi and switch to 4G LTE or HSPA+. If I didn't have unlimited data, this would have been a much bigger issue. Even with unlimited data it was annoying and luckily, Apple's fix did the expected. I no longer drop Wi-Fi in my apartment.
The keyboard issues with the static lines are fixed with iOS 6.0.1, an eye sore that will never return again. My camera flash has also gone off every single time it was supposed to. So, the update fixed the issues that I had been having.
I haven't really noticed any improvements to my cellular connections though I wasn't experiencing any connectivity issues that I could see before the update.
Group Text Issues Are Better
With iOS 6, I had been experiencing an annoying issue where push notifications for group texts wouldn't appear on my lock screen. To make matters worse, they would often lock up my entire phone to the point where I couldn't even put in my passcode to unlock it and read them. With the update, I have only had this issue happen once, and it happened on the first day.
Since then, I haven't seen it. Again, as I said this may not have been a fix in iOS 6.0.1 but I haven't changed anything significant with my apps or settings in the last few days so that's the only solution that I can see at this point.
Hopefully, the good fortune continues.
Again, You Should Install It Unless…
If you aren't waiting for the iOS 6 jailbreak for the iPhone 5, install this update. It will only shore up problems that you've seen or maybe, weren't even aware of in the first place. It's a quick process, the update is less than 70MB, and it should make the experience on your iPhone 5 that much better.
Hopes for iOS 6.1
Rumor has it, an iOS 6.1 update is in the works which should prove to be more than just a bug fix update. One of the features, the ability to buy movie tickets through Siri, looks like a good one though I doubt it will convince me to use Siri more than I already do. Which is never.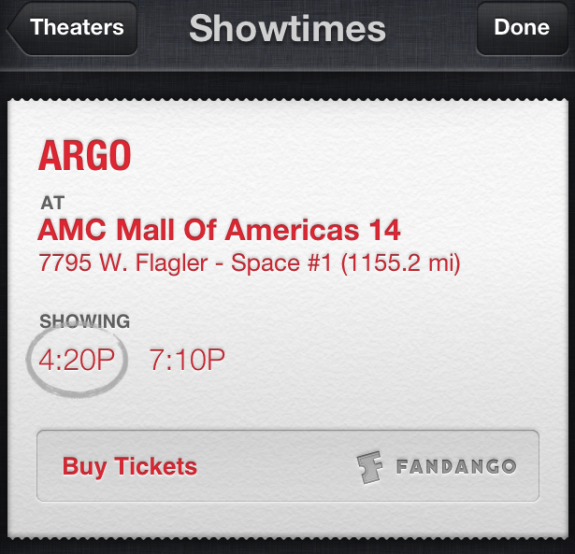 What I hope iOS 6.1 brings is some kind of feature from Passbook that convinces me to bring it out of my third Utilities folder, massive improvements to Apple Maps, and maybe some UI improvements now that Scott Forstall is out of the picture.
How has iOS 6.0.1 been treating you?