iOS 6.0.1 on iPhone 5: First Impressions and Performance
With my iPhone 3GS retired, it's time to start a new chapter of analysis today with first impressions of the iOS 6.0.1 update for the iPhone 5 which Apple released to the public a short time ago. While the update itself is far from spectacular, there are some enhancements and bug fixes that not only make this an update worth installing but a fantastic update for iPhone 5 users.
Very quickly, for those unfamiliar, I used to own an iPhone 3GS. And every time that Apple released an update, no matter how small or large, I would give users my thoughts about the update. That will continue with the iPhone 5 which is now my new go-to smartphone and one that was in need of an update from Apple after launching with iOS 6 on board.
Read: iPhone 5 Review: A Month with the New iPhone.
For the past month, I have been using iOS 6 with my iPhone 5 and so far, things have been pretty good. I'm enjoying most of the new features especially Do Not Disturb, which I use very consistently, and the new sharing options. Those in particular have stood out to me. All in all, it has been a pretty good experience, but that's not to say there haven't have been some hiccups along the way.
Like many others, I experienced a few bugs in iOS 6 that were pretty annoying, especially the Wi-Fi issue and the keyboard bug that went down every single time I went into the App Store and fired up the keyboard.
Fortunately, Apple very swiftly released iOS 6.0.1, an update that it says squashes these issues and after spending a few hours with the software, here are my first impressions of the update for the iPhone 5.
I was checking for updates when lo and behold, I found Apple had released something. But what was it? I was immediately greeted with something called "Updater for iPhone 5" which I at first thought was some kind of joke. Soon after, I realize it was all business. Apparently, there is some kind of bug that doesn't allow iPhone 5 users to download the update OTA or Over-the-Air.
Boy, That Was Fast…
After downloading this to my iPhone 5, I was then able to install the nearly 70MB update that was and is iOS 6.0.1. Unlike the installation process on the iPhone 3GS, this was an extremely fast ordeal that took no longer than 15 minutes. There were times that the download and install process took three to four times that on my iPhone 3GS, even for smaller updates. So, that was a nice change.
My iPhone 5 rebooted, as iPhones normally do after installing software updates, and I was now running iOS 6.0.1, not a large update by any stretch of the imagination but one that I was hoping would solve my issues.
Wi-FI Issues
Funny that Apple specifically mentions that it fixed issues with Wi-Fi reliability with, specifically, encrypted WPA2 Wi-Fi networks. Because I live in an apartment, this is the type of Wi-Fi network that I use.
Since the release of iOS 6, my Wi-Fi issues had been intermittent. One day, Wi-Fi would be working as normal on my iPhone 5 and other days, I'd look down and I'd mysteriously be running on AT&T's 4G LTE network. At the beginning I just attributed it to U-Verse issues but soon realized that my Android devices weren't dropping connections like my iPhone 5.
There ware also times when my connection was weaker than it should have been. Apple then seemingly acknowledged the issue and said a software fix would take care of the issues and today, so far so good with iOS 6.0.1 and its bold promise.
I've got full signal strength and it hasn't randomly dropped.
Keyboard Fix
Like many other iOS 6 users, I experienced the keyboard glitch where random horizontal lines would be displayed on my keyboard when in the App Store. Unlike the Wi-Fi issues, this was more of an annoyance than an actual issue but it's still nice to be able to go into the App Store without getting distracted by the glitch.
Pleasant Surprises
A few times, I've seen the bug where the flash of my camera would not go off. I didn't even know it was a bug, I originally thought it was user error, until I saw the changelog today.
I'm also looking forward to what Apple is saying is a fix for the iPhone where it couldn't connect to cellular networks in some instances. There have been some mornings where I'll wake up and I'll only be connected to Wi-Fi for whatever reason. That might be on AT&T's end, maybe on Apple's, I'm not sure at this point but so far, service has been stellar today.
Fix Missing?
I haven't experienced the time and date issue where the iPhone randomly resets the time and date at unannounced times and it's frustrating not to see a fix listed in the changelog. Sometimes, something small like that might not get listed so it's possible that Apple did indeed fix it, but because I haven't experienced the issue, I can't tell.
Read: Verizon iPhone 5 Date & Time Issues Frustrate Owners.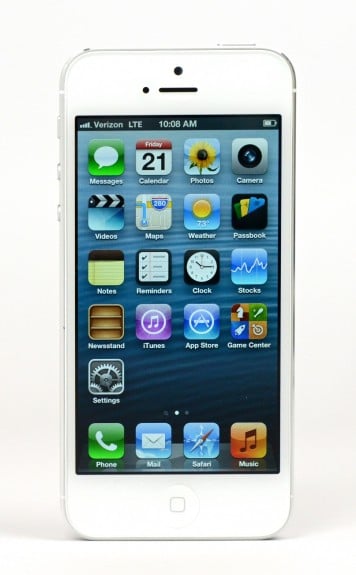 Anyone out there still seeing this issue after iOS 6.0.1?
An Issue That Still Bothers Me
An issue that I have been having with my iPhone 5 for the past few weeks, that seems to still occur here with iOS 6.0.1, has to do with group messages sent with iMessage. I get a lot of group chats with friends as I'm sure many of you do as well. Sometimes the process is smooth and I'll get notified of messages, many of them, on the home screen or lock screen.
Other times, group chats seem to lock up my iPhone 5 to the point where it's unusable. This still happens in iOS 6.0.1. If I receive a group message, it sometimes doesn't prompt on the lock screen and worse yet, it locks up my phone to the point where I can't unlock it. The screen just remains black. Then, after a few minutes, I am able to get in to find a boat load of messages.
I have fiddled with my iMessage settings for awhile and no combination of things seems to work.
Anyone else having this issue with iOS 6?
Who Should and Shouldn't Install iOS 6.0.1
I recommend this update to iPhone 5 users that aren't jailbroken. The update only seems to help matters and even if you haven't noticed these issues, there is a chance that it will make you realize that you were actually experiencing a bug. As for battery life and overall performance, good and snappy as ever.
iPhone 5 owners waiting patiently for an iPhone 5 jailbreak should wait to update to iOS 6.0.1, as there are reports it closed some security holes discussed at the recent HITB conference during a talk on iOS jailbreaking.