iOS 6.1.3 on iPad Mini Review
Apple released iOS 6.1.3 last week, delivering an updated version of the iOS 6 software that powers the iPhone, iPad and iPad mini. In this post I take a look at the iOS 6.1.3 performance on the iPad mini, to see how the iPad mini handles Apple's latest bug fixes.
Apple includes a number of fixes in each small iOS update, and with iOS 6.1.3 Apple promises to fix a lock screen issue on the iPhone and deliver map updates for Japan. But like most iOS updates, iOS 6.1.3 delivers other small fixes and tweaks not mentioned in the release notes.
Earlier this month we reviewed iOS 6.1.3 on the iPhone 5 and iOS 6.1.3 on the iPad, both of these posts can help you figure out if it is ok to install iOS 6.1.3 on your iPhone or iPad.
The iOS 6.1.3 follows several other swift updates to the iPad mini. Apple launched the iOS 6.1 update in January which brought new features like the ability to buy movie tickets from the iPad or iPhone but it also brought a number of bugs which Apple is trying to stamp out with smaller updates for the iPhone and iPad.
The iOS 6.1.1 and iOS 6.1.2 updates delivered several improvements to battery life and fixed some Exchange issues that plagued a number of users, but there are still lingering problems that necessitated an iOS 6.1.3 release. The iOS 6.1.3 release does not call attention to other bug fixes, but I noticed a slightly improved battery life on the iPad mini after the iOS 6.1.3 update.
Thanks to the earlier issues some users may be waiting to see iOS 6.1.3 performance details and battery life reports before upgrading their devices. It's possible that iOS 6.1.3 is the last small update for iOS before Apple announces iOS 7, the rumored major upgrade for the iPhone, iPad, iPad mini and iPod touch.
Fast Update to iOS 6.1.3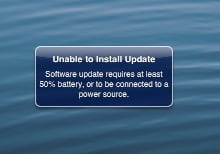 The iOS 6.1.3 update on the iPad mini was a quick download, clocking in at 17.5MB. It was easy to quickly download the update over WiFi in about 5 minutes.
The only snag I ran into while trying to update to iOS 6.1.3 on the iPad mini was the need to plug in to power to complete the update. If there is less than 50% battery life the iPad mini requires that it is plugged in to power to complete the process. This is slightly annoying considering at 46% battery life left the iPad mini is good to run another 5 hours of heavy usage.
Once plugged in it only took a few minutes for iOS 6.1.3 to install and for the iPad mini to restart and be ready for use.
iOS 6.1.3 Performance
After nearly a week of using iOS 6.1.3 on the iPad mini I am impressed with th performance of this most recent update. My iPad mini has not been afflicted with the many problems that my iPad 3 has, but I still update with caution — especially since there is no going back to an earlier version of iOS.
No WiFi Problems on iOS 6.1.3
I have trouble connecting my iPad 3 to WiFi, but the iPad mini still holds a strong and fast connection to WiFi at home and on the go. This has not changed with iOS 6.1.2 or iOS 6.1.3.
The WiFi issues of the iPhone 5 and iPad 3 appear to be hit or miss and despite several iOS devices on the home router only one consistently experiences issues.
Fast 4G LTE
I have a 4G LTE iPad mini which means I have a backup for WiFi and the ability to use it as a personal hotspot that lasts for a full day. After the iOS 6.1.3 update 4G LTE remains strong and connectivity is better than my iPhone 5, both which are on Verizon.
Sound Works Fine
iPad 3 and iPad 4 users are reporting sound issues on iOS 6.1.3, but everything is working fine on my iPad mini.
Overall Performance
The user interface on the iPad mini and the performance of stock apps like iMessage are good. There is no slow down to the overall use of the iPad mini with iOS 6.1.3 and I am not experiencing the iMessage sluggishness Adam Mills reports on the iPhone 5 running iOS 6.1.3.
iOS 6.1.3 Battery Life
iOS 6.1.3 battery life on the iPad mini is good, in fact it may be slightly improved. During the last week I used the iPad min ias a personal hotspot for 6 hours and barely registered the usage when it came time to check the battery life.
This doesn't mean there are no iOS 6.1.3 battery life issues. Some users are reporting a fast iOS 6.1.3 battery drain on the iPhone, but my iPad mini is not exhibiting any of these problems.
iOS 6.1.3 Jailbreak
The biggest drawback to the iOS 6.1.3 update is that it cuts off access to use the evasi0n jailbreak tool which offers access to Cydia and a number of great iPhone and iPad tweaks.
The iOS 6.1.3 update closed one or more of the exploits used by the iOS 6.1 jailbreak, and likely means no more jailbreaking until iOS 7 arrives.
Read: 25 Best Cydia Apps and Tweaks
Users with an iPad mini and an iOS 6.1 jailbreak should not update to iOS 6.1.3 unless they are ok with losing access to Cydia apps and Cydia themes.
Should You Install iOS 6.1.3 for iPad mini?
IOS 6.1.3 is worth downloading for most iPad mini users. There appear to be few new issues, and there is a chance that the iOS 6.1.3 update will fix things not noted in the official release notes.
The only users who should avoid this are users with a jailbroken iPad mini or users who are using an iPad mini from work that may need approval for the update.

As an Amazon Associate I earn from qualifying purchases.