Forget Everything Else, iOS 6 Needs iPad & iPhone Game Controllers
The iPhone and iPad have changed the way we game. Consoles collect more dust and the Nintendo DS has trouble keeping up with sales of the Apple's gadgets, but we could do so much more.
Playing games with on-screen controls can't compare to using a physical controller, especially for fast paced action games. It's not going to get any better as iPad games mature, offering gameplay more akin to the fast twitch style found on the Xbox 360 and Playstation 3.
Forget every iOS 6 feature I said I want from Apple at WWDC 2012, I want native support for game controllers.
iPhone & iPad Games Begging for Controllers
Case in point, the N.O.V.A. 3 trailer, shown below, which essentially brings Halo to the iPad. My first thought when I saw this trailer was, " Give me an iPad controller right now."
N.O.V.A. 3 is just one of the games begging for a controller. Grand Theft Auto III, Modern Combat 3 and Max Payne are just a few of the iPad and iPhone games that would play better with a controller.
I spent a month playing games on the iPad with a controller using the beta of the OnLive iPad app, which is still missing in action without any explanation from Apple or OnLive. The experience of playing a PC version of Batman Arkham Asylum on the iPad is truly amazing. When gamers can focus on playing instead of keeping fingers on the right part of the screen the experience changes from frustration to fun in an instant.
Current iPad and iPhone Controllers
There are no shortage of controllers for the iPad and iPhone, but there is a shortage of games that work with the controllers because there is no built-in support in iOS for game controllers to work with any game.
OnLive iOS Game Controller
The OnLive game controller works with the OnLive iPad app that still has not been approved by Apple. The controller is on sale for $50 because it also connects to Android phones and tablets where the OnLive app is available. I've played games, console quality games, on the iPad with this controller and love the experience. OnLive processes the games on servers, not on the iPad, so the iPad needs an Internet connection, but I would gladly use this controller with any iOS game if it worked.
ROAM Mobile OS Game Controller

The ROAM Mobile OS Game controller claims that it works with iOS and has a tempting $40 retail price. Unfortunately there's nowhere to buy it yet, and it is likely that the controller only works with apps that support it, instead of universal iPhone and iPad game support.
iCade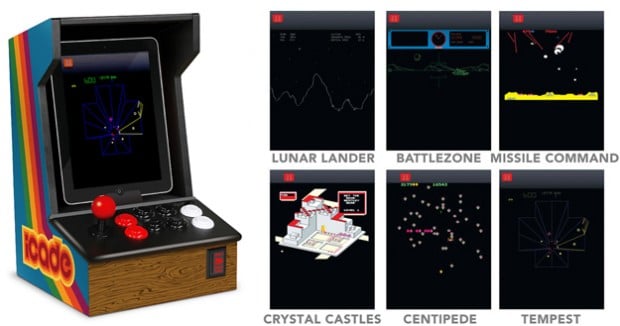 The $99 iCade game controller for the iPad isn't so much a controller as it is arcade console for the iPad, but it still counts. The iCade boasts a collection of over two dozen iPad games and hundreds of retro games that support the retro looking controller, but they are mostly arcade games, not fast paced shooters like Max Payne.
iCade Mobile
The iCade Mobile controller connects to the iPhone and iPod Touch, essentially turning it into a longer PSP shaped iPhone gaming device. The iCade Mobile is $69.99 at GameStop and other retailers.
iCade 8-Bitty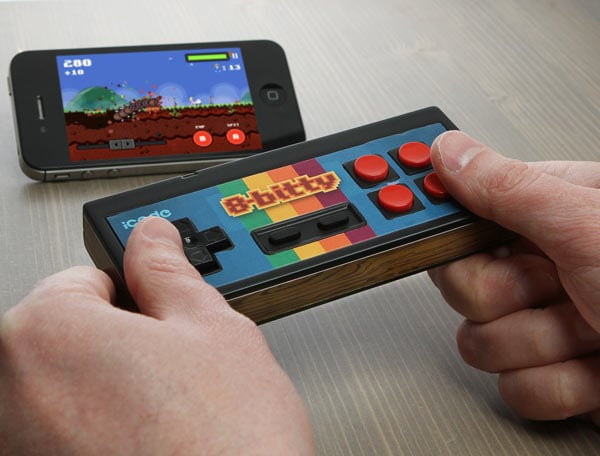 The iCade 8-Bitty is a perfect fit for playing Pac man and would be great for Mario on the iPhone if Nintendo ever woke up and released the classics for the iPhone. The 8-bitty is not available yet, but retails for $29.99 and works with the same games as the iCade.
60Beat GamePad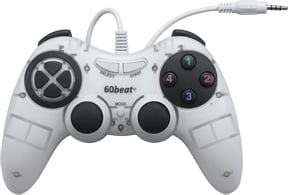 The 60Beat Gamepad uses the headphone jack to control the iPhone and iPad, but it only works with 25 games now. The controller costs $50, which is high considering the amount of games it works with and the cord.
JoyPad iPhone App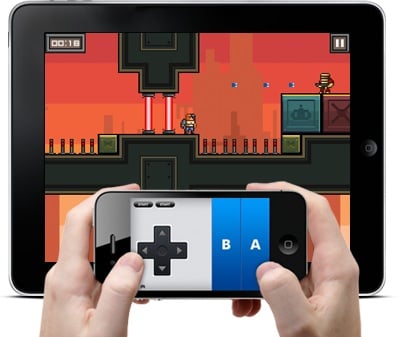 JoyPad is an iPhone and iPod Touch App that turns an iPhone into a controller for the iPad. There are still no physical buttons, but it fits well in the hand and buttons can be much larger without interfering with game play.
Apple Working on an iPad and iPhone Controller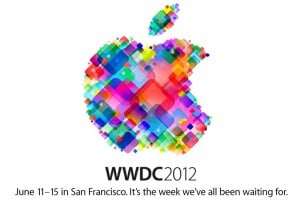 There are rumors that Apple is working on an iOS compatible controller, one that could connect to the iPhone and iPad and work natively with games.
If Apple is planning to introduce the iController at WWDC 2012 it could be the reason there is still no OnLive iPad app in the App store.
Apple has hired a number of gaming industry insiders who could be working on a physical controller for iPad games.
Read: iPhone 5 Release Date and Rumor Roundup
If Apple announces an iPad game controller at WWDC it would likely support all devices capable of running iOS 6, including the iPhone 5 and older iPads and iPhones.
Android tablets and phones running Android 4.0 already support gamepads via USB or Bluetooth, so this is one area of the smartphone and tablet race where Apple needs to catch up in 2012.
—
How much would you pay for an iPhone and iPad game controller?

As an Amazon Associate I earn from qualifying purchases.