iOS 6 Jailbreak Progress Made as Hackers Wait for iOS 6.1 Release
The iOS 6 jailbreak for the iPhone 5 and other devices appears to be close to finished as hacker @pod2g urges Apple to release iOS 6.1.
The team behind the iOS 6 jailbreak is waiting for Apple to release iOS 6.1 so the company cannot fix the exploits used as part of the iOS 6 jailbreak.
Earlier this week the team was able to discover a new exploit that lets them save an important exploit for a future jailbreak.
The urging comes days after big names in the jailbreak community join the iOS 6 Jailbreak Dream Team and @planetbeing reports progress on the iOS 6 jailbreak.
Come on Apple. Release that 6.1 now! /cc @planetbeing @pimskeks @musclenerd

— pod2g (@pod2g) January 23, 2013
The team is already in possession of an iOS 6 jailbreak for the iPhone 5 running iOS 6.0.2, but as of this week is still looking for the final pieces needed to make a public release viable.
According to @planetbeing, iOS 6.1 breaks part of the iOS 6 jailbreak, so the team is waiting for Apple to release the new version so that it does not waste any exploits.
On Reddit planetbeing reports that the team discovered a new exploit that replaces one of those the group doesn't want to burn,
pod2g discovered a vulnerability and told me about it and I tried to integrate it into my existing jailbreak code to replace one of the ones we don't want to burn. I discovered I couldn't get his to work due to some miscommunication, but in the process of trying to get his to work, I discovered a new vulnerability for doing the same thing. I did get THAT one to work and it's now integrated with the rest. :)

Unfortunately, as pod2g says, neither bug has to do with initial code injection, which we currently don't have a duplicate/backup vulnerability for at all.
Hopefully @planetbeing is talking about the exploit that lets hackers look at iOS firmware, an essential part of delivering future jailbreaks.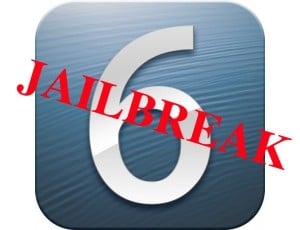 Despite reports that the iOS 6.1 jailbreak release is at hand, it is much more likely that the team will release an iOS 6 jailbreak capable of performing an iPhone 4S jailbreak that works on iOS 6.0.1 and an iPhone 5 jailbreak that works on IOS 6.0.2. By waiting for the iOS 6.1 release, the team will have a better chance of jailbreaking the iOS 6.1 firmware.
Anyone looking to jailbreak the iPhone 5 or iPhone 4S should not upgrade to iOS 6.1 until an all clear is issued by one of the members of the iOS 6 jailbreak team.
There is speculation that the iOS 6.1 release date is soon as the iOS 6.1 beta expires in a few days. Apple could choose to release iOS 6.1 at that time, or more likely a golden master version of iOS 6.1 which would allow final testing before the iOS 6.1 release to consumer devices.
Security expert Stefan Esser, aka @i0n1c, thinks we'll see a longer wait for the official iOS 6.1 release.
That said I believe there should be beta 5 and in 2-3 weeks a GM for a late Feb early March 6.1

— Stefan Esser (@i0n1c) January 24, 2013
Stay tuned for the lates iOS 6.1 release information and iOS 6 Jailbreak news.