iOS 6 Notification Hints at iBooks for Apple TV
It looks like Apple may have plans to bring the company's iBooks e-book platform to its Apple TV set. Within the developer preview for the current beta of iOS 6 at this time, if users download an iBook from the iBookstore on any supported device, a notification will pop up on Apple TV if it's tied to the same iTunes account stating that the set-top box had attempted to download the same iBooks content but that the compatible software was not found and therefore the book could not be installed.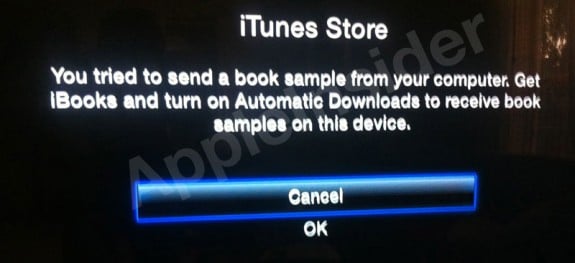 The enhanced notification for iBooks on Apple TV was first uncovered by Apple-centric site AppleInsider.
It's unclear if that was a mistake that was not filtered out for iOS 6 for Apple TV or if Apple has larger plans for its education initiative with iBooks. Reading books from afar on a large screen TV may not be the most comfortable of experience and it's unlikely that iBooks will be a direct port or mirror from the version found on the iPhone and iPad. A more likely platform for iBooks would be OS X where the app is still not yet available to Mac owners.
However, given Apple's success and push into the education segment, iBooks could evolve to a multi-screen experience within the classroom. Students could read content on the digital pages within the iBooks apps on the iPod Touch, iPhone, or iPad, and teachers could push interactive video demonstrations and content onto the TV to create a richer, multi-dimension learning experience. Digital textbook publishers can create additional content that can be pushed to an Apple TV to enhance the learning experience in e-books.