iOS 6 Now Available for iPhone, iPad and iPod Touch
iOS 6, Apple's latest update for the iPhone, iPad and iPod touch is now available for users to download.
iOS 6 brings over 200 new features to the iPhone and iPad, and offers all the same software features from the iPhone 5 to iPhone 4S owners free of charge.
The iOS 6 update is now available for users to download to their devices. For users that are running iOS 5, the iOS 6 update is available over the air. This means all users need to do is check for an update while on a WiFi connection, and follow the steps to install iOS 6.
Read: How to Update to iOS 6

Users can also plug in to their computer to use iTunes to update to iOS 6, but that's not necessary for most users.
Before updating, we recommend reading our 5 Things to Do before Upgrading to iOS 6, a guide that walks users through common issues and housekeeping to handle before an update.
The iOS 6 update will install over top of the existing iOS 5 or iOS 5.1.1 on your iPhone, and unless something goes wrong, there is no need to restore from a backup. All apps and setting should be in the same place after updating to iOS 6.
What's New in iOS 6?
iOS 6 will ship on the iPhone 5, but the software brings new features like Apple Maps to all compatible devices and adds turn-by-turn voice guided navigation to the iPhone 4S. The update also includes 40 features you'll actually care about. Siri is smarter in iOS 6, offering sports information, movie information and the ability to reserve a restaurant table.
Also, the iPad 3rd Generation gets Siri.
Top Ten iOS 6 Features
Turn by Turn Navigation in Apple Maps
Better Siri
PassBook
FaceTime over Cellular
Facebook Integration
Shared PhotoStreams
Smarter Phone App
Do Not Disturb Mode
Safari Syncing
Faster Access to Common Settings
There is really no reason to skip the iOS 6 update. Well, unless you want an iOS 6 jailbreak. For that you may need to wait a while.
iOS 6 Compatibility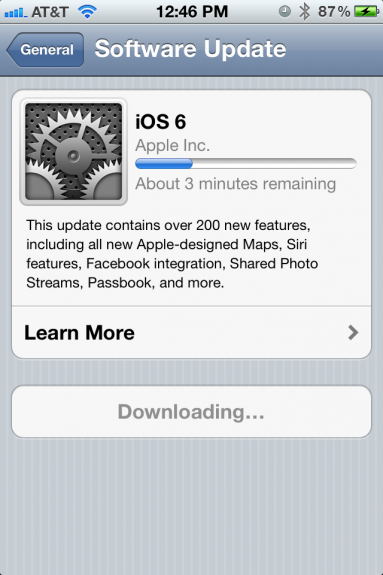 iOS 6 is compatible with the following devices.
iPhone 3GS
iPhone 4
iPhone 4S
iPad 2
iPad 3rd Gen (New iPad)
iPod Touch 4th Generation
The update server is typically slammed in the first day of updates, so users that are under a time crunch may want to wait a day or two to update to iOS 6.

As an Amazon Associate I earn from qualifying purchases.