iOS 6 on iPhone 3GS: Final Impressions and Performance
Last week, Apple finally released iOS 6 to iPhone, iPad and iPod touch owners. And as was announced at WWDC 2012, the update arrived for owners of Apple's aging iPhone 3GS, a device that is over three years old. And like a good owner, I immediately installed a piece of software from 2012 on a piece of hardware from 2009. Fortunately, I think I made the right decision.
Over the past week, I have put my iPhone 3GS through a gauntlet because I wanted to test out all of the new features and report back to all of the 3GS owners out there who may be second-guessing themselves when it comes to installing the new software.
Read: iPhone 3GS Review: Three Years with the iPhone 3GS.
I don't blame any of you for feeling that way. iOS 5 had its ups and downs and iOS 6 adds more features to a device that's now a year older. However, after spending about a week with iOS 6, I can safely say that my iPhone 3GS experience is much improved with the new software, so much so, that I could probably hold out another year for the iPhone 5S, if I wanted to.
After spending a week with iOS 6 and the iPhone 3GS, here is what I've found.
Overall Performance
Overall, I've been very pleased with the performance of iOS 6 on my iPhone 3GS. As I've said, with iOS 5, the software would often stutter when I was trying to open up applications or when I was opening up my phone after inputting my passcode. It didn't happen all the time, but there were enough times where I was sitting around waiting for the software to un-stick itself that I started to become annoyed.
Fortunately, this doesn't happen as often with iOS 6.
There are still applications that take forever to load, the camera app for instance is still extremely slow, but the slow down and choppiness is not as prevalent as it was in iOS 5.
When I tap on applications in iOS 6, then open like they are supposed to. When I move through home screens, the UI doesn't play catch up. Folders expand without lag. It's really a lot smoother than iOS 5 was for me and that's something I can really appreciate on an old phone that is running new software.
Battery Life
Over the past week, I haven't noticed any considerable dip or gain in battery life. I am still able to get my normal usage out of the iPhone 3GS which consists of around three hours of heavy use which means lots of web browsing, mail checking, Twitter tweeting, fantasy team scoping, and sports/tech news checking.
Other than that, I'm either using it to make phone calls, sending texts or reading and sending out mail.
In the time I've had it, I can't remember a day where I've had to plug it in to a charger more than once. And a few times I haven't even had to plug it in at all.
Bugs
I haven't found any catastrophic bugs yet but I still run into the occasional issue in iOS 6. I've had some apps crash, I'm looking at you Twitter app, but for the most part, things have improved. I used to get a software crash on a daily basis but over the past week, it has only happened a couple of times. I can deal with that.
iOS 6 Features I Love
Instead of breaking down each new feature in iOS 6 one by one, I thought I'd just tell you about the new features that I find to be the most useful (and most useless) thus far. It won't be the same for everyone, I know, but these are the features that I have found myself coming back to time and time again.
Upgraded Email
One thing that always annoyed me about the native Email application was the ridiculous icon for the trash and the fact that I had to tap, yes tap, to refresh my inboxes. Both of those are gone in iOS 6. Now, the trash icon is as clear as day and to refresh my inboxes, all I have to do is drag down from the top. Love that.
I also love VIP Mail. I get a lot of email and being able to easily access important email is extremely useful to me.
I used the Email app constantly before iOS 6 and I love what Apple did to it in iOS 6.
Do Not Disturb
Another feature that I find myself using quite a bit is Do Not Disturb which I turn on every night to prevent calls and notifications from waking me up during my precious sleep. iOS 6 allows be to schedule my Do Not Disturb time as well so I don't have to constantly set it. That's extremely nice.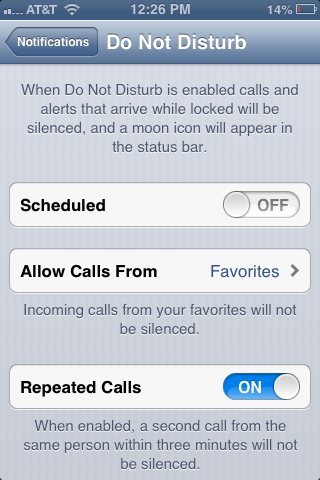 Even better is that Apple allows me to customize the feature so that I can keep my phone available in case there is some sort of emergency or my girlfriend wakes up with a spider on her face and needs to vent.
Phone App Features
One of the features I loved right off the bat was the new Phone app functionality that Apple included in iOS 6. When someone calls me, and I'm unable to take the call which is often the case, I am now able to quickly respond to that person or even remind myself to call them later. I am horrible about calling people back so the latter is extremely useful to me.
While the messages I can send through the application are generic, I still find them to be useful. Why? Because the people on the other end appreciate them. I don't like it when people think I'm ignoring them this allows me to let them know that I'm not without having to open up Messages to shoot a text.
It's simple and I love when stuff is simple.
Sharing Menu
I knew last week that the new sharing menu was going to be a feature that I depended on and over the past week, I've been using it a ton to share content with myself and with others.
It's easily accessible too and I have a feeling it's a screen that I am going to be seeing a lot of over the months to come.
iCloud Tabs
This is another one of my favorites and it's a feature that many people might overlook. Let's say I'm browsing Amazon in Safari on my browser, but I want to move to a bigger screen, I can open up Safari on my iPad, go to the iCloud Tab section and easily pick up where I left off on my iPhone.
This is great for stall surfing.
iOS 6 Features That Need Work
It's almost impossible to love every single aspect of an operating system, and iOS 6 is no different. While there are features that are extremely useful, there are also other features that were either done poorly or that I don't find myself using at all. Here are two of those features.
iOS 6 Maps
My first impression of iOS 6 Maps was positive. The new look didn't bother me, it still gave me directions, and it features some nice quirks like accidents on the road and Yelp integration.
But the more I used it, the more I realized how much I actually did miss Google Maps. The lack of native public transit information bothers me as does the lack of street view. Overall, there really is just a lack information and it's driven me to start using Google Maps through my browser to pinpoint stuff on the map.
Read: How to Get Google Maps in iOS 6.
I still Apple's Maps for directions, I haven't gotten lost yet, but when I need detail, I use Google Maps.
Like I said before, I couldn't care less about the lack of flyover or 3D, both of those are useless to me and seem gimmicky.
Passbook
Plain and simple, Passbook is going to remain useless until companies start adding passes. Yes, I can create my own passes but I really don't want to trust a third-party with that kind of information.
I wish Passbook would have been fantastic from the get-go but thus far, it's a complete afterthought.
Final Word: Should You Install iOS 6 for iPhone 3GS?
Without a doubt, I recommend installing iOS 6 for the iPhone 3GS. It offers quite a few useful features, many of them I highlighted above and while Apple's iOS 6 Maps need work, you can always head to Google Maps in your browser if you need more detailed information about the world around you.
The performance is better than it was in iOS 6 and the battery life, at least at the moment, remains the same.
All I can say is this: If I didn't buy the iPhone 5 and I had to hold out another year with iOS 6 on my iPhone 3GS, I would be more than comfortable. And I think many of you will feel the same way.

As an Amazon Associate I earn from qualifying purchases.