iOS 6 Release Date & Feature Roundup (Video)
This fall, Apple will release iOS 6, the newest version of the iOS software that runs on the iPhone, iPad and iPod Touch.
iOS 6 will bring a number of great new features to the iPhone 5 and to older iPhones like the iPhone 4S and the iPhone 4.
Apple has not revealed all of the iOS 6 features, and is likely keeping several iOS 6 features secret until the company announces the iOS 6 release date and demos new apps and technology on stage.
Check out when to expect iOS 6, hands on with the new iOS 6 features and an explanation of what the new iOS 6 features are capable of.
iOS 6 Features Video
Apple has announced a number of exciting new iOS 6 features, many of which I demonstrate in the video below. These new features are available to developers who need to make sure your favorite iPhone and iPad apps work on the new version of iOS 6 on day one, which is how we are able to provide an early look at iOS 6.
iOS 6 Release Date
Apple has not announced an official iOS 6 release date, but we expect that it will arrive a few days before the iPhone 5 release date. Apple will likely hold an event in September or October where the company announces the iOS 6 release date and shows off the new features, at least one of which will likely be an iPhone 5 exclusive.
Read: iPhone 5 Release Date Roundup
Because the iOS 6 release date is closely tied with the iPhone 5, we can use the latest iPhone 5 release date rumors to figure out the most likely iOS 6 release.
August
An August iPhone 5 and iOS 6 release date seems out of the question, but rumors still surface saying that Apple will announce the iPhone 5 as early as August 7th.
While a new leak shows what the poster claims is a functioning iPhone 5, we remain skeptical of an iOS 6 release date in August. If you want to get technical, Fall doesn't officially start until September 22nd this year.
We expect Apple will push out several more iOS 6 betas through the month of August.
September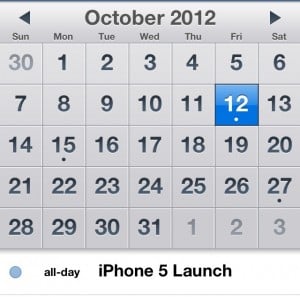 While October looked like the most likely month for an iPhone 5 release date and the launch of iOS 6, sources are increasingly talking about a September release.
Ming-Chi Kuo, an analyst with KGI, has a good track record of predicting Apple company moves thanks to sources in the Apple supply chain. Kuo believes the iPhone 5 will launch in September. French blog App4Phone singles out September 21st as the iPhone 5 release date. The sometimes on-the-ball DigiTimes also reports that production is underway for a September release date.
If the iPhone launches in Late September the iOS 6 release date could arrive in the latter half of the month. We expect to see the iOS 6 update go live a few days before the iPhone 5 hits shelves.
If the iPhone 5 really launches on September 21st, expect the iOS 6 release date to fall on Tuesday September 18th.
October
October still remains one of the most likely months for an iOS 6 release date and launch of the new iPhone 5. In addition to the yearly cycle that Apple likes to stick to, Verizon CFO Fran Shammo hinted at a release in Q4, which starts in october.
An October release gives carriers like AT&T and Sprint additional time to build up their 4G LTE networks for a possible 4G LTE iPhone 5.
While there are no specific dates leaked for an iPhone 5 and iOS 6 release date in October, the following scenarios are possible.
iOS 6 release date on October 9th and the iPhone 5 on October 12th.
iOS 6 release date on October 16th and the iPhone 5 on October 19th.
Apple will send out press invites for the launch event sometime in the coming weeks. The iOS 6 release date will follow 7-10 days after the event if Apple follows past practices.
iOS 6 Feature Breakdown
Here is a look at some of our favorite iOS 6 features, including some of the 40 iOS 6 features you'll actually use.
Much Improved Siri
In iOS 6 Siri takes on a number of new responsibilities. While Siri doesn't seem to understand me any better in iOS 6, I can do more with the service. Plus it will be on the iPad when iOS 6 arrives.
Siri can now launch apps
Tweet
Update Facebook
Check Sports scores and stats – Dodgers
Open Movie Trailers
You can also toggle Bluetooth with Siri from the Siri screen, which makes it easier to use Siri if you leave your Bluetooth headset across the room.
Do Not Disturb
Now you can set your iPhone so that it won't wake you up at night or interrupt you during a meeting.
The setting has a fail safe that allows a second call from a contact to ring if it is placed within a few minutes so that you won't miss calls in an emergency.
I've found that Do Not Disturb is a nice iOS 6 feature that I use frequently. I really enjoy the ability to set a Do Not Disturb schedule so that the features turns on and off automatically.
Reply With Message
The phone app now lets you avoid answering a call with options. I use the reply with message option most often as I can quickly send a message that I am running late or will call the person back. There are built in options and custom responses.
This iOS 6 feature also lets me remind myself to call someone when i get to work or when I get home. This uses the iPhone's GPS location and my contact information to remind me when I am at the location.
iCloud Tabs
iOS 6 ties in with Safari on Mountain Lion to deliver access to your tabs across all devices. With this feature you can see any tabs you have open in Safari on any Mac and see your iPhone tabs on the Mac.
I like that I can see all of the tabs I left open on my Mac without saving pages to a third party service. Chrome for iOS offers a similar feature for the Chrome browser.
FaceTime Over Cellular
Carriers still aren't sure if you will be able to use FaceTime over 3G or 4G LTE this fall, at least not without a fee, but Apple will build ins support for making FaceTime calls from anywhere you have a cell signal.
The quality is not as good as on WiFi, but with a 4G LTE connection this has the potential to change where you video chat and how you share your surroundings with friends an family.
Mail VIPs
If you use the built in Mail app on the iPhone, you can set VIPs, and revive custom alerts for messages from these select individuals. This is a great way to avoid missing an important email.
I normally leave email notification off, but with the new VIP option I can make sure I get an alert for a select number of senders.
Apple Maps in iOS 6
Apple told Google Maps to get lost in iOS 6 and includes a new version of Apple Maps which offers voice guided turn by turn directions and a spectacular 3D view in select cities.
The Maps app is impressive and offers nice features like telling you which side of the road your destination is on. In my testing Apple Maps guided directions are pretty close to Google Maps, though the beta has trouble at interchanges where many roads meet or when exits are right next to each other. Hopefully Apple brings improvements before the iOS 6 release date.
PassBook
The Passbook app may be Apple's first step into a digital wallet, but for now it's aimed at tickets, coupons and rewards cards.
Here are a few of the examples we could see at launch.
Apple Gift Card
Movie Tickets
Best Buy Reward Zone Card
Coupons
Apple might include a payment portion for credit cards, but if that is the case expect it to be an iphone 5 exclusive.
Shared Photo Streams
in IOS 6, you can create a new Photo Stream which is easy to share with a friend. The stream includes photos you select and doesn't expose your full Photo Stream.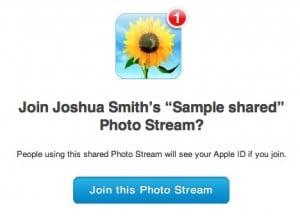 There's also an option to make the Photo Stream open to the public on iCloud.com for further sharing. This is a nice way to share trip photos or a constantly updating set of photos of your kid, pet or other interest.
Musical Alarms
A small new feature is the ability to make any of your songs an alarm. This is a handy feature for users who count on the iPhone to wake up and are sick of the Marimba alarm jarring them from slumber.
You can use any music on your iPhone. No need to purchase it from iTunes or trick your phone. Just pick form your locally stored songs.
Better Sharing
The new sharing menu in iOS 6 makes it easier to copy, share to apps and print from Safari, iPhoto and any app with a share button.
This is still not as advanced as Android' options which accommodate almost any app, but a nice improvement over iOS 6.
Redacted Feature
There is also a secret iOS 6 feature that has developers extremely excited, but Apple has not shared the details about this publicly. They will most likely reveal this secret iOS 6 feature when they announce the iPhone 5 release date and the iOS 6 release date.

As an Amazon Associate I earn from qualifying purchases.