iOS 7.0.3 Download Issues Plague iPhone & iPad Users
Today's iOS 7.0.3 update, which brings a number of improvements and fixes for iPhone, iPad and iPod touch owners, isn't available Over-the-Air for many iPhone and iPad users, forcing them to instead update through iTunes.
Earlier today, Apple started rolling out the iOS 7.0.3 update for iPhone, iPad and iPod touch, the third update to the company's iOS 7 software that rolled out last month after a lengthy beta period. The latest update is a massive bug fix update, aimed at fixing some of the notorious issues that have emerged over the past few weeks on iPhones, iPads and iPod touches across the globe.
In particular, the device aims at fixing the iMessage issue that has plagued iPhone users and a problem with profiles and filters on iPads, features that teachers depend on inside of the classroom. The update also, among other things, brings iCloud Keychain along with it. Many users were able to download the iOS 7.0.3 update right when Apple released it, however, others have encountered issues with the download process, specifically, when trying to update the software Over-the-Air.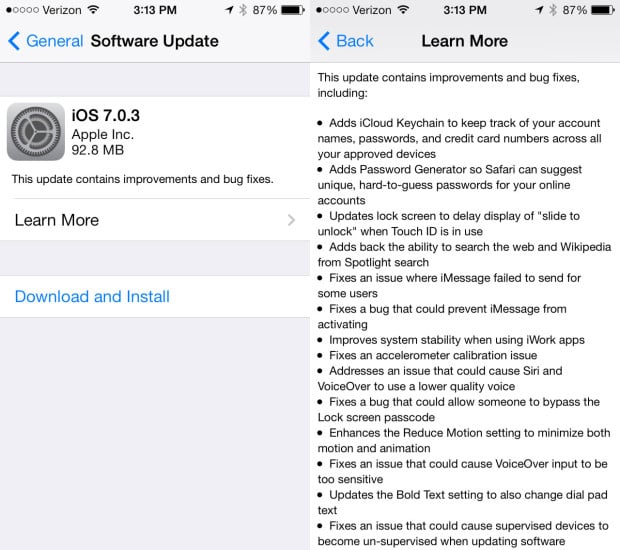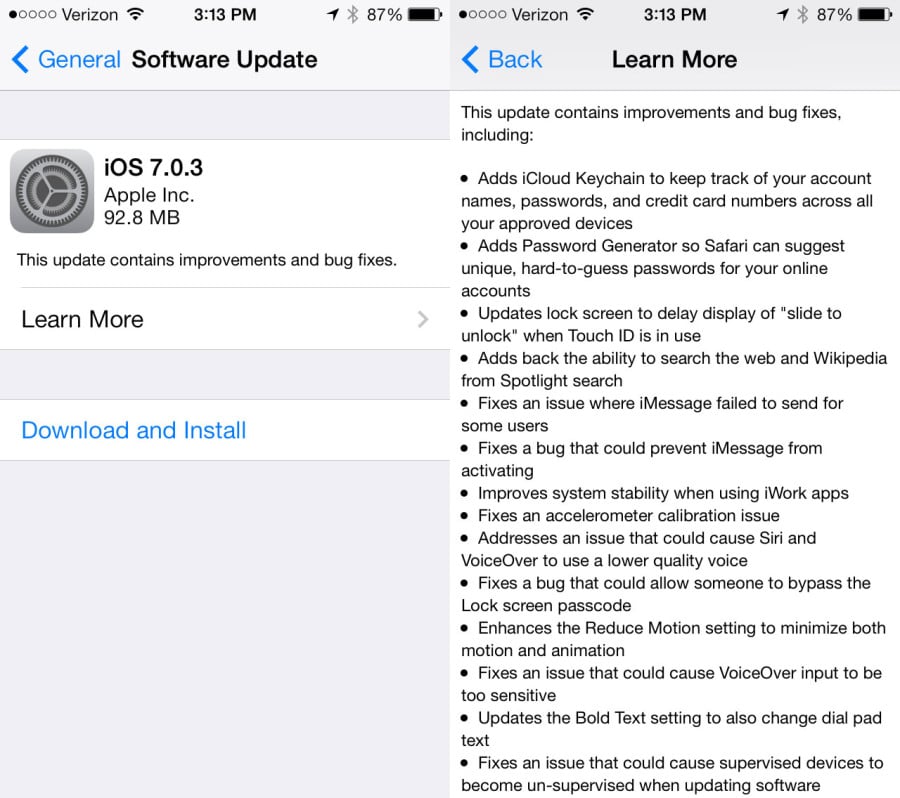 Many iPhone owners, including those on the iPhone 5s and iPhone 4s, have been able to download and install the update Over-the-Air. However, several iPhone 5, iPad 3, iPad 2 owners that we've talked to are saying that the iOS 7.0.3 update is not available to download OTA. Our own iPhone 5 and iPad 3 are still unable to install the iOS 7.0.3 update Over-the-Air.
okay iOS 7.0.3 is taking ages to show as an OTA update so just downloading from iTunes

— Jon (@MrJon92) October 22, 2013
ios 7.0.3 is out.But I can't update by OTA :(

— Pauk Lay (@dreamerlay) October 22, 2013
Can any1 in the UK get iOS 7.0.3 update? I'm having problems trying to access it thru OTA (over-the-air) #iOS7 #ios7.0.3 #Apple

— Robbie Gardner (@spike18_06) October 22, 2013
It's not clear what's going on but there doesn't appear to be any temporary fix for the problem. Instead, owners are simply going to have to go old fashioned and update through iTunes by directly plugging into a computer. For those that don't have access, that likely means waiting a few hours in order to gain access. For others, it may prove even more difficult.
By no means is this on the same level as the iOS 7 download issues that plagued iPhone and iPad owners back when iOS 7 was first released but it's an annoying issue nonetheless and one that has frustrated those that aren't near a computer.
Those who are thinking about installing an iOS 7 jailbreak may want to hold off on the update, at least for now, as jailbreak developers have not yet given the go ahead.

As an Amazon Associate I earn from qualifying purchases.