iOS 7.0.3 on iPhone 5: Impressions and Performance
While most of Apple's spotlight was shone upon the new iPad mini 2, iPad Air, MacBook Pro and OS X Mavericks, the company also rolled out a big time iOS 7 update today in the form of iOS 7.0.3, an incremental update for iPhone, iPad and iPod touch owners. The update is the biggest update to iOS 7 since its release last month and for the past few hours, we've been digging into the iOS 7.0.3 update on the iPhone 5.
Today's launch event was supposed to be a big deal for Apple users across the globe and it was. The company announced two brand new iPads, confirmed a free OS X Mavericks upgrade for Mac users, offered up Mac Pro release date and pricing details and finally showed off its new MacBook Pro. There had been rumors of an iOS 7.0.3 or iOS 7.1 update but the event ended without any talk about iOS 7 updates, causing many iPhone and iPad owners disappointment.
Apple had promised an iOS 7 update by the end of the month, an update aimed at tackling several major issues plaguing its mobile users. In particular, a widespread iMessage issue that forced many iPhone owners to switch to text messages. And with the event over, it looked like Apple would wait until later in the month to roll out its new software. Apple isn't known to make promises it can't keep.
A short time after the event, Apple quietly rolled out iOS 7.0.3, a brand new update to the iOS 7 operating system and one that we consider to be the biggest since the arrival of iOS 7 itself. The update, which is available for iPhone, iPad and iPod touch, promises fixes for a number of issues including the iMessage problem that has been going on for several weeks now.
We've spent some quality time with Apple's latest and greatest and here, we want to share our thoughts and impressions about the iOS 7.0.3 update for the iPhone 5.
Installation Issues
When iOS 7 first rolled out, I, like many iPhone 5 owners, encountered some nasty installation issues that prevented me from installing iOS 7 right away. I ran into some iOS 7.0.3 installation issues right off the bat, but instead of a lengthy headache, they only produced a temporary one.
When I fired up my iPhone 5 to install the iOS 7.0.3 update, it didn't show up, even though several of my colleagues and friends were able to download the update Over-the-Air, no problem. For reasons that are still unexplained, my iPhone 5 and iPad 3 never saw an OTA prompt. iOS 7.0.2 was listed as the most current version of iOS 7.
I tried a couple of things, shutting the device down, toggling Wi-Fi, and more. Still didn't work. So, I was forced to use iTunes, an application that doesn't even reside on my app tray. Sure enough, iTunes showed me an iOS 7.0.3 update available to download. The installation process was a little longer than the iOS 7.0.2 update and overall, from start to finish, it only took about 10 minutes to finish. Combined with the OTA problems, it took about 30 minutes.
Overall Performance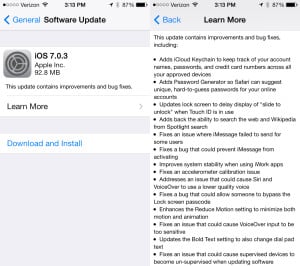 Once iOS 7.0.3 was installed, I was able to dig into the largest update yet to the iOS 7 operating system. And fortunately, I am glad to report that the overall performance is looking remarkably good. The overall operating system seems much faster than iOS 7.0.2 and iOS 7 and that could be because Apple has improved the transitions and animations. It feels more fluid.
I'm not going to get too excited just yet though. iOS software typically take some time to settle down and show its true colors, for better or worse, so it could be that my experience gets worse in the next few days. I am hopeful that it won't.
Battery Life
At this point, battery life seems to be fine. I'm not experiencing any abnormalities when using the phone over Wi-Fi or LTE and for the time being, it looks like the status quo. Again, this is something that could certainly change as the days go on but at this point, I am not experiencing anything unusual. I should point out that I haven't seen any major battery drain issues with iOS 7 so I can't say if the update fixed the issues that owners were evidently experiencing with the previus updates.
Bugs
iOS 7.0.3 is a massive bug fixer, shoring up everything from the lock screen flaw to improvements to Siri's voice quality to a fix for the quality of VoiceOver input. It's iOS 7's first big bug fix. However, even bug fixes can bring bugs with them and there is a chance that iOS 7.0.3 issues could arise over the next few weeks. At the moment though, I haven't found anything catastrophic on board.
Software is rarely flawless so I'm sure I'll stumble into something down the road but at this point, there is nothing that has hindered by experience or prevented me from performing my usual routine. Instead, things have seemingly improved.
Connectivity
I haven't experienced any Wi-Fi or 4G LTE issues with iOS 7 or iOS 7.0.2 so I can't speak to whether or not this update fixes some of the issues that owners have been having with Wi-Fi. What I can say though is that connectivity on my iPhone 5 remains strong, whether it's a Wi-Fi network or if it's AT&T's 4G LTE network. Both are working fine after the update.
iMessage Problem Solved
While the iMessage issue didn't plague all iPhone owners, it was far more widespread than I originally though. At first, I thought it was just my connection playing tricks on me, but then I learned that it was a serious issues affecting a ton of iPhone owners after the iOS 7 and iOS 7.0.2 updates. My experience with the issue, I was unable to send iMessages to friends but was able to receive them, started after iOS 7.0.2.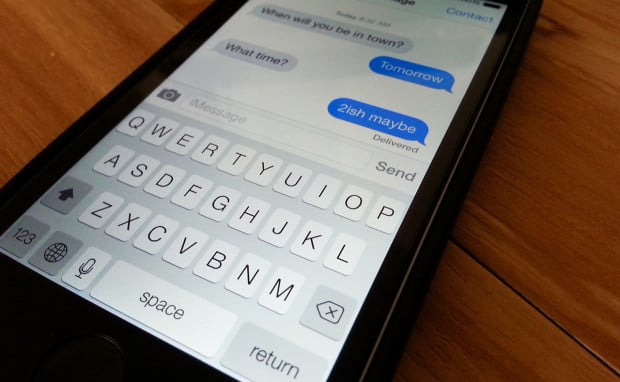 For the past few days, I was using the temporary fix wherein I had to reset my Network Settings every single time the issue happened. I had to do this no fewer than five times. First world problems but problems nonetheless. After installing iOS 7.0.3, I haven't experienced the issue and I've sent out many, many iMessages to friends, co-workers and family today.
FaceTime Audio Improves
One of my other grips with iOS 7 has been the performance of FaceTime Audio. Performance has been extremely up and down, to the point where I had all but given up on the service until Apple rolled out some fixes. There weren't any fixes listed in the changelog for iOS 7.0.3, however, when I fired it up earlier, there was a noticeable difference in quality.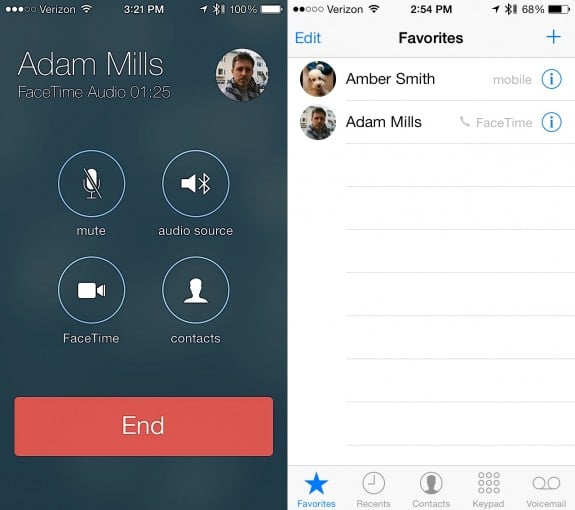 I am, unfortunately, still running into a hand off issue. When I switch from Wi-Fi to LTE, there are hangups and when I manually turn Wi-Fi off when on a FaceTime Audio call, I lose the person on the other end, every single time, without fail. The sound quality is much better but there are still some issues that Apple really needs to work out before I can count on the service.
iCloud Keychain
This is a feature that I have been waiting for since Apple announced iOS 7 in June and finally, iOS 7.0.3 has delivered it to my iPhone 5. I've only been able to use it for a short while but I can confirm that it works as advertised. It's also going to force me to change from Chrome to Safari, but I am OK with that. For me, the addition of iCloud Keychain alone would have been enough to upgrade to iOS 7.0.3. The fact that it has a bunch of fixes as well is just the cherry on top.
Apps Working Fine
Often times, applications stop performing after an iOS update. While I don't have a million apps on my iPhone 5, I can say that I haven't run into any major issues with the big name applications like Facebook, Twitter, Instagram or Spotify. All four of those are performing admirably. If an app is broken, developers typically move quickly to fix but thus far, we aren't hearing about any disasters. Things seem to be quiet.
Should You Install iOS 7.0.3?
At this point, it's tough not to recommend iOS 7.0.3 to iPhone 5 users. Overall, the software is snappy and while it may just be in my head, it feels faster than Apple's previous updates. Core applications all work, iCloud Keychain is as fantastic as Apple made it out to be, and the major bug that was plaguing my iPhone has been squashed.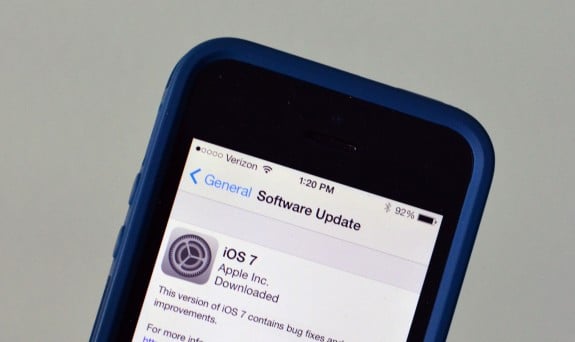 Because the jailbreak authorities have deemed iOS 7.0.3 safe to install, likely because exploits are intact, it appears safe for just about anyone to download and install.

As an Amazon Associate I earn from qualifying purchases.