iOS 7.0.3 Update: What iPhone & iPad Users Need to Know
It has been a few weeks since Apple rolled out the iOS 7.0.3 update for iPhone and iPad and with rumors of a new iOS 7 update swirling, we wanted to revisit the update and take a look at the most important things that iPhone, iPad and iPod users on iOS 7.0.3 need to know.
Back in October, Apple rolled out its third iOS 7 update in iOS 7.0.3, an update that followed in the footsteps of iOS 7.0.1 and iOS 7.0.2. Unlike those two updates, the iOS 7.0.3 update was a massive bug fixer aimed at tackling some of the issues that iPhone, iPad and iPod touch owners had been dealing with since the arrival of iOS 7. The software also delivered some new features as well including iCloud Keychain.
While we have heard users sing the praises of iOS 7.0.3 for its bug squashing efforts, we've also seen the dark side of the iOS 7.0.3 update as well.
For weeks now, we've been hearing about the issues that iPhone and iPad owners are experiencing in iOS 7.0.3. Some of the bugs are small headaches and others are much bigger headaches.
Apple is notoriously secretive about its incremental iOS updates so it has come as no surprise that the company hasn't revealed anything about its plans for the future. Fortunately, we've started to see some chatter in regard to a new iOS 7 update for iPhone and iPad users. We've also seen some new developments with the iOS 7.0.3 update itself.
As we get closer to a new iOS 7 update, we wanted to take a look at the most important things that iOS 7.0.3 users should know about their current software and what might be coming in the future.
iOS 7.0.3 Bug List Continues to Grow
The only thing that prompts Apple to disclose iOS update information are major iOS issues. We've seen it happen in the past where major issues are discovered and Apple publicly acknowledges them and promises a fix. Most recently, this happened with iOS 7.0.2. And while the iOS 7.0.3 bug list continues to grow, users should start tempering their expectations when it comes to information.
Over the past few weeks, we've heard from hundreds of iPhone and iPad users who are dealing with problems inside iOS 7.0.3 and below. Most recently, we've heard from iPhone 5s owners who are still dealing with random reboot issues and unresponsiveness when the iPhone is charging. These are just a few more problems that can be added to a lengthy list that seems to grow by the day.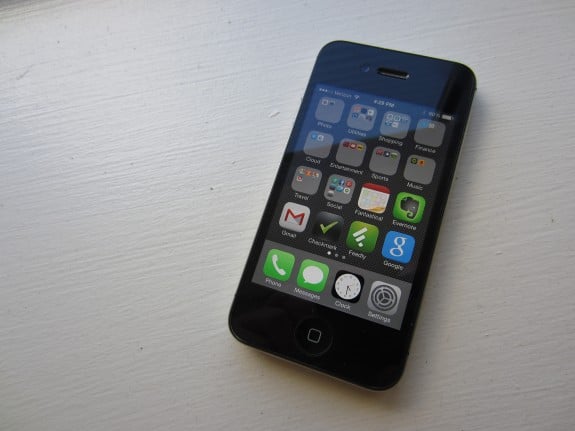 One problem that we've been experiencing with iOS 7 since day one is with Netflix. The Netflix experience, to put to politely, remains terrible on the iPad. This tends to happen with applications that stream content but one would think that the company would be able to deliver a permanent fix now that we're approaching the two month mark.
While we can't dispute the number of bugs inside iOS 7.0.3, the problem is that there aren't any standout issues that are affecting thousands upon thousands of device owners. The only one that maybe qualifies is the grayed out Wi-Fi issue that we've seen since iOS 6. And this, unfortunately, means that Apple is in no hurry to release a new update.
iOS 7.0.4 Situation Remains Unresolved
Apple won't announce an iOS 7.0.4 or iOS 7.1 update. It will just arrive on a day of its choosing, likely in the morning. What we can confirm though is that iOS 7.0.4 and iOS 7.1 activity continues and iOS 7.0.3 owners should see a new update at some point in the future. When? We can't say but just know that Apple is currently testing the software in and around the Bay Area and we saw activity pick up again over the weekend.

At this point, we are thinking that iOS 7.0.4 will come first and if that's the case, expect it to be loaded up with some fixes for various issues that Apple has discovered inside its software. It won't fix everything but it should offer some relief.
Tips for iOS 7 Problems
We've already offered a number of different solutions for the most common iOS 7 issues. And while we can't offer specific fixes for some of these smaller issues, for example apps missing inside the multitasking feature or the random reboot issues with the iPhone 5s, we can offer one overarching fix that seems to work wonders for iPhone and iPad owners. We can also help point users in the right direction as far as fixes are concerned.
Those that simply cannot wait for the iOS 7.0.4 or iOS 7.1 update have two options, at least in our minds. The first is to scour the depths of the internet for temporary fixes to these issues. Often times, it just takes a few steps and a problem will dissipate. Finding those fixes isn't easy but we have two places that we look first should trouble arise.
MacRumors forums and the Apple discussion forums are two places to look if the going with iOS 7.0.3 gets tough. Both places have resourceful users. More importantly, users can find people dealing with the same problem. Crowd sourcing fixes for iOS updates is often how things get done without Apple. If those don't help, we recommend making a Genius Bar appointment at an Apple Store.
If none of those sound appealing, we recommend performing a hard reset. Many users claim that a hard reset, after a backup, makes a device feel like new. So, if all else fails, this is definitely worth a shot.
In summary, here are the most important things that iOS 7.0.3 users need to know:
The iOS 7.0.3 bug list is extensive, but not extensive enough to put pressure on Apple to update in a swift manner.
iOS 7.0.4 is likely on the way but exactly when remains a mystery.
There are solutions to iOS 7.0.3 issues but permanent fixes will likely come from Apple.
How is iOS 7.0.3 treating you?

This article may contain affiliate links. Click here for more details.