iOS 7.0.3 Update Arrives for iPhone & iPad Users
Apple's iPad event has come and gone and while the company announced two new iPads in the iPad Air and the new iPad mini 2, the company failed to announce a brand new iOS update. However, shortly after the announcement, the company did roll out a bug fix update in iOS 7.0.3, saving iOS 7.1 for a later date.
In the build up to today's iPad event, there was anticipation in regard to an iOS 7 update that Apple promised to users earlier this month, an update that will supposedly fix two of the major issues plaguing the company's new mobile software. Apple has told users to expect a brand new iOS update this month that is aimed at the iMessage issues affecting some iPhone owners and filtering issues affecting iPads that are in the classroom. Apple recently acknowledged both issues and said that an update would be arriving this month.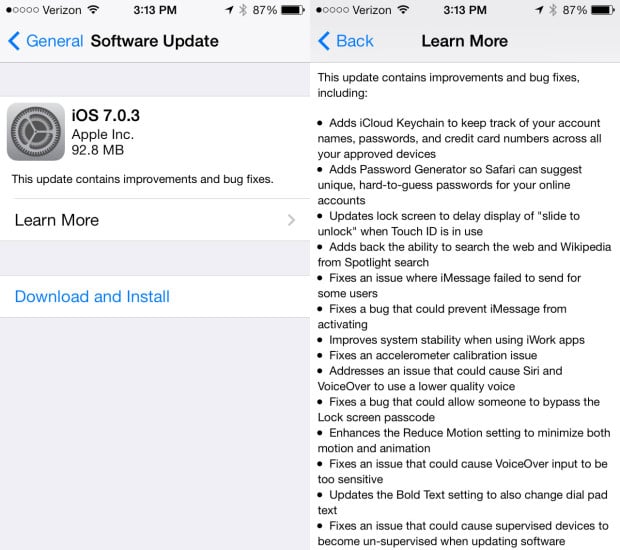 Both iOS 7.0.3 and iOS 7.1 had been rumored as Apple's next update and while the company didn't announce anything at today's event, Apple did begin pushing out iOS 7.0.3, a massive bug fix update, to owners of its mobile devices with a slew of bug fixes for those in need. Included in the fix are solutions for the lock screen issue, an issue with Siri and a fix for the iMessage issues that have been plaguing iPhone owners for weeks.
The update is an extensive update, checking in at 92MB in size for the iPhone, and it should be available to download, right now, Over-the-Air or through Apple's iTunes. The update comes just a few days after Apple promised an iOS 7 update for October, an issue that the company said would tackle the iMessage and supervision issues at the very least.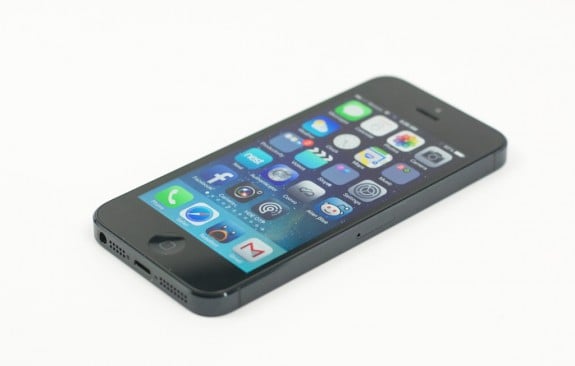 As it turns out, the update is much more than that as it not only adds fixes, but brings iCloud Keychain and a Password Generator to Safari that will help protect accounts. It also brings back the ability to search the web and Wikipedia through Spotlight search. Overall, it's a big update, the biggest since the company released iOS 7 last month.
The lack of an announcement originally led many, including us, to believe that Apple was waiting for a future date to release its promised iOS 7 update but fortunately, the company stuck to its word. The update is not the iOS 7.1 update that was rumored for today but it should be a welcomed update nonetheless given the fixes and enhancements that are on board.
Potential iOS7 jailbreakers should stay away from today's 7.0.3 for now. Too early to tell if it closes anything important for JB.

— MuscleNerd (@MuscleNerd) October 22, 2013
Those who want to use an iOS 7 jailbreak are advised to skip iOS 7.0.3, for now, as MuscleNerd, a member of the Evasi0n jailbreak team has professed skepticism about installing the new software. An iOS 7 jailbreak remains unannounced but could arrive within the next few months for those who are interested.
Apple's iOS 7.0.3 roll out comes on a day on which Apple announced several new products including two new iPads in the iPad Air and iPad mini 2, as well as the new Mac Pro and new MacBook Pro models, all of which will be on shelves for the holiday shopping season.