iOS 7.0.3 Update Problems Pour In
Earlier this week, Apple pushed out a brand new update to its iOS 7 operating system in the form of iOS 7.0.3. The update was aimed at tackling a number of issues with iOS 7 including the iMessage problems that clouded the iOS 7 experience for many iPhone owners. Yesterday, we reported on several of the issues that remain in iOS 7.0.3 but it appears that there are plenty of other issues affecting owners using iOS 7.0.3.
In September, Apple rolled out iOS 7, the update that it announced at WWDC, and an update that promised to bring a number of big time changes to iPhone and iPad owners including a new user interface to go along with brand new features including AirDrop and Control Center. The update, Apple promised, would be the biggest change to iOS since the introduction of the original iPhone.
While that is up for debate, there is no denying that there are some big changes on board iOS 7.0.3. And while most of the changes are good, we've also seen the other side of things in the past few weeks.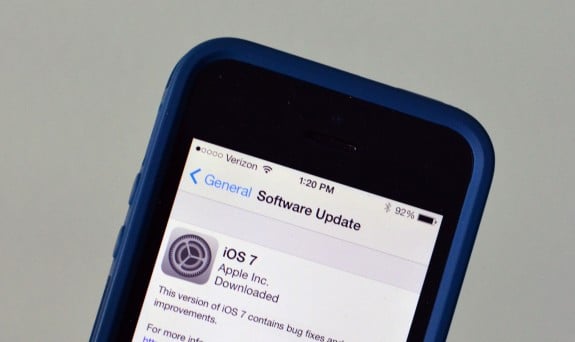 iOS 7 rolled out in mid-September and almost immediately, iPhone and iPad owners ran into a serious security flaw that allowed nefarious users to bypass the passcode lock and access sensitive files. Apple got to work on an update for that issue and rolled out iOS 7.0.2 to iPhone, iPad and iPod touch owners. Then, two more major bugs were discovered including an iMessage issue that prevented many iPhone owners from sending or receiving iMessages. Apple promised a fix for the issues by the end of October and earlier this week, it delivered a new update in iOS 7.0.3.
The iOS 7.0.3 changelog, which can be seen in the photo below, promised a ton of bug fixes for lingering issues inside iOS 7.0.3. And while we've been hearing good things about the update, we ourselves had great experiences on the iPhone 5 and iPad 3, we've begun to hear a host of complaints about new issues brought with iOS 7.0.3 in addition to the problems that iOS 7.0.3 didn't fix.
Yesterday, in an effort to raise awareness about those problems and potentially help people find a temporary fix, we reported on various iOS 7.0.3 issues that we had seen iPhone and iPad owners complaining about. The issues, which range from IMAP problems to glitches in the multitasking to screen flickering issues were numerous. In the past 24 hours though, we've heard about several more issues that are apparently impacting iDevice owners who have upgraded to iOS 7.0.3.
Almost immediately, we were told by several iPhone and iPad owners that iOS 7.0.3 broke their Wi-Fi connection. We've been hearing about these Wi-Fi issues since the arrival of iOS 6 and they seem to be more widespread than many people believe. In addition to that issue, we're hearing about two other major issues in particular.
iPhone 5s owners have been dealing with a random reboot issue. And while some users are reporting that the issue has dissipated, we can confirm that it still exists on at least one iPhone 5s in the United States. Our T-Mobile iPhone 5s is still seeing reboots with our own Travis Pope claiming to see the issue after the device has been connected to Bluetooth. We have been unable to replicate the issue on other iPhone 5s' running iOS 7.
We also heard from one iPhone owner who claims that iMessage and FaceTime no longer work. He also claims that the problem has escalated into a much larger one after installing iOS 7.0.3, telling Gotta Be Mobile that:
I have now received a bunch of messages from people I don't even know as when you try to activate iMessage although it isn't working somehow you receive the odd random message (in my case from random nations I don't recognise the calling code for). This is actually a huge privacy issue delivering messages to the wrong destination.
We haven't heard about this happening to others, but we have heard that iMessage remains broken for some iPhone owners. His pleas to Apple haven't gone ignored but support has simply told him to try and shut off his phone and retry. That, unfortunately, hasn't solved the issue. Others are saying that instead of fixing iMessage, iOS 7.0.3 brought the problems along with it.
Gotta Be Mobile is also hearing about touch issues on the iPhone wherein taps are no longer responsive on screen and we're even hearing that some updates put the device into recovery mode without explanation.
So far, Apple hasn't confirmed any more iOS 7 bug fix updates beyond iOS 7.0.3 but we imagine that the company is still hard at work looking into the bugs that users are complaining about. Rumors suggested that Apple was hard at work on an iOS 7.1 update and it could be that iOS 7.1 is the update that iPhone and iPad users have been waiting for.
It's also possible that iOS 7.1 itself could bring more issues to the table, just like iOS 7.0.3 seems to have done.

This article may contain affiliate links. Click here for more details.