iOS 7.0.4 on iPad 3 Review: Three Weeks Later
Several weeks ago, Apple pushed out a new iOS 7 update, the fifth iOS 7 update to be exact, in the form of iOS 7.0.4 for the iPhone, iPad and iPod touch. The update is and was an incremental update aimed at solving at least one issue on board Apple's iOS 7 software. iOS software updates bring bug fixes but they often bring problems of their own and iOS 7.0.4 is apparently no different. With those complaints in mind, we want to take another, updated look at the iOS 7.0.4 update and how it's performing, three weeks later, on the iPad.
All the way back in September, Apple released the long awaited iOS 7 update for iPhone, iPad and iPod touch. While all major iOS updates are anticipated and given a ton of attention, iOS 7 in particular was under greater scrutiny given that the software looks different than the all previous iOS updates to Apple's mobile products.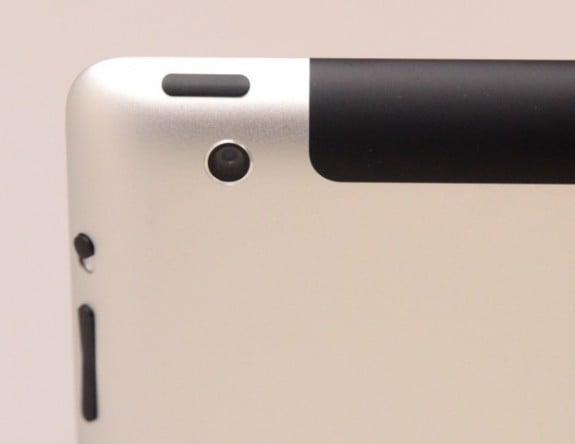 As is the case with just about every piece of software on earth, some people love iOS 7, some people hate it. Whatever the case, the iOS 7 update is here to stay and whether iPhone and iPad users love it or not, it has laid the foundation for iOS update of the future. The future is the future and for now, iPhone, iPad and iPod touch users must live in the present and that present is iOS 7.0.4.
iOS 7.0.4 represents the latest version of iOS 7 and it's the fourth incremental update to the original iOS 7 update that rolled out back in September. Like its predecessors, it's a fairly small update, aimed at curtailing the issues that users have been stumbling upon since the day that iOS came out. iOS 7.0.4 in particular was supposed to fix an issue with dropped calls in FaceTime. And while it's mission was for good, there are some who claim that its arrival has only brought trouble to their device.
Over the past three weeks, we've heard from a number of iPhone and iPad users who are experiencing difficulties with their device after installing the latest update. This past Thanksgiving weekend saw a pickup in the number of complaints so we felt that this week was a perfect time to revisit the iOS 7.0.4 update for the full-sized iPad.
We've already taken a look at how the software is performing on the iPhone 5 and now, it's time to once again take a look at the performance of iOS 7.0.4 on the iPad 3.
iOS 7.0.4 Performance
Applications
As I've mentioned several times, there are typically five things that I look for when I am analyzing an incremental iOS update. The first, how applications behave. Are there any problems after installing the new update? The second, how is battery life holding up? Apple devices typically come with fantastic battery life and it's one of the biggest components to any mobile device. Third, are there any catastrophic bugs? Are there any annoying bugs? Fourth, how is connectivity holding up? And finally, I take a look at overall speed, something that is crucial for people like me who rely on these devices to be productive. With that in mind, let's dive into iOS 7.0.4.
In my last review of iOS 7.0.4, I noted that Netflix and Chrome were both giving me problems in iOS 7.0.4. Chrome was crashing far too often and the overall Netflix experience was clunky. Every time I started up Netflix, it would lock up on me and skip around until it would finally iron itself out and play content. There were also times when quality was god awful for no reason, even when the connection was stable.
Since then, I've updated Chrome with the latest update and things seem to have cooled down. Haven't seen any of those pesky crashes. As for Netflix, it has been a mixed bag. Sometimes it acts right but other times its a drag. I don't know about any of you but this is an application that I use a lot on my iPad so it has been a very frustrating experience, since installing iOS 7.
Other applications including Facebook, Twitter, Instagram, Amazon, Yelp, and more appear to be stable. More importantly, stock Apple apps are behaving on my iPad too. Moral of the story, iOS 7.0.4 seems to be co-existing peacefully with all of my applications besides Netflix.
Battery Life
Three weeks later and the battery life on my iPad 3 remains as solid as ever. I've heard about battery life problems that users have been having though I will say that things have been much quieter with iOS 7.0.4. Normally, my inbox is flooded with complaints about battery life and I've only seen it mentioned a handful of times over the past three weeks. This is a good sign.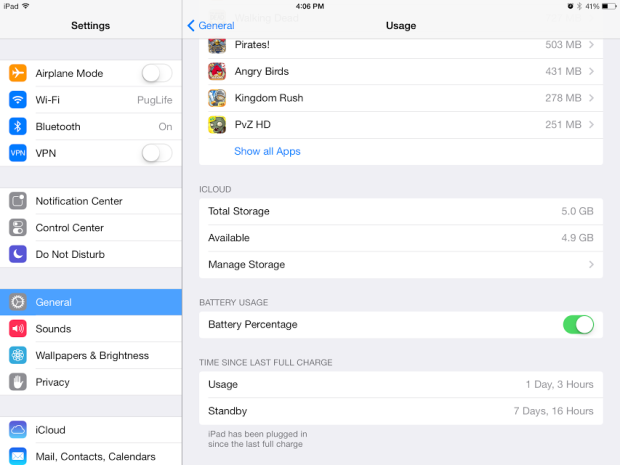 The important thing is that I haven't found any signs of battery drain, something that has come with previous versions of iOS. Things appear to be normal and I am still able to pull down the great battery life that I am accustomed to. Don't believe me, take a look at the screen shot above. The iPad 3 might be getting old but its battery is holding up.
Bugs
I've been hearing about a wide range of issues in iOS 7.0.4 but thus far, nothing has really stood out as a bug that can be considered widespread. What I mean is that complaints have been all over the board. Users are complaining about glitches with the multitasking feature where the cards don't show up. I've also heard a couple of complaints about email being broken. Point is the bugs I'm hearing about in iOS 7.0.4 seem limited to a few users at most.
In the past three weeks, I haven't stumbled onto any major bugs inside iOS 7 on the iPad. Perhaps I'm lucky, perhaps I'm OCD about app and file management, perhaps it's a combination of both. I can't be sure. What I am sure about is that I haven't seen any of the issues that people are informing me about. Even the strange mail bug that I am seeing on my iPhone 5 doesn't exist in iOS 7 on my iPad.
Connectivity
I don't have 4G LTE connectivity on my iPad 3 so I can't speak to performance there but I can say that I have been pulling down exceptional Wi-Fi speeds over the past three weeks. I know a lot of people have been dealing with Wi-Fi issues inside iOS 6 and iOS 7 but I haven't seen any since Apple rolled out iOS 6.1 earlier this year. (Has it only been that long?)
Things are good and my hope is that iOS 7.1 doesn't force me to start looking for temporary fixes on Apple's discussion forum. There are several threads on there that have thousands and thousands of views and continue to get complaints from not only iPhone users but iPad owners as well.
Speed
I love having a snappy device and unfortunately, this is the area where I've had the most trouble, at least on the iPad. Since installing iOS 7, I've been dealing with lag issues. Overall, the software feels sluggish. Opening a folder shouldn't feel this clunky or slow. Apps seem to open much slower, scrolling around my home screens often will hang everything up. And when I went to email myself screenshots for this review, the software putted around.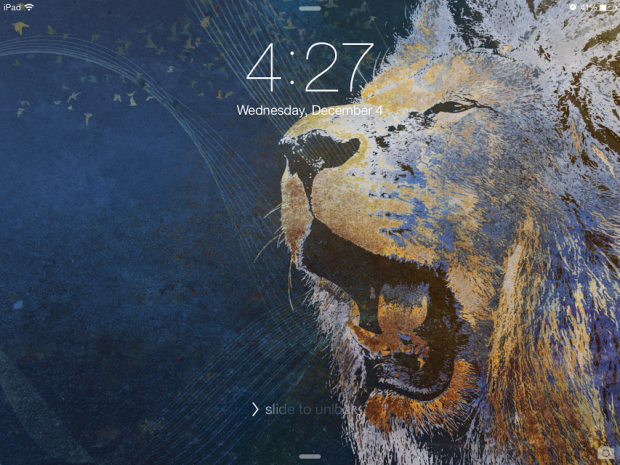 It's not as bad as it was when iOS 7 first arrived, not surprising given that I've received three bug fix updates, but iOS 7 on the iPad is still much slower than it should be. I think iOS 7.1 should help to iron things out though.
Resources for Those With iOS 7.0.4 Problems
I realize that my experience is going to be different from the experiences of other iPad users, so, I want to try and help those of you who are having issues with iOS 7.0.4, issues that go beyond a sluggish user interface. I won't be able to fix everyone's problems, but I can help point those who do have trouble in the right direction.
Those experiencing poor battery life will want to try these tips. They will likely come in handy for those that are seeing abnormal battery drain after installing the iOS 7.0.4 update.
For those iPad users dealing with other issues, try these fixes. If none of those help, there are a few routes to consider. The first, a forum like MacRumors forums or the Apple discussion boards. There is a lot of noise on there but there are certainly some people that are willing to help. There might even be someone with the same issue that can offer a fix.
The other two routes are for those iPad owners who need to take drastic measures. The first is to head down to an Apple Store and visit the Genius Bar. Be sure to make an appointment first, especially now because its the holiday season.
Those who don't want to do that can try factory resetting their device. Make sure to back up files first. Often times, this will make an older device feel like new and make problems dissipate. This is probably what I would do if I was experiencing something major.
iOS 7.1 Update
If those remedies don't sound appealing and you can remain patient, wait. iOS 7.1 is on its way and it could feature a ton of bug fixes. From what we've heard, the software is an improvement over the previous versions of iOS 7 and so my hope is that it will kill off a lot of the annoying bugs that are clearly still inside of Apple's new update.
Problem is, we still have no idea when it will arrive. We've only seen one iOS 7.1 beta go out and typically we see a few before the Gold Master arrives. If I had to guess, I'd say that the update won't arrive until early 2014.

As an Amazon Associate I earn from qualifying purchases.