iOS 7.0.4 on iPhone 5: Impressions & Performance
Earlier today, Apple released a brand new iOS 7 update for iPhone, iPad and iPod touch users dubbed iOS 7.0.4. The update follows in the footsteps of iOS 7, iOS 7.0.1, iOS 7.0.2 and the iOS 7.0.3 update that rolled out at the end of October and it promises to fixes and enhancements for Apple's iOS 7 users. Here, we take a look at our first impressions of the iOS 7.0.4 update on iPhone 5.
Back in September, Apple rolled out the iOS 7 update, an update that offered some massive changes to Apple's mobile operating system and, for the first time, delivered a brand new look is and was, vastly different from previous iOS updates. Since then, Apple has delivered several new iOS updates in an attempt to iron out the software and squash any remaining bugs. And as many iPhone and iPad owners have learned, there are bugs lurking inside iOS 7.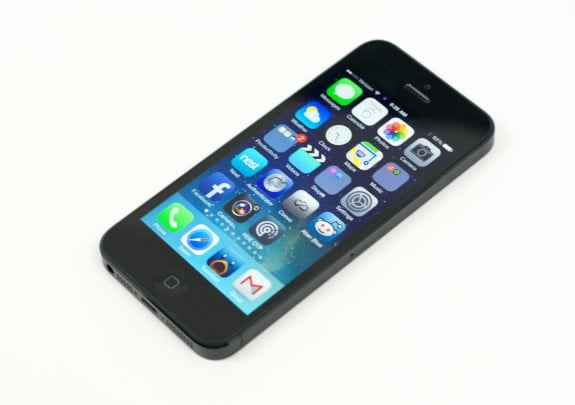 Ever since the arrival of iOS 7, we've been hearing about issues residing inside of Apple's new software. Those complaints really started to pick up steam after the iOS 7.0.2 and iOS 7.0.3 updates and culminated in the pleas for an iOS 7.0.4 or iOS 7.1 update from Apple to help alleviate the issues that apparently still plague iOS 7 users around the globe.
In recent days, we saw iOS 7.0.4 and iOS 7.1 make appearances in our server logs, a sign that something was close. However, we didn't know if the next update would be iOS 7.0.4 or iOS 7.1. As it turns out, it's iOS 7.0.4, a small, incremental bug fix update that advertises a fix for one specific issues, a problem with calls being made over FaceTime.
Apple says that the update, which landed earlier today, has other enhancements and fixes on board but it provided no specifics. As many iDevice owners know, iOS updates typically bring bug fixes but can also bring bugs of their own. This leads many owners to hold off on installing the software on day one.
In an effort to provide feedback, we wanted to share our own impressions of the performance of the iOS 7.0.4 update for the iPhone 5 and offer advice on how iPhone owners might want to proceed.
Quick & Painless Installation
One thing that always concerns people about iOS updates, likely thanks to past horror stories in iOS release days, is whether the installation process is a smooth one. For the most part, incremental iOS updates have been relatively painless and I can't remember the last time that Apple's servers were slammed on a non-major iOS release.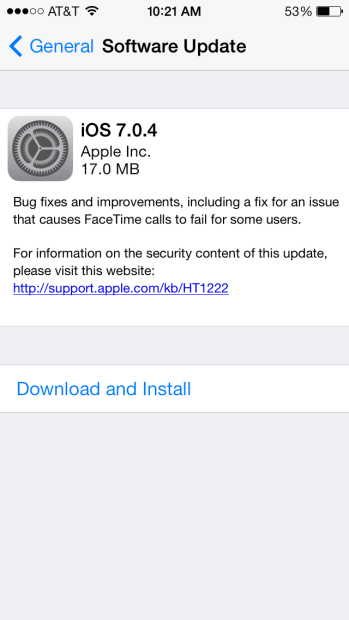 iOS 7.0.4 does not break this pattern. Instead of a chaotic release, the download and installation process here was extremely painless. The update appeared ready to download in the device's settings and I was able to get the 17MB file downloaded and installed in about 10 minutes or so. I didn't have any issues OTA but for those that do encounter any, iTunes is also an option and one that typically works.
iOS 7.0.4 Performance
User Interface
The other thing that I typically get asked about when it comes to incremental iOS updates is about performance. These smaller iOS updates usually don't bring any surprises or big time features, iCloud Keychain in iOS 7.0.3 was an exception, so it's more about how the software handles with the hardware. So let's take a look at how the iOS 7.0.4 experience has been thus far.
I've mentioned, numerous times, that I've been dealing with UI lag with iOS 7 on my iPad 3. I haven't, however, seen any UI issues, lag or otherwise, with my iPhone 5. Of course, I've heard about a number of them, including missing text, multitasking not showing cards and more, but I guess I've been lucky.
In iOS 7.0.4, my luck hasn't changed. I haven't run into any lag issues with the software and things appear to be opening up and closing like they normally do. Scrolling and touch gestures are working properly as well.
Battery Life
So far, so good when it comes to iOS 7.0.4 battery life. While I can't speak to whether it has improved or gotten slightly worse, I can say that over the past few hours, I haven't experienced any abnormal battery train that tanks my battery when I browse the web, talk on the phone or check my email. Everything appears to be stable, at least thus far.
These types of issues typically manifest themselves in the days after a release, not on the day of a release, so I could run into some problems over the next week or so. I wouldn't count on it though. I've had pretty good luck with battery life on my iPhone 5 and I get the feeling that iOS 7.0.4 doesn't have a widespread battery drain bug on board.
And yes, I have been switching back and forth between Wi-Fi and 4G LTE for the past few hours in an attempt to gauge whether one is acting abnormally or not. So far, it has been business as usual.
Bugs
As we've pointed out, numerous numerous times, iPhone owners have been experiencing bugs in iOS 7.0.3, iOS 7.0.2, and iOS 7. There's no getting around it, there are issues. I've been sent hundreds of screenshots and unless these iPhone owners have a hidden agenda or a ton of time on their hands, I sincerely doubt that they are lying.
That doesn't mean that I am experiencing the same bugs though. In fact, my experience with iOS 7 has been relatively stress free. I did run into the iMessage issue after installing iOS 7.0.2, but that bug hasn't returned since the arrival of iOS 7.0.3 last month.
Thus far, nothing is jumping out at me in iOS 7.0.3. That's not to say that iOS 7.0.4 doesn't have bugs, it is to say that I am not seeing any on my iPhone 5. Bugs often don't show themselves until a few days after a release, I didn't notice the iMessage issue on day one, so I could potentially run into some problems later on. However, it seems like iOS 7.0.4 is pretty stable.
I still am having issues with FaceTime Audio wherein sound is choppy when on Wi-Fi. At this point though, it may just be my router rather than a problem on Apple's end. I never experienced the dropped calls that iOS 7.0.4 supposedly fixed.
Connectivity
I've been using Wi-Fi and 4G LTE all day and I can say that my connections on a Belkin router and AT&T's 4G LTE network are as good as they were inside iOS 7.0.3. Nothing has changed and both connections still provide me with a solid data speeds. Keep in mind, I've never seen the grayed out Wi-Fi issue that iOS users have been seeing since the introduction of iOS 6.
Applications
I won't bore you with all of the applications on my phone but I will say this. I haven't run into any major issues with any of the applications on my device. I've literally gone into each app, one by one, to test it too. Troublemakers like Chrome and Facebook are functioning fine, as are Twitter, Instagram and Spotify. Apple's stock applications seem to be functioning well too.
Should You Install iOS 7.0.4?
I've only been using iOS 7.0.4 for a few hours but during those few hours, I haven't run into anything catastrophic. Everything, including battery life, appears to be stable. So at this point, it's hard for me not to recommend installing this, considering it has the potential to fix some of the issues that users have been experiencing. with iOS.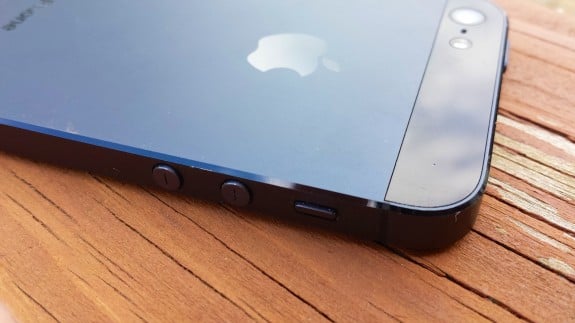 One group that may want to hold off on upgrading are those that are looking to jailbreak. The developers behind the jailbreak have told users to exercise caution and patience but from here, it doesn't appear as though upgrading to iOS 7.0.4 is going to kill off the ability to jailbreak iOS 7. In fact, the coast looks clear.
Those that are skeptical, hold off for a few days. We'll keep you posted on any issues that we might run into between now and the next iOS 7 update, an update that should be iOS 7.1.

As an Amazon Associate I earn from qualifying purchases.