iOS 7.0.4 Is Safe for Jailbreaking, but It's Good to Resist
Apple released a very minor update to iOS 7 yesterday, seeding out iOS 7.0.4 to iPhone and iPad users that fixes a bug with FaceTime. Obviously, potential jailbreakers were worried about the minor update breaking any kind of future promise for an iOS 7 jailbreak method, but it was confirmed shortly after the release that there are no problems with the new update as far as jailbreaking is concerned.
However, iOS hacker MuscleNerd confused a lot of people, saying that users should treat iOS 7.0.4 as an "exercise in restraint" and "test your ability to avoid it." He also said in his next tweet that users should "avoid 7.0.4," but this isn't exactly what he meant.
MuscleNerd first tweeted out that those on iOS 7 waiting for a jailbreak should simply get into the habit of not updating to the latest iOS version right away, since these incremental updates can break your jailbreak (if it's already jailbroken, that is). He says that iOS 7.0.4 won't affect a future jailbreak if you "slip up," but he is saying that it's a good idea to get yourself accustomed to rejecting iOS updates when they release.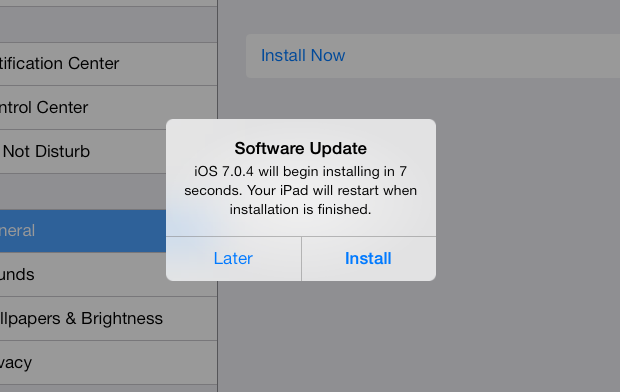 In a later tweet, MuscleNerd simply tells iOS 6 users to avoid iOS 7.0.4 if they're jailbroken on iOS 6, since "there's no going back." This is obvious for those who are jailbreaking veterans, but it's always good to send out warnings to those who are new to the scene.
To be absolutely clear, iOS 7.0.4 is safe to download and install if you plan on jailbreaking the device in the future when a jailbreak method eventually releases. MuscleNerd is simply reiterating that if you plan on jailbreaking your device, it's good to get in the habit of not installing iOS updates when Apple releases them, since they'll ruin your jailbreak and you'll be screwed. It's especially a good thing to start doing with iOS 7.0.4, since the only fix is for FaceTime, so if you don't use FaceTime, you really don't need to install iOS 7.0.4.
iOS 7.1 will most likely be a huge update for jailbreakers, since that will be an update that will most likely consist of a lot of security fixes that could block exploits that jailbreak hackers were hoping to use. Of course, it's too early to tell at this point, but all four incremental updates from Apple so far have been safe for jailbreaking; we wouldn't be surprised if the same couldn't be said for iOS 7.1.

This article may contain affiliate links. Click here for more details.