iOS 7.0.6: Everything We Know
The iOS 7.1 update is reportedly landing in March though it remains out of reach. That leaves the iOS 7.0.6 update for iPhone and iPad as the most current version of iOS 7 and here, we take a look at everything that we think iPhone and iPad owners need to know about Apple's current iOS 7.0.6 update.
Most iPhone and iPad users are focused on the iOS 7.1 update that has been teasing them since it first arrived back in November. The update, which is currently in iOS 7.1 beta 5 form, is rumored to be coming out sometime in March though the release date is currently missing in action. While we could see iOS 7.1 roll out for the iPhone and iPad as soon as tomorrow, iOS 7.0.6 remains the most current version of iOS 7.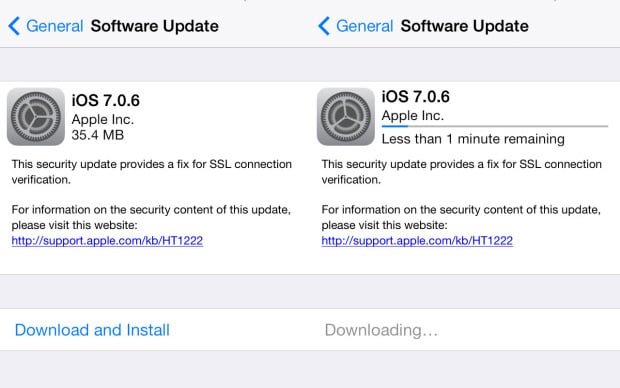 iOS 7.0.6 emerged at the end of February, following in the footsteps of iOS 7.0.5 and iOS 7.0.4. It was iOS 7.0.4 that arrived for iPhone and iPad users in the United States shortly before the arrival of the first iOS 7.1 beta. Like the updates that came before it, iOS 7.0.6 was focused on fixing a problem. However, as we soon found out, the problem that the iOS 7.0.6 update fixed was no ordinary problem.
With iOS 7.1 in sight, and the iOS 7.0.6 update still very relevant, we want to take one last look at the current iOS 7 update for iPhone and iPad and offer up as much information as we can, not just for current iOS 7.0.6 users but for those who might still be on the fence.
iOS 7.0.6 Performance
The iOS 7.0.6 update has been out for a couple of weeks now and statistics show that the update has been embraced by around 45% of iPhone and iPad owners around the world. There is a reason for this.
Apple's latest iOS 7 update plugged up a major security flaw found on devices running iOS. The flaw left iPhones and iPads vulnerable on public Wi-Fi networks and left credit card numbers and passwords open to theft. The iOS 7.0.6 plugs up the flaw and it's a reason why iPhone and iPad owners still lingering on iOS 7.0.5 or below should think about installing the iOS 7.0.6 update right now.
There are some other reasons to consider upgrading to iOS 7.0.6 as well. We've been using the iOS 7.0.6 update on a number of iPhones and iPads since it arrived back on February 22nd. Here, we take another look at how the update is running of four of Apple's big name devices including the iPad Air, iPhone 5, and the iPad mini with Retina Display.
iPhone 5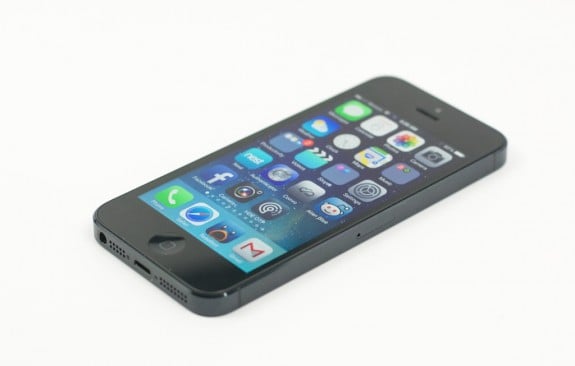 iOS 7.0.6 is still running perfectly fine on the iPhone 5. Apps are opening like normal, battery life is still very good even when on 4G LTE, the phone is still fast and responsive, I haven't run into any significant bugs, and I am still getting fast data speeds when connected to AT&T's 4G LTE network or my home Wi-Fi network.
From what I can tell, iOS 7.0.6 might just be the most stable of all the previous iOS 7 updates for the iPhone 5. I still recommend installing it to get the security fix.
iPad Air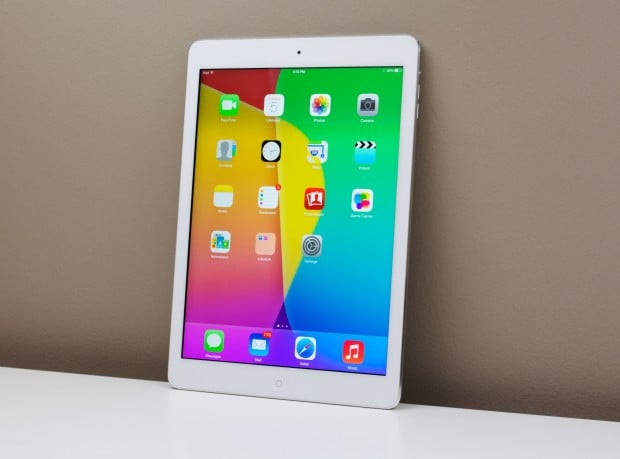 Same goes for the experience on the iPad Air. I have yet to run into any major issues on Apple's new update. That includes the springboard issues that have been one of the biggest complaints about iOS 7.
My colleague Warner Crocker, who suffered from constant springboard crashes inside iOS 7.0.4, claims that things have stabilized inside iOS 7.0.6. He still says that he has experienced some random reboots but that the issue is far more tolerable inside iOS 7.0.6.
The beautiful thing is that the iOS 7.1 should put an end to these issues for good. iOS 7.1 is going to be coming with performance enhancements that should improve the overall experience on older devices and should plug up memory leaks that appear to be causing at least some of these random crashes.
Fellow editor Josh Smith echoes my experience and says that he hasn't run into any major issues with iOS 7.0.6 since installing the update on the first day that it arrived. So, from our end, it looks like the iOS 7.0.6 update is stable and worth installing.
iPad mini with Retina Display
All is well on the new iPad mini with Retina Display as well. Apps, battery life, speed, and connectivity (I use the AT&T LTE model) are all solid and I haven't run into any major issues in the days that I've spent with the update on board. My colleague Josh Smith, who also owns the iPad mini with Retina Display concurs.
Again, iPad mini with Retina Display users, especially those that use public Wi-Fi networks, should install this update. It's stable and it comes with that vital fix.
iOS 7.0.6 Problems
We also know that there are people who are dealing with some iOS 7.0.6 problems. Springboard issues remain a problem for users of Apple's 64-bit devices but there also seem to be some other, more widespread issues.
On Apple's discussion forum, there is a lengthy thread discussing supposed battery life drain in iOS 7.0.6. Here is how one user describes his issue with iOS 7.0.6:
I've been using Apple products for 20 years. I'm an IT Manager responsible for maintaining numerous Macs, iPads, and iPhones. I know my way around Apple products.

I have an iPhone 5S, and I have the same problem. After updating from 7.0.5 to 7.0.6, my battery is draining much faster. I didn't turn on features after the upgrade, and I have no intention of turning off features just to fix it. I've tried the hard reset, but that didn't work. Unless someone is privy to Apple's code, they shouldn't insist that the update only changed one line of code or fixed one thing. This issue is definitely related to the update, and I sincerely hope Apple releases a fix soon.
He is not alone. It also appears that at least one iPhone 5 owner is experiencing the springboard issue, we're seeing more complaints about crashes on the iPad, and we're also iPhone 4s owners in particular voice concerns about problems with the update. A small sampling but there are literally hundreds of complaints about iOS 7.0.6 on Apple's discussion forum.
While we can't offer a fix for the reboot issues or some of the minor issues that iPhone and iPad owners are discovering, we can offer some possible solutions.
For those suffering from battery life problems, check out our battery life tips for the iPhone and for iOS 7. For just about anything else, we know of a few potential solutions.
First, try turning off your iPhone or iPad for a bit. Often times, this is all a device needs. If that doesn't work, try heading to one of these forums. Often times, users will post temporary or permanent fixes. Those that can't find anything can either wait for iOS 7.1 to arrive, try a hard reset, or, take the device into an Apple Store to get looked at.
iOS 7.0.6 Jailbreak
The Evasi0n 7 jailbreak works with the iOS 7.0.6 update which means that those looking to use Cydia or themes on their iPhone or iPad can go ahead and do so. There is even a way to get the security patch from iOS 7.0.6 without upgrading to iOS 7.0.6 itself.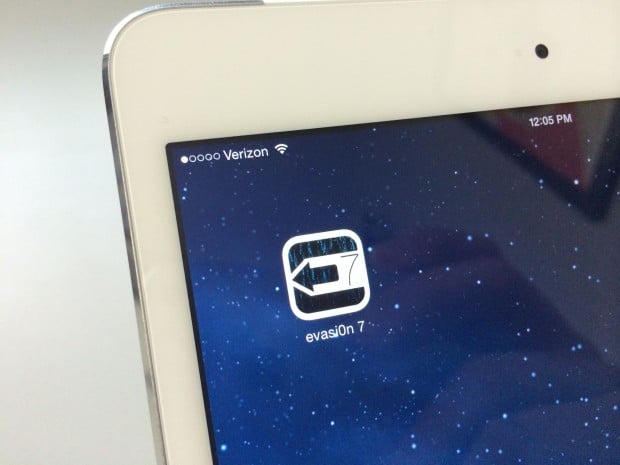 Remember, there is a very good chance that an iOS 7.1 jailbreak won't be available on day one so those who are interested in jailbreaking should know to remain on iOS 7.0.6 until the all clear is given.
What's Next?
As for the future of iOS 7.0.6, well, we know that its days are numbered. Apple is poised to deliver the iOS 7.1 update in the near future. While rumors were wrong, where there's smoke, there is typically fire and we expect to see the update emerge to replace iOS 7.0.6 within the next couple of weeks.
Keep in mind, iOS 7.1 is going to be a much larger update than iOS 7.0.6 so those who are experiencing solid performance inside iOS 7.0.6 might want to think about holding off until the smoke clears.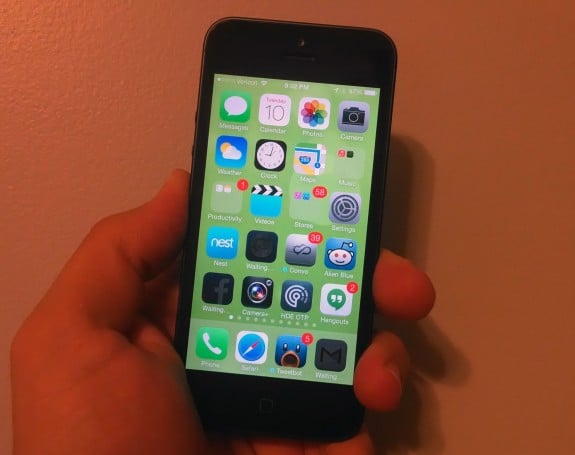 iOS 7.1 will likely fix many of the issues inside iOS 7.0.6 but there is a good chance that it will bring some major problems of its own when it arrives. There is no need to install on day one and it might be wise to wait a few hours or a few days for feedback on the performance of the update.
Those that are ready for an upgrade to iOS 7.1 should start preparing right now for its arrival. There is a very good chance that it will replace iOS 7.0.6 in the near future.

This article may contain affiliate links. Click here for more details.