iOS 7.0.6 for iPhone and iPad Grows Rapidly Ahead of iOS 7.1 Release
iOS 7.1 is expected to release any day now, but until then, iOS 7.0.6 is the most current version of iOS out on the market right now, and adoption for this latest version is astounding, reaching almost half of all iOS device owners. According to stats from David Smith, iOS 7.0.6 adoption is at 45.4% as of March 3.
The steep rise in adoption of the latest iOS update is most likely due to the fact that iOS 7.0.6 includes a big security patch in the update that fixes SSL connection verifications. For those aren't familiar with that, this essentially fixes any open possibilities of your iPhone or iPad being remotely hacked into.
When breaking down the iOS 7.0.6 adoption rate based on device, The iPhone takes the cake with 48.7% of all iPhone users running iOS 7.0.6, while 46.8% of all iPad users are updated to the latest version. Granted, it's a close race and we could easily just call it an even 50% for both devices.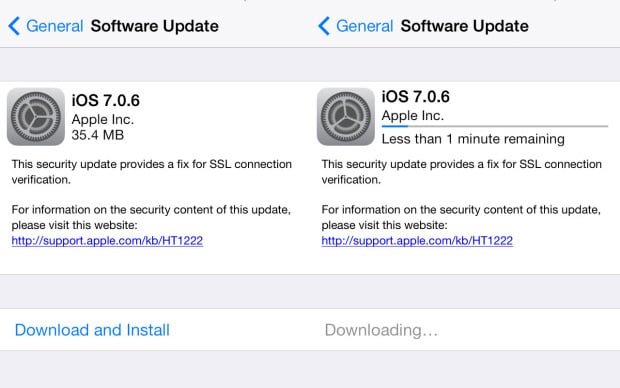 The iOS 7.0.6 is probably one of the most major minor updates we've seen from Apple. It doesn't fix a lot of the bugs that users have been having trouble with recently, including a buggy camera and a broken multitasking tray, but it fixes a big security hole that many experts have deemed as a pretty bad one. Luckily, though, it's all patched up now.
If you're jailbroken and don't want to bother with re-jailbreaking after updating to iOS 7.0.6, you can still apply the crucial SSL patch by downloading and installing it for free from Cydia.
This update is likely the last update we'll see before iOS 7.1 hits the public, which will most likely happen either later today or tomorrow (or possibly even over the weekend). Sources have claimed that iOS 7.1 is set to hit at some point this week, but we're running out of time, so there's only a small window remaining until iOS 7.1 will allegedly release.

This article may contain affiliate links. Click here for more details.