iOS 7.0.6 on iPhone 5: Impressions and Performance
Yesterday, in a bit of a surprise, Apple rolled out iOS 7.0.6 for the iPhone and iPad. The update was a surprise given that rumors put the iOS 7.1 release date within the next few weeks. After spending some time with the new iOS 7.0.6 update on the iPhone 5, we want to offer our impressions and a look at its performance.
All the way back in November, Apple released iOS 7.0.4 for the iPhone and the iPad, an update that delivered a fix for a FaceTime Audio issue. The update did not, however, fix many of the problems that iPhone and iPad owners continue to face inside of Apple's iOS 7 update. And that left many owners looking for an answer.
Shortly after the arrival of iOS 7.0.4, Apple put the iOS 7.1 update into the beta process, giving iPhone and iPad owners the possible answer for their problems.
Over the past few months, the iOS 7.1 beta has revealed itself to the world, showcasing a number of enhancements and fixes to iPhone and iPad users. Problem is, we still don't know when it's going to roll out.
Reports put the iOS 7.1 release within the month of March, possibly in the middle of the month. And given the close proximity to that time frame, most assumed that the iOS 7.1 update would be the update to replace iOS 7.0.4 and iOS 7.0.5. That's not going to be the case.
In a strange turn of events, Apple rolled out iOS 7.0.6 to replace the iOS 7.0.4 and iOS 7.0.5 updates. The update, which for the iPhone is about 30MB in size, brings a fix for SSL connection verification making it far less important than the upcoming iOS 7.1 update for iPhone, iPad and iPod touch.
Incremental iOS updates typically promise fixes but they also have a habit of breaking things. iOS 6.1 for instance introduced a vicious battery drain bug. iOS 7.0.2 delivered an iMessage bug to my iPhone 5. So, here at Gotta Be Mobile, we like to take a deep dive into these incremental updates, looking for issues.
Here, we'll take a look at how the iOS 7.0.6 update is performing on the iPhone 5, Apple's iPhone from 2012 that is still in the hands of millions users around the world.
Quick & Painless Installation
I don't dread installing incremental iOS updates as much as I dread installing major iOS updates, but I still dread it nonetheless. The reason I am so leery is because these smaller updates have caused problems in the past. Apple's servers have done some strange things before, preventing me from seamlessly downloading and installing the upgrade Over-the-Air.
While I can't speak for everyone, I can say this. The download and installation process for iOS 7.0.6 was quick and painless. From start to finish, it took about 10 to 12 minutes. The update didn't act up, I wasn't given any installation errors during the update, and my phone rebooted and produced iOS 7.0.6 without a single headache.
Those who are more weary than I might want to make a backup before installing the software but from my end, things look good. I haven't seen any widespread complaints which is also a good sign.
iOS 7.0.6 Performance
When it comes to the performance of incremental updates like iOS 7.0.6, I like to look at five different areas in particular. Those areas include applications and how they're performing post update, battery life and whether there is abnormal drain, bugs or hiccups, Wi-Fi and cellular performance, and overall speed. After spending a great deal of time with iOS 7.0.6 in the past 24 hours, here's what I've found.
Apps
Everybody is going to have a different set of applications so I choose to focus on some of the bigger names that are common amongst iPhone 5 users. Applications like Facebook, Twitter, Instagram, Google Chrome, Spotify, Netflix, and Apple's collection of iOS 7 applications.
My overall experience in iOS 7 has been pretty good. Applications have remained stable from iOS 7 update to iOS 7 update and developers have done a standup job with bug fixes. My only concern has been Google Chrome. In iOS 7.0.4, it started to lock up more consistently than it did in older versions of iOS, and the crashes almost led me to use Safari on a regular basis.
Fortunately, things settled down after Google released bug fixes and iOS 7.0.6 doesn't seem to have broken what Google fixed. Same goes for the other apps I listed above and same goes for Apple's core group of iOS applications. Apps like Camera and Calender are performing like they usually do.
So, from an App standpoint, iOS 7.0.6 on the iPhone 5 seems fine.
Battery Life
Battery life is always a major concern after these incremental updates. I always hear about these horror stories where battery life takes a dramatic turn, possibly because of Apple, possibly because of an application that needs to be updated. Possibly both.
I've been pretty lucky with my iPhone 5. I haven't experienced any abnormal battery drain since I bought the phone on the day Apple released it back in 2012. Things have been pretty stable all the way from iOS 6 to iOS 7.0.6. And that includes the battery life that I get when using my phone over 4G LTE.
Again, I can't speak for all iOS 7.0.6 users but my experience with the new update is good. Battery life seems stable and my iPhone 5 is continuing to charge at a good rate of speed.
Bugs
Apple has been doing its best to clean up some of the issues that iOS 7 left in its wake. iOS 7.0.1, iOS 7.0.2, iOS 7.0.3, iOS 7.0.4, iOS 7.0.5, and even iOS 7.0.6 have been aimed at shoring up the experience inside iOS 7. And at least for my iPhone 5, they've done a fantastic job.
My experience with iOS 7 has been a fairly stable one. In my travels, I've run into three issues, one major, two minor. The first was the iMessage bug that prevented me from sending iMessages. That was fixed with iOS 7.0.3. The other two issues are minor.
Occasionally, I see glitches with the iOS 7 interface after opening and closing certain folders or applications. For a few brief moments, I'll see the contents of a folder appear in the top left corner of the interface before vanishing into thin air. It's strange to say the least.
The other issue I'm having is with the Mail application. I turn push completely off and check for mail manually because I get too much of it. However sometimes, after opening an app, my phone will buzz and my Mailbox will magically show me some of the mail I haven't read. It's a strange issue to say the least.
Thus far, I haven't seen any of these issues inside iOS 7.0.6. In fact, I haven't been able to zero in on any bugs. Often times, it will take a few days before they show themselves but for now, iOS 7.0.6 seems to be stable, maybe even more stable than iOS 7.0.4 was.
Connectivity
Another thing I am always worried about is connectivity. If my phone can't connect to Wi-Fi or AT&T's cellular network, what good is it to me?
Fortunately, unlike some people, I've had good luck with my connectivity. As I've pointed out, I ran into some Wi-Fi issues in the months immediately after the release of the iPhone 5 but after the arrival of iOS 6.1, things settled down.
iOS 7.0.6 is performing admirably. Wi-Fi is fast, 4G LTE is stable, and I am able to browse the web, stream music and do all of the things I love to do with my iPhone.
Speed
Finally, speed. Who doesn't love a fast device? While I had problems with iOS 7 lag with my iPad 3, I haven't experienced the same kind of choppiness with my iPhone 5. There were some kinks at first, right after iOS 7 arrived, but it died down after a few days.
iOS 7.0.6 is smooth and fast, just like iOS 7.0.4 and the updates before it. Applications open up when I tap them and animations, for the most part, aren't clunky. My hope is that iOS 7.1 delivers the same kind of experience.
Should You Install iOS 7.0.6?
The big question that iPhone 5 owners are likely asking themselves is: "Should I install iOS 7.0.6?" At this point, I can't find anything wrong with the update. Apps work, battery life is solid, my connections are fast, the UI is fast, and I haven't discovered any major bugs lurking around. It's par for the course. It doesn't appear to be harmful and it fixes a serious security issue.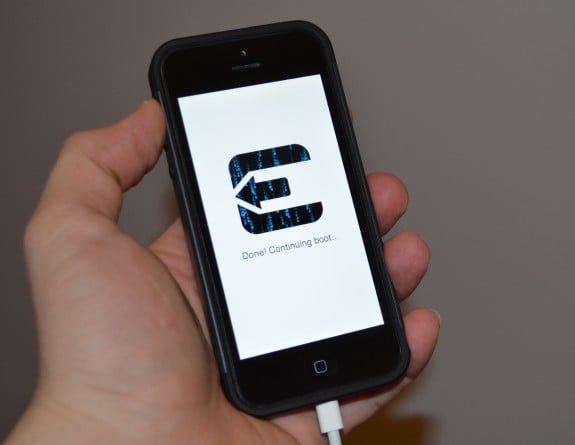 One group of people that might want to avoid it is the jailbreak community, at least for the time being. Keep an eye on MuscleNerd's feed for more information about iOS 7.0.6 compatibility with the iOS 7 jailbreak.

As an Amazon Associate I earn from qualifying purchases.