iOS 7.1.1 Update Arrives as iOS 8 Rumors Swirl
Apple has released iOS 7.1.1 to iPhone and iPad users today, and it's a rather minor update that addresses a few bugs and brings improvements to the keyboard and the iPhone 5s's Touch ID fingerprint sensor.
Specifically, the update fixes a bug that could impact keyboard responsiveness and also fixes an issue when using Bluetooth keyboards with VoiceOver enabled. However, iPhone 5s users will most likely get the most benefit from the update, as it comes with improvements to Touch ID fingerprint recognition.
Whether or not the Touch ID fix addresses concerns from a while ago about the degradation of the fingerprint sensor recognizing fingerprints, but we wouldn't be surprised if this was the update that has been rumored for a couple of months, and we knew it was coming soon, since we spotted iOS 7.1.1 traffic in our own analytics.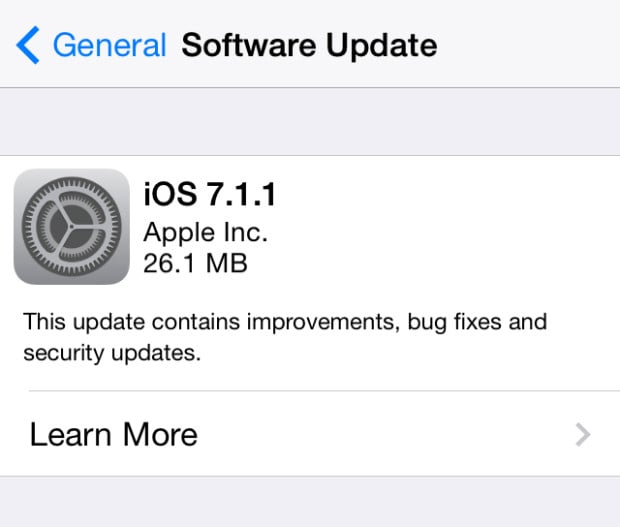 This minor update arrives just one month after Apple released iOS 7.1, which came with a wealth of big fixes and performance improvements, as well as a slightly new look in some apps, including a modified keyboard, a new calendar look and circular buttons in the Phone app instead of long, rounded rectangles. The update also came with CarPlay support, which is Apple's own in-car infotainment system that works by connecting with your iPhone and displaying an iOS-esque user interface on the dashboard touchscreen.
The Calm Before the iOS 8 Storm
iOS 7.1.1 arrives just as iOS 8 rumors are heating up. The newest version of Apple's mobile operating system is rumored to be unveiled at WWDC 2014 coming up in June. This is the same event that iOS 7 was unveiled at last year, so it makes sense for Apple to keep that tradition.
iOS 8 has been rumored for a couple of months now, and we were even treated to screenshots of what the new version will look like, which also reveal new apps coming to the iOS ecosystem, including iOS versions of TextEdit and Preview, as well as Apple's own health and fitness app called Healthbook.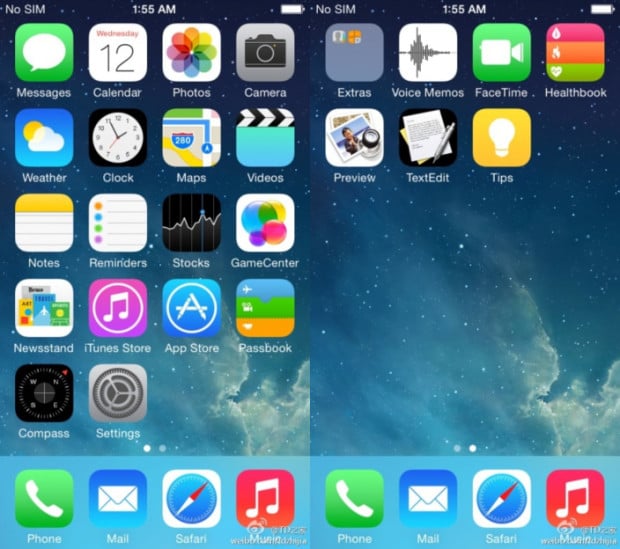 It's also rumored that iOS 8 will come with a bit of third-party app support for Siri, which means that Siri wouldn't necessarily be able to fully control third-party apps, but it could be used to obtain certain info, such as allowing users to ask Siri what song is playing in the background, using Shazam for instance.However, something like this is already available through a minor tweak.
Read: iOS 8 Rumor Roundup: Everything We Know So Far
Overall, though, iOS 8 will look very similar to iOS 7, and the only major changes will most likely just be new features and apps, bug fixes and performance improvements.
Of course, iOS 8 isn't official yet, but if history is any indication, we'll most likely see a successor to iOS 7 at some point in the future. Even if the screenshots aren't real, they at least give us an idea of what we can expect with iOS 8 when it eventually pops up hopefully later this year or early next year.
Will We See an iOS 7.1.1 Jailbreak?
With this minor update brings up the question once again of whether or not we'll see an iOS 7.1 jailbreak now that iOS 7.1.1 is released. Even with today's update, the chances are as about as slim as before, and we most likely won't see an iOS 7.1 jailbreak of any kind.
Jailbreak developer Pod2g was previously asked if an iOS 7.1 jailbreak is in the cards, and he simply replied with an "I don't know." He continued by saying that "there is a big chance the Evad3rs won't focus on it as a team…expect that for iOS 8."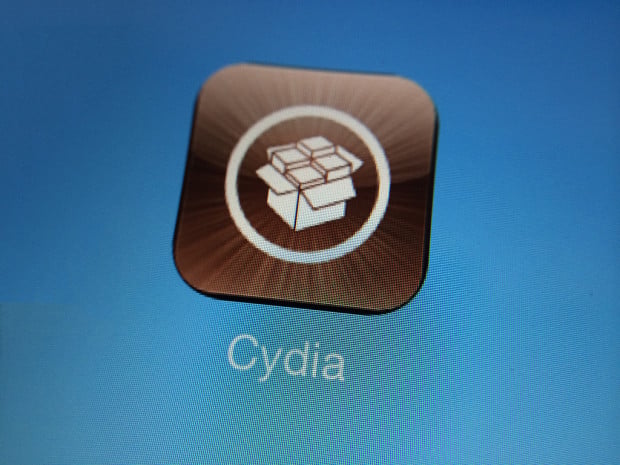 This certainly is grim news for iOS 7 jailbreakers, but Pod2g says that "if one day, I find myself bored and can put enough time and energy into it, I have some ideas for how to make a 7.1 jailbreak…depending on how it has been fixed and other external events."
So it really comes down to whether or not the Evad3rs team wants to spend the time and energy to come up with a new exploit for iOS 7.1, which it sounds like they're not open to spending a lot of energy on it, at the moment, especially if iOS 8 is just right around the corner.
Even with that, don't expect another jailbreak until iOS 8. For now, you can jailbreak iOS 7.0.6, which is the latest iOS version that is jailbreakable. It's been said for several months that iOS 7.1 would be the update when Apple finally patches up the jailbreak exploit for good, and speculators were certainly correct. Of course, it's not surprising, though, considering that iOS 6.1 patched up the iOS 6 jailbreak, but a new exploit was discovered soon after, but the same might not be said for iOS 7.1.

As an Amazon Associate I earn from qualifying purchases.