iOS 7.1.2 Update Won't Patch iOS 7.1.1 Jailbreak
The recent release of the iOS 7.1.1 jailbreak from last week has finally shined a light on a dimly-lit jailbreak community, which has gone without an iOS 7.1.1 jailbreak for quite some time. However, with iOS 7.1.2 right around the corner, what will this do to the current iOS 7.1.1 jailbreak?
Luckily, the Pangu iOS 7.1.1 jailbreak was released at the optimal time. Since we're expecting the iOS 7.1.2 update to arrive any second now, Apple most likely already sent out the update to carriers for testing, and now the update is probably in the staging area ready to be released.
Furthermore, many users in the jailbreak community can confirm that the iOS 7.1.2 update doesn't patch up any of the exploits used in the iOS 7.1.1 jailbreak, so the Pangu tool will work with iOS 7.1.2 whenever it comes out, although the Pangu team may need to slightly update its tool so that it officially works with Apple's new iOS update.
With that said, a lot of jailbreakers are holding off on jailbreaking their devices running iOS 7.1.1, and will instead do the job once iOS 7.1.2 releases, simply because you'll have to re-jailbreak entirely in order to update a jailbroken device from iOS 7.1.1 to iOS 7.1.2.
It's not official as far as what updates and features that will be included with iOS 7.1.2, but rumors point to a couple of notable updates, mostly a fix for iMessage that prevented users from receiving text messages when they switch from iPhone to a non-iOS device. This caused a lot of controversy recently, but it seems that Apple is fixing the issue and it come in iOS 7.1.2.
Of course, we'll also probably see some fixes to for email encryption where a security flaw could leave stored email attachments unencrypted in the default Mail app.
The iMessage problem has been a big issue for many users switching from iPhone to an Android device, and they've discovered that their phone number was still activated with iMessage. Apple employees have been giving users some pretty awful advice on how to fix the problem, none of which actually fix the problem. We detail the best way on how to fix this issue, but we've been told that it still doesn't work for some users.
The issue lies within iMessage and how your phone number is registered with iMessage when you get an iPhone. When you turn iMessage on for the first time, iMessage registers your cellular telephone number with Apple, so if you ever switch to a non-Apple smartphone, you have to deregister your phone number before you can use it elsewhere.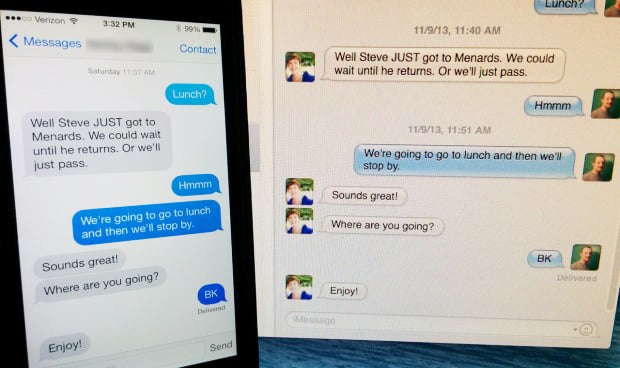 It sounds simple and straightforward, but many users don't realize you have to do this, and they end up having these issues when they switch to Android.
All you have to do is open up the Settings app, tap on Messages and turn iMessage off. This will deregister your phone number with iMessage and make it a free agent to be used on another smartphone without a problem.
Ideally, though, you need to deregister your phone number with iMessage before you switch to Android or another device. However, we're guessing that most users reading this article have already switched over to Android and have experienced problems with receiving text messages. If that's case, and if you still have your old iPhone around, there's still hope.
In any case, we hope Apple addresses this issue with iOS 7.1.2, and the update is expected to arrive at any point now, although many folks familiar with Apple's plans say it will arrive tomorrow (July 1). We'll take that with a grain of salt for now, but we wouldn't be surprised if it did indeed release tomorrow.