iOS 7.1 for iPad Air Review
A week ago, Apple released the iOS 7.1 update for iPhone, iPad and iPod touch. A week later, it's now time to take a look at how the company's new iOS 7.1 update has been performing on Apple's current 9.7-inch iPad, the iPad Air.
Last week, in a bit of a surprise, Apple released iOS 7.1 for the iPhone and iPad. We say that it was a surprise because it was looking like Apple would release a Gold Master to developers before releasing the update to the public. It was also a surprise given that Apple did not ever announce a specific release date for the software.
Surprise or not, iOS 7.1 is here and it's currently available for all devices running iOS 7, a list that includes Apple's iPad Air. The iPad Air is Apple's current large-screen iPad and a device that was scooped up by a great many people during the holiday shopping season and beyond.
Prior to the arrival of iOS 7.1, we heard from a number of iPad Air users, including our own Warner Crocker, who were dealing a issues inside iOS 7.0.6 and below. Many users complained about springboard issues wherein the device would randomly reboot itself. Apple promised a fix for the problem and the iOS 7.1 update came with the supposed remedy on board. But did it actually fix the problem?
We take a look at that and more in our final review of the iOS 7.1 update for the iPad Air.
iOS 7.1 Performance
For a week now, my iPad Air has been running iOS 7.1, Apple's latest and greatest iOS 7 update. The software represents the largest iOS update since iOS 7's arrival back in September and it delivers a number of changes to iOS 7.
Among them, performance tweaks, design changes, bug fixes, and even some brand new features for iPhone and iPad owners. It's not quite as big as an iOS 7 or an iOS 8 but it's a substantial update nonetheless.
Since I released my initial impressions of the iPad Air's iOS 7.1 update, I've received tons of questions about the software including this big question: "Is the iOS 7.1 worth installing?" Here, I attempt to answer that question to the best of my ability.
Speed
iOS 7.0 on the iPad Air was fast, at least for me so I didn't install the iOS 7.1 update thinking that I would see significant changes to the overall speed of the software.
iOS 7.1's speed on the iPad Air isn't the same renaissance that I experienced on my iPhone 5 but there is certainly a noticeable difference between it and iOS 7.0.
The animations inside of iOS 7.1 are sped up to the point that everything just feels a whole lot faster. Every day tasks like opening a folder or starting an application feel faster. The transitions are much more fluid than they were inside iOS 7 and while the changes are a little more subtle on the iPad Air, they are still welcomed.
Apps
As I noted in my iOS 7.1 for iPhone 5 review, several iPhone and iPad owners have complained about broken applications inside iOS 7.1. The biggest culprit, at least in the eyes of our readers, is Facebook. iPad owners say that the application no longer opens up after iOS 7.1 and that it crashes immediately.
I can't say that I have experienced the same issue on Facebook or any of the other applications that I use on my iPad Air. Applications like Netflix, Google Chrome, Twitter, Yelp, Amazon, YouTube, and more have all functioned properly after installing the iOS 7.1 update.
Apple's stock applications are also par for the course and I haven't seen any crashes or bugs pop up over the last week.
iOS 7.1 Battery Life
One of the biggest questions I always get about these iOS update is about battery life. And with iOS 7.1 battery life currently under the microscope thanks to an ArsTechnica report, I've been getting a ton of questions about the performance of the iPad Air's battery after the arrival of the iOS 7.1 update.
Thus far, I haven't seen any drastic changes after installing iOS 7.1. The device still holds a normal charge and I'm able to get several days of use out of the iPad Air before I have to plug it in and charge it. This is normal.
Mileage is going to vary with iOS 7.1 battery life but for the most part, iOS battery life tends to stay the same for most people after an update. If for some reason you're experiencing bad battery life after installing iOS 7.1, be sure to check out our iOS 7.1 battery life tips and one easy fix that might solve all of your issues.
Connectivity
Wi-Fi is working perfectly for me. I own a Wi-Fi only version of the iPad Air so I can't speak for 4G LTE data but Wi-Fi on private and public networks is working out well. Good thing because Wi-Fi connectivity is the life blood of my iPad Air. Without it, the iPad Air isn't as useful in my daily routine.
Bugs/Problems
iOS 7.1 promises to fix a lot of things. Maybe the biggest fix is for the software's springboard crashes that popped up on Apple's 64-bit devices after their arrivals last year. I've never experienced the problem on my iPad Air though I know of plenty of people who did see the issue pop up after buying their iPad.
From what I've heard, the issues have disappeared after iOS 7.1. Personally, I haven't seen a random reboot on my iPad Air since I installed the iOS 7.1 update last week.
Apple also includes a fix for a FaceTime notification glitch that fixes a syncing issue between devices. I experienced this bug in iOS 7.0 but I considered it to be a very small annoyance. There are also some security fixes on board iOS 7.1 that are going to be enticing to those that are concerned about hacking and privacy.
Thus far, I haven't discovered any major bugs inside iOS 7.1 though it appears that another major iOS 7 security flaw has been discovered lurking about. No telling how long it will be until Apple patches it up.
iOS 7.1 Features
There a few iOS 7.1 features that I want to call out by name. One of the features that we use the most on our iPad Air (I say we because my girlfriend uses it a lot as well) is the Calendar application. The large screen makes it easy to see events and important dates. I still find the small screen of the iPhone problematic for apps like calendar. I like the extra real estate.
In iOS 7.1, Apple has added an easy way to display events in the month view. It's a small change but it's one that I think a lot of iPad Air users are going to like.
I don't use Siri a whole lot but when I do use it, it's typically on my iPad. iOS 7.1 allows you to manually control Siri. This means that she won't interrupt anymore when you're trying to query something. Once you start holding down the home button, she won't interject until you release the home button. It makes her less annoying.
Should You Install iOS 7.1?
At this point, I don't see why you wouldn't, especially if you're struggling with random reboot issues. The update boasts solid performance and it comes with some likable changes including alterations to Siri and the Calendar that I particularly enjoyed.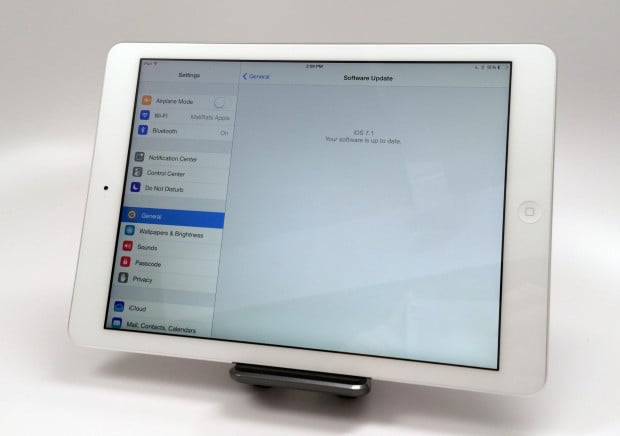 So unless you're thinking about jailbreaking your iPad Air in the future, you probably want to seriously consider installing Apple's latest iOS 7 update. It's a solid piece of software and a perfect bridge from iOS 7 to whatever is next, likely iOS 8.

This article may contain affiliate links. Click here for more details.