iOS 7.1 Update Shows Why iPhone 6 Should End the 16GB Era
Apple should ditch 16 GB iPhones when it launches the iPhone 6 later this year. Apple's offered the same paltry 16GB of storage since it introduced the iPhone 3GS all the way back in 2009. It's ridiculous that Apple still sells iPhones, iPods and iPads with just 16 GB of storage five years later. Apple needs to up its game and make 32 GB or 64GB  the new standard when the iPhone 6 launches.
The iOS 7.1 over-the-air update requires 2.5 GB of available space, which is a couple of gigs more than a lot of iPhones have available. Considering that the new iPhone 5c and iPhone 5s ship with just 13 GB of usable storage, that means Apple expects people to have no more than 10.5 GB worth of photos, videos, apps and games  stored on their devices.  That kind of storage capacity sounded like a lot back in 2009, but just about everything that you put on an iPhone takes up more space these days thanks to the larger display, higher-resolution cameras and HD downloads.
Read: How to Install iOS 7.1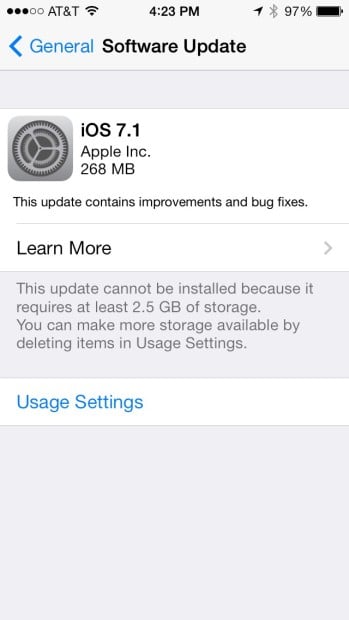 Apple's new iOS 7.1 update includes CarPlay functionality, improved fingerprint recognition, a new camera feature and more than a dozen other significant enhancements that many users will want to get as soon as possible. While the update only weighs in at 268 MB, Apple requires 2.5 GB of free space on devices that are being updated wirelessly. While users can get around clearing out old apps, images and videos by upgrading to iOS 7.1 by plugging their iPhones into their Macs or PCs, it isn't as convenient as simply hitting 'upgrade' in settings and letting your iPhone do its thing.
The last time Apple increased the iPhone's base storage capacity was when it introduced the iPhone 3GS. The 16 GB iPhone 3GS cost $199 and the 32 GB iPhone 3GS cost $299. Apple kept the 8 GB iPhone 3G model around and sold it for just $99 to appeal to those on a tight budget. While Apple's upgraded every aspect of the iPhone over the past five years, storage has stagnated. The latest iPhones have better displays, cameras, processors and wireless components than we could have imagined back in 2009, but here we are stuck with the same old 16 GB of storage.
It's obvious why most iPhone buyers opt for current 16 GB models. The 16 GB iPhone 5c retails for just $99 and the iPhone 5s costs $199 from major wireless carriers in the United States with most two-year contracts. Opting for 32 GB of storage  adds $100 to either of these iPhones. The iPhone 5s with 64 GB of storage costs a whopping $399. There's a lot of components that go into making an iPhone. Does it really make sense to pay double the upfront price for upgrading just one part? Obviously the cost of flash memory's gone down over the past five years, but Apple still has the nerve to charge the same $100 premium.
Apple owes a lot of its success and customer loyalty due to its overall user experience. Regardless of your opinion on its hardware and software, Apple outperforms Samsung and every other smartphone competitor when it comes to customer service and the shopping experience.  All of the effort at the company's retail stores and call centers can fall apart once users start having negative experiences with their devices because they're out of storage. How good of an experience  is it to not be able to download a movie or game for your kid because Apple's storage options are stuck in 2009?
Of course those with fatter wallets or who prioritize spending money on technology already pony up the extra $200 to buy iPhones with 64 GB capacities, but even they're displeased and would rather get 128GB for that kind of money. Apple does offer 128 GB iPads and there's no reason it couldn't do the same with the iPhone 6.
If Apple doesn't up its storage game it will let Samsung differentiate itself with better and cheaper storage options. While Samsung will only sell the Galaxy S5 with 16 GB or 32 GB of internal storage, it includes a microSD card slot that can accept up to a 128 GB storage card. While this probably won't draw the most loyal iPhone users over to Samsung, there's no reason for Apple to let Samsung gain a reputation for being the phone company you want to go with if you want to get around Apple's skimpy storage options.
If we're lucky, the iPhone 6 won't mark the 6th year in a row Apple's launched an iPhone with just 16 GB of storage.

This article may contain affiliate links. Click here for more details.