iOS 7.1 vs. iOS 7: What We Know So Far
While the iOS 7.0.5 update and iOS 7.0.4 update are the most current versions of iOS 7 but they will soon get replaced by the iOS 7.1 update for iPhone, iPad and iPod touch. With iPhone and iPad users fixated on the iOS 7.1 beta, we want to take a look at everything we know so far about the differences and the similarities between Apple's iOS 7 update and its upcoming successor.
In September, Apple released its brand new iOS 7 update alongside the iPhone 5s and the iPhone 5c, ushering in a brand new era of iOS software thanks to a redesign that completely changed the look of iOS forever.
In addition to the new features that Apple delivers with every iOS update, the company also tweaked the look of the user interface, changing up the color scheme, the look of many of its stock applications, and even switching up the look of some of the icons that had stuck around since Apple first introduced the software. It was a massive overhaul and one that Apple to delivered to millions of iPhone, iPad and iPod touch owners around the world.
From the looks of things though, the iOS 7 update that brought the overhaul to iPhone and iPad owners will be getting a sizable update of its own in the form of iOS 7.1.
iOS 7.1 currently sits in the beta process, teasing users on iOS 7.0.5 and iOS 7.0.4. We say tease because Apple hasn't officially announced a release date nor has it confirmed the update's final feature set. iOS 7.1, while official, is still a bit of a mystery.
In the buildup to its release date, we want to take a look at everything that we currently know about the relationship between the two. Here, we take a look at the major similarities and the major differences between the iOS 7.1 update and Apple's iOS 7 update.
In our comparison of iOS 7.1 and iOS 7 updates, we've decided to focus on the features that we consider to be the four main pieces of the iOS puzzle. The first, the overall design of iOS. The second, the features of iOS. The third, fixes in iOS 7.1. And fourth, what we know about the potential iOS 7.1 jailbreak and how it might affect those who are currently jailbroken and those that aren't.
Design
iOS 7 ushered in some massive design changes to iPhone and iPad owners. However, from the looks of things, Apple isn't done tweaking iOS 7 and its look. And that doesn't come as much of a surprise. We expect Apple to continue to try and perfect the look of its new UI, much like it did with the UI that came before it. Over the years, Apple continued to "improve" on the looks of iOS.
What is a little surprising is how significant some of the changes inside iOS 7.1 really are. Yes, there are some small changes but there are a bunch of larger ones that affect features that iPhone and iPad owners interact with on a daily basis. Keep in mind, these changes aren't final, but these are the major changes that we know about thus far.
Slide to Power Off, Slide to Unlock
Two of the biggest changes from iOS 7 to iOS 7.1, at least from a design standpoint, are the changes that Apple has made to the look and feel of the Slide to Power Off function that appears when users attempt to power down their device.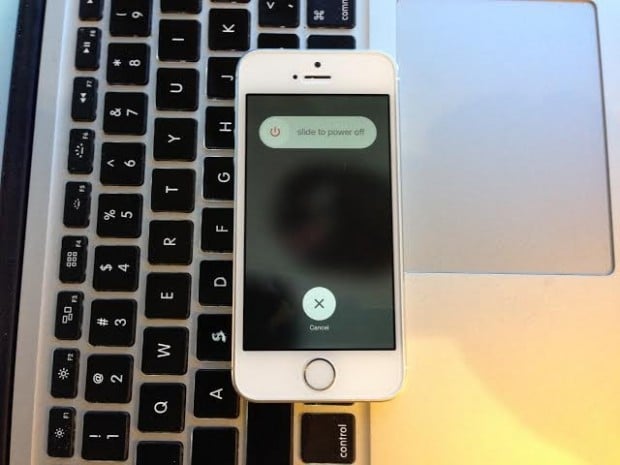 Instead of the red rectangle that appears in iOS 7, iOS 7.1 delivers a brand new look to the Slide to Power Off function in the form of a more prominent white, cylindrical shape that has a circular button with the power sign planted on the top of it. The new animation can be seen in action in the video below.
The Slide to Unlock function hasn't received a massive design change but it does appear to have a more prominent look thanks to a brighter, and slower, animation. The look inside iOS 7 is less dynamic and perhaps Apple wants to make the feature more prominent looking on the lock screen.
Phone
Some of the more significant changes from iOS 7.1 and iOS 7, at least thus far, appear in the device's Phone application. Instead of the Accept and Decline buttons looking like giant red and green rectangles, Apple has simplified things and made them red and green circles. They now take up less space inside iOS 7.1.
The Remind Me and Message functions that used to be giant white rectangles that rested above the two red and green buttons now don't resemble buttons at all. Instead, they float above the two circles with no backgrounds at all.
Apple didn't stop there. It also changed the look inside of the dialer to match these changes. Instead of a large green rectangle, we now have a green circle to select when calling out to a friend or family member.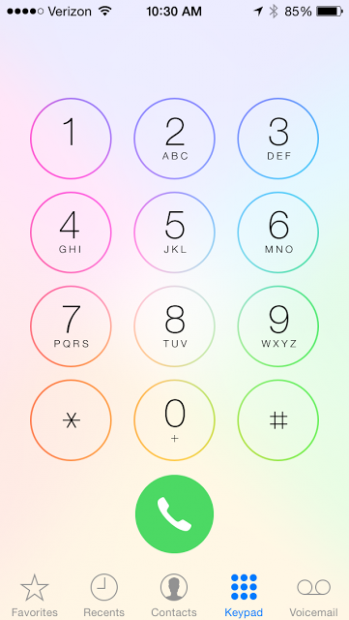 Furthermore, as noted by iDownloadBlog, we also now have a more prominent Add to Contacts inside the dialer that makes it easier to add a new phone number.
Music
Apple also has changed the look of the music app inside iOS 7.1. The changes make the Shuffle All and Repeat buttons more visible, taking away the almost invisible background in iOS 7 and replacing it with a vibrant filled in background that makes the two buttons far more prominent.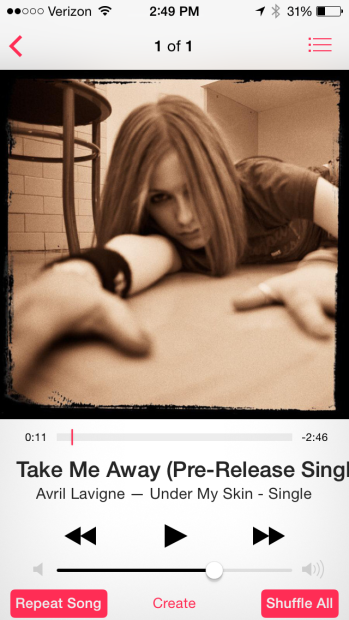 Oddly enough, the buttons aren't circles but rectangles.
Keyboard
The stock Apple keyboard is extremely important to iPhone and iPad owners because it's currently the only keyboard, stock or otherwise, that they have access to without a jailbreak. In iOS 7.1, Apple seems to have made some tweaks to the keyboard with the most prevalent change to the shift and delete keys which now have a bolder look.
The keys themselves also appear to be a bit bolder than the keys found in iOS 7. Many iPhone and iPad owners found the keyboard inside iOS 7 to lack definition and it appears that Apple is trying to make the individual keys, the shift button and the delete button, the latter two being extremely important, more prominent.
Features
Backgrounds
By no means is this a groundbreaking feature but it's one that iPhone and iPad owners might find useful. Many users complained about the parallax effect that arrived inside iOS 7. The effect is meant to give off a bit of a 3D effect inside iOS 7 but apparently it wound up making some owners sick to their stomachs.
Apple listened and presented users with a way to get rid of it. The company has gone one step further in iOS 7.1, delivering an option to turn it off when switching to a new background. Again, it lines up with some of the other changes Apple is making here, making something that is important, more prominent.
iOS in the Car
Maybe the biggest feature that is supposedly coming inside iOS 7.1 is the announced iOS in the Car feature that will make, surprise, using iOS in the car a much easier thing to do.
iOS in the Car was originally detailed at WWDC alongside a number of other features that made it to the initial iOS 7 release in September. iOS in the Car and iCloud Keychain did not arrive with iOS 7 though iCloud Keychain arrived with iOS 7.0.3 last year.
https://www.youtube.com/watch?feature=player_embedded&v=M5OZMu5u0yU
Apple's iOS in the Car feature is still said to be coming to iOS 7 users and from the looks of things, it will arrive in iOS 7.1, delivering a massive feature now found in the current update.
The overall look of iOS in the Car has evidently changed dramatically since Apple first showed the screens off at WWDC 2013 last year. The look matches the evolving look of iOS 7 which Apple continues to tweak slightly with each iOS 7.1 beta.
Below is a warning screen which we find on many in-car apps and devices, as well as indicators for direction traveling in the upper left, the time and WiFi or LTE signal and an on-screen home button in the lower left.
Overall, the feature is meant to deliver better accessibility to drivers and the iOS in the Car system will likely make an official appearance on several 2014 vehicles later this year.
Fixes
Animations
We've heard that Apple has improved upon many of the animations inside iOS 7 with iOS 7.1 expected to deliver changes and improvements. Gotta Be Mobile is hearing that animations are more fluid and are much quicker than those found inside iOS 7.
The iOS 7 betas have suggested that there are at least a few changes to the feel of some animations. The animations for both Messages and Control Center are both said to have more bounce in them, making them less stiff than the animations found in iOS 7.
Random Reboots
A report from BGR suggested that the company was working on fixes for random reboots and crashes that have been occurring inside iOS 7 and recently, Apple confirmed to Mashable that it in indeed working on a fix for the springboard issues that have been affecting iPhone users.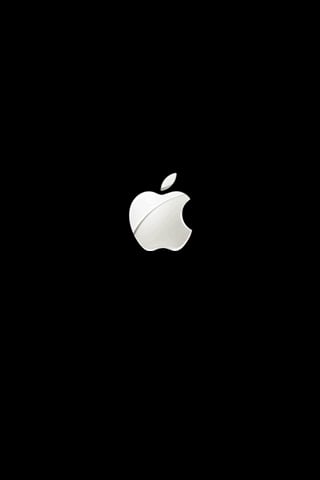 iPhone and iPad owners have been dealing with random reboots inside iOS 7 since the release of iOS back in September. The problem is primarily affecting iPhone 5s users though iPad mini with Retina and iPad Air users have also seen the issue as well.
Performance
One of the biggest complaints that some users have had about iOS 7 is the lag. iPad owners in particular have been dealing with lag issues since the release of iOS 7. The overall UI feels choppy, performing small tasks like opening a folder feel disjointed, and there is a feeling that the operating system just isn't as fast as iOS 6 was.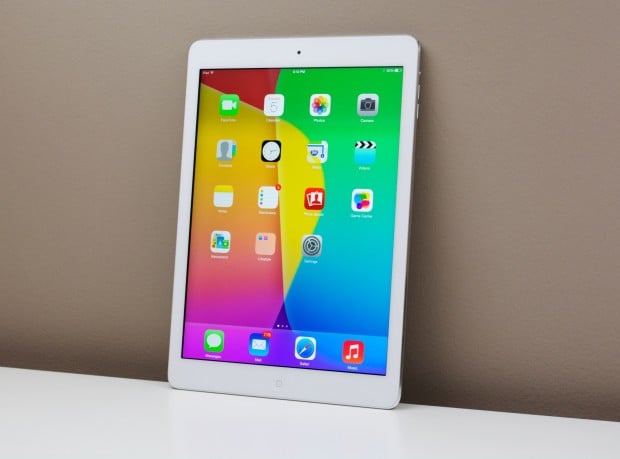 From what we've heard, performance is much better inside iOS 7. Some developers believe that iOS 7.1 was the update that Apple should have released back in September, it's supposedly that big of a difference.
Jailbreak
The iOS 7 jailbreak recently extended to iOS 7.0.5 owners. The developer team says that the update is safe, along with iOS 7.0.4, the update that is on most iPhones and iPads.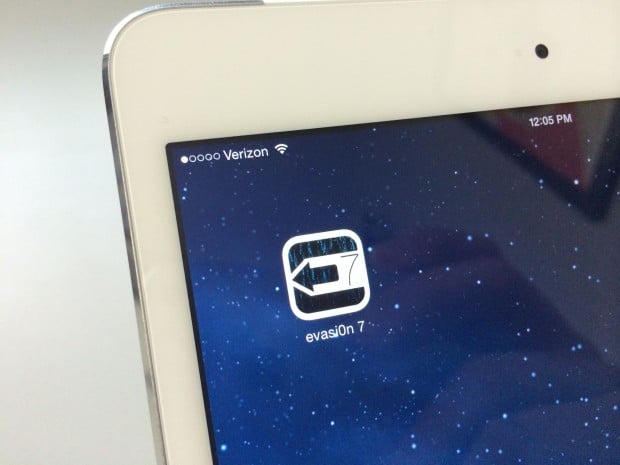 However, the iOS 7.1 jailbreak is up in the air. We now know that support has stopped on iOS 7.1 beta 3, a sign that Apple is likely plugging up at least some of the exploits used by the Evasi0n 7 jailbreak, and a sign that the developers behind the jailbreak could be facing some problems in iOS 7.1
With no clear iOS 7.1 jailbreak in sight, it could be that jailbreakers will have to remain on iOS 7 and skip out on the enhancements and changes found in iOS 7.1. The good news is that an iOS 7.1 jailbreak has not been ruled out.
—
It's still not clear when iOS 7.1 will arrive though rumors point to at least one more beta before Apple releases the software to the public. Currently rumors point to a release in March, a release that would come several months after the arrival of the first iOS 7.1 beta.
When the update does arrive, it will become available for all iPhone, iPad and iPod touch users on iOS 7 unlike the iOS 7.0.5 update which rolled out to select iPhone 5s and iPhone 5c users.

This article may contain affiliate links. Click here for more details.