iOS 7 adoption rate hits 33% in Less Than 24 Hours
Apple officially launched iOS 7 yesterday, and it seems like many iPhone users were eager to give the new version a try. According to tracking company Mixpanel, iOS 7 has already reached over 33% adoption in its first 24 hours, while iOS 6 has now dipped into the low 60%, compared to when it was at 93% before iOS 7 released.
The chart provided by Mixpanel shows a clear increase in iOS 7 adoption, as well as an obvious decrease in iOS 6 usage. Older iOS versions have remained at a steady 4% throughout the upgrade so far, so these are likely older iOS devices that no longer can upgrade to newer versions of iOS.
Mixpanel says the chart's information is from "1,753,677,440 records," which isn't exactly clear, but it could mean the number of users that it surveyed.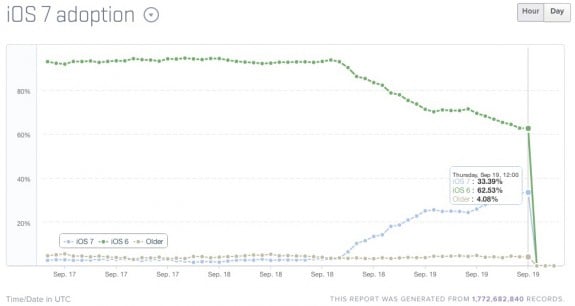 This 33% adoption rate is already on track to meet Android Jelly Bean, which owns a little over 40% of the Android operating system market share. Of course, with Android's open-source tradition, it's a bit more difficult for Google's mobile OS to install on a majority of devices without working with other manufacturers and carriers.
As for iOS 7 traffic here on GottaBeMobile, our readers have taken quickly to the new iOS version as well, with almost 34% of our iPhone readers already on iOS 7, with everyone else either on iOS 6 or an older version.
We should be seeing that percentage rise over the next few months, and it should definitely see a boost once the iPhone 5s and iPhone 5c are released, as those devices already come with iOS 7 out of the box.
If you're still on iOS 6, but are looking to upgrade to iOS 7, we have a handy guide that you'll want to follow to make sure that it goes smoothly for you. Apple's servers were pretty slammed yesterday, thanks to all the users who wanted to upgrade. We're pretty sure that the servers are still receiving heavy loads, but it's probably not as bad as it was yesterday. However, it's always a good idea to set aside plenty of time for the update to take place, just in case there are any snags or problems along the way.

This article may contain affiliate links. Click here for more details.