iOS 7: Apple Plans to Replace your Navigation System in Cars With Siri, Apple Maps
Though Apple's wholly developed iCar may be Steve Jobs' lost fantasy, Siri is about to hit the road in a big way and bring with her Apple's mapping application that was launched on iOS 6 with the iPhone 5 to your car's center console. A new report suggests that in iOS 7, which is slated to debut at WWDC this June, will see broader expansions of Apple's auto ambitions.
"Apple plans to move aggressively into the in-car integration space later this year, according to multiple people familiar with the initiative," a post on 9to5 Mac reads. "Apple is working with car makers to deeply embed iOS's Maps and Siri services into cars, according to these people."
It looks Apple is looking to work with car-makers to replace the default mapping program that ships out of the factory with your car. According to the same report, Apple wants to create a home console system with automakers so that when a user plugs in their iPhone smartphone, the iPhone will display Apple Maps and Siri will offer voice controls.
The display of Apple Maps is said to be optimized for the larger displays of the center console of cars compared to the current 4-inch screen of the iPhone. Apple may be working on a mirroring technology to help display the maps on the screen. In the past, Nokia has attempted a similar concept with its MirrorLink technology for its Symbian smartphones.
https://youtu.be/d12Q0Fi5DtQ
It's unclear when the technology may be available, however, as it requires deep integration and close collaboration with automakers for the solution to work well. In the past, Apple has made smaller steps in cars with iPod music control integration and more recently with the Siri Eyes Free initiative that uses voice control to help curb distracted driving. The soonest that this integration would be showcased would be WWDC, though roadblocks and delays could force Apple to postpone this announcement until its fall hardware announcements.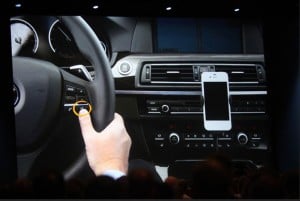 If Apple is successful here, it may help the company thwart off threats for an Android controlled car. Google's mobile OS has been incorporated in third-party aftermarket GPS navigation systems in the past. Samsung has recently targeted Siri with its own S Voice Drive app on the Galaxy S4.
Compared to the current market to bring a smart mobile OS to the car, the advantage for consumers here is that Apple's system would still give consumers more connected and smart features while at the same time allowing them to retain the stock, factory look of their vehicles. For manufacturers, in the future this could even help offload the costs of developing smart apps and tools to Apple, where the iPhone would be the hub of the car and the console would merely serve as a larger display, similar to connecting an iPhone to an HDTV at home.
It's also unclear if other apps will also be supported and mirrored to a car's center console in the future.