This is What Safari Should Look Like on iOS 7
We expect iOS 7 to arrive later this year with the iPhone 5S, and with the new version of iOS Apple could take the opportunity to update Safari for a better mobile internet experience.
The iPhone is vastly different than it was in 2007, as is iOS and many fo the iPhone apps, but Safari hasn't changed much.
The Safari neglect is troublesome considering how much mobile browsing users do on their iPhone. Despite the millions of iPhone apps, Safari is likely one of the most used iPhone apps on many owners' phones.
We know little about specific iOS 7 features, but we can share what Designer Brent Caswell imagines Safari could look like in iOS 7. While Caswell doesn't call out iOS 7, it's possible that Apple will deliver a large update with the next version of IOS, and we would like to see many of these Safari features in iOS 7.
One Bar in Safari on iOS 7
The first change Caswell imagines a unified address and search bar, something we expected with iOS 6, since Apple made a similar change in OS X Mountain Lion. As Caswell explains, a single bar is, "infinitely more simple and straightforward." To make this work, the iOS 7 keyboard would offer a different set of keys that offer users more choice while typing in Safari. The image shows how this new single search bar could handle bookmarks, on page results and web addresses.
Better Bookmarks in iOS 7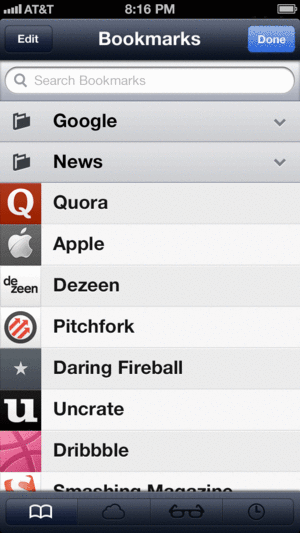 Caswell also imagines a better bookmark experience in iOS 7, complete with bookmark organization and the ability to share a list of bookmarks with iCloud. In this part of the concept, we also see easier ways to edit bookmarks as well.
Bookmark Organization
The improved bookmark organization would deliver visually appealing folders and animations to show the bookmarks in folders. Safari would also include a search function for bookmarks like in other areas of iOS.
Shared Bookmarks in iCloud
In this concept, Safari in iOS 7 would offer a Bookmark Stream, which like Photo Stream would make it easy to share a list of bookmarks with others. This is could simplify planning a trip, working together on a project at work or sharing your favorite links with friends — like a semi-private Pinterest.
In Bookmark Stream, Caswell imagines contributors and subscribers, which would make it possible to collaborate while still maintaining control of a shared BookMark stream.
Better Safari Page Management
The current way of looking at open pages in Safari only shows one page at a time,, which makes finding the right page a hassle to say the least. In this iOS 7 concept, Safari shows four pages on the screen at once. This offers faster access to pages and a snapshot of what is on the page.
Faster, Easier Web Sharing in iOS 7
The Safari iOS 7 concept also includes a new way to share items to web apps and to interact with web apps. This could allow a user to DM a message in Twitter or share publicly based on the option a user chooses.
Web Notification in Safari for iOS 7
The Safari app in this iOS 7 concept supports web notifications, complete with a notification badge that iPhone users are used too. Caswell turns this into a small notification in Safari and would offer similar control over Mail notification centers.
Better Reader Options in Safari for iOS 7
Rounding out the iOS 7 concept is an improvement to the Reader portion of Safari. In this concept we see options for controlling brightness, fonts and themes. The current version of Safari only offers control of text size.
Head over to Brent Caswell's site to check out the rest of the iOS 7 concept and his reasoning behind the design choices.