iOS 7 Endorsed by Law Enforcement, Upgrade Now.
New security changes implemented by Apple in the latest iOS 7 software update have gained the praise of law enforcement officials with the local District Attorney George Gascon of San Francisco going as far as urging people to upgrade to the latest software update as soon as possible. The security features make it harder, if not impossible, for thieves to activate an iPhone if the device is lost or stolen, thus diminishing its resale value to potential buyers of stolen smartphones, a move that law enforcement officials hope would lead to a decrease in smartphone theft and crime.
READ: iOS 7 Release Date Could Mark Cut in Crime, Save Lives
Thanks to a feature called Activation Lock on the most recent iOS 7 software update–which is now available for older iPhone models and will be launching out of the box today on new iPhone 5s and iPhone 5c models this year–an iPhone cannot be wiped and activated if the person in possession of the device doesn't know the Apple ID password associated with the device. If you can't wipe the phone and put your own information, photos, and files onto the device, the iPhone becomes a paperweight if it gets lost or stolen.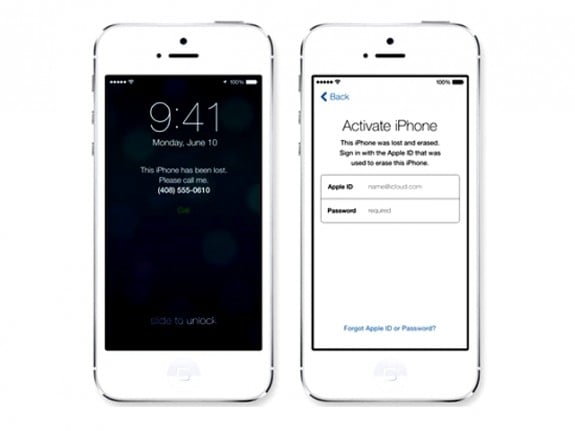 Best case scenario here for thieves would be to salvage the device for parts, which would fetch far less in value than if the thieves are able to sell a fully functional phone.
TUTORIAL: How to Setup iOS 7 on iPhone, iPad
San Francisco, like New York and other major metropolitan centers, has seen a surge in smartphone theft in recent years. As of August, local SF publication Mission Local noted that the number of smartphone thefts rose by as much as 34 percent year-over-year. This is just the number of reported phone losses, and the number could be higher as not everyone files a police report. Nationwide, LoJack for Mobile reports that over 100 phones are stolen every minute.
The worst part? Some of those thefts end in violence. Not only do the iPhone owners lose their property, but their lives and health are in danger. The situation got so bad that politicians and law enforcement officials had recently gone as far as talking with technology companies–like Apple and Samsung–to ask them to do more to help prevent smartphone theft.
READ: Experts Attempt to Hack Anti-Theft Phone Measures
Politicians even went as far as calling these companies complicit in the thefts as they benefit–for every phone that is stolen, that's another phone that has to be replaced by the owner and more revenue for the phone-makers themselves.
Apple isn't the only one trying to address security on the iPhone and the safety of its users in the event of loss or theft. Rival Samsung has been working on various measures on its Galaxy line of phones as well, including a partnership with Lookout Security and working with AbsoluteSoftware to deliver LoJack for Mobile to trace and recover a loss or stolen Galaxy smartphone.