iOS 7 Errors Driving You Crazy? Put Down the iPhone and Walk Away
It's finally time to install iOS 7, but many iPhone, iPad and iPod touch owners are running into update errors and getting frustrated. My advice is to simply shelve the iOS 7 update until you're in the comfort of your home and can go a few hours without having to use your iOS devices. Sure, you won't be amongst the first to get to use iOS 7, but you'll survive just fine if you wait for the digital crowds to die down a little.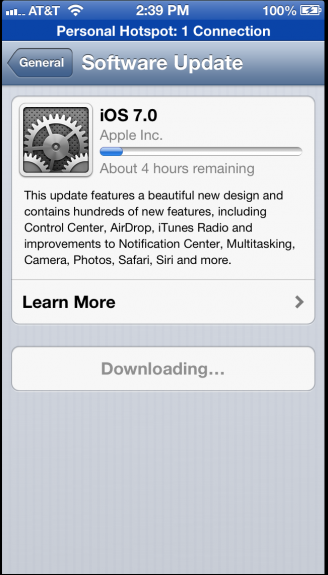 Apple released iOS 7 worldwide at about 10am PDT today and a lot of people simply can't wait to check out Apple's latest and greatest mobile operating system. Even though Apple has massive data centers and is replicating the iOS 7 upgrade files around the globe, it's simply unreasonable to expect the iOS 7 release to go off without a hitch. And by hitch, we mean wait times that are four hours or more in some cases as you can see in this poor soul's iOS 7 software update status.
Read: iOS 7 Software Update Failed Errors Frustrate Users
I can certainly understand why you might want to try out all of iOS 7's new features, but do you really need it right now? Apple developers and fans have had access to iOS 7 beta since June. If you really wanted to download it early you've already missed the boat. You won't be the first or near the first to try iOS 7 and brag about it to your friends on Twitter or Facebook.
If you're not an iOS fanatic, there's really no need at all to install iOS 7 today. There are a lot of new features that we like and you can check them out in the above video.
Read: 10 iOS 7 Features That You'll Hate
While some iPhone owners, including myself, are able to download and install iOS 7 on the first attempt, there are a others who have been trying for hours. And just because you can download iOS 7 doesn't mean that you should install it right away.  iOS 7 is a major change and you should allow yourself plenty of time to adjust to it.  We recommend taking the time to back up your iPhone to a computer before installing iOS 7 rather than relying on iCloud backups. If something does go wrong with the installation process and you might need to wait several hours to download your backup files. You shouldn't update your devices to iOS 7 if you need to go anywhere in the next few hours and can't risk being without your iPhone.
If you've already pre-ordered the iPhone 5c or plan on buying the iPhone 5s on Friday you can skip the whole iOS 7 update game altogether and save yourself a headache.
It's nice outside. Go enjoy life a little rather than swearing at Apple and your iPhone.

As an Amazon Associate I earn from qualifying purchases.