iOS 7 on iPad 3 Review: One Month Later
Just a little over a month ago, Apple released its latest and greatest version of iOS, dubbed, iOS 7. The iOS 7 update accompanied the iPhone 5s and iPhone 5c to shelves and it rolled out to several of Apple's older iPhones and iPads, including the iPad 3. After spending a bit of time with the iOS 7 update on the iPad 3 over the last month, we wanted to share our updated thoughts on Apple's new software.
Back in June, Apple announced the iOS 7 update for arrival this fall. The update, which the company considers its biggest update to iOS since the introduction iOS, arrived on schedule on September 18th. The update, as expected, delivered new features and a new look to owners of Apple's aging iPhones and iPads including the iPhone 5 and iPad 3, two of the biggest releases from last year's 2012 iDevice crop.
For the past month, iPhone, iPod touch and iPad owners have used the iOS 7 update and getting mixed results. Almost immediately after the arrival of iOS 7 in September, users noticed a security flaw with the lockscreen. And just a few days after the bug got discovered, Apple rolled out the iOS 7.0.2 update to owners of the iPhone and iPad. However, iOS 7.0.2 wasn't the major iOS bug fix that iPhone and iPad users were looking for and it seemed to bring even more issues along with it.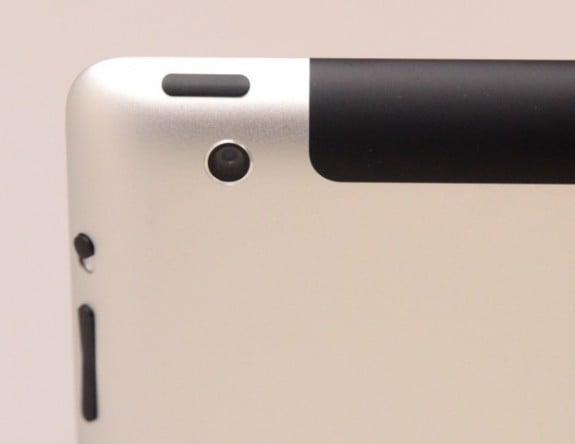 After the release of iOS 7.0.2, iPhone owners began to experience issues with iMessage wherein they cannot send iMessages to friends. Others were unable to receive iMessages, leaving Apple little choice but to work on a fix. Teachers who use the iPad inside the classroom also began to complain about a filtering issue that left them unable to properly monitor the usage of their pupils. Apple also promised a swift fix for that. Those issues, of course, are just a small sampling of the problems that iPhone, iPad and iPod touch owners reported after the arrival of iOS 7 and iOS 7.0.2.
To no one's surprise, Apple delivered on its promise and released the iOS 7.0.3 update just a few short days ago. Unlike iOS 7.0.2, the update was loaded up with fixes. And while we have heard success stories from iPhone and iPad owners, we've also heard stories about bugs that remain live inside of iOS 7.
Like many others, we have also been using iOS 7 for over a month, and here, we take a look at how the experience has been on our iPad 3, the third-generation iPad.
Overall Performance
Battery Life
In the past month or so, I've received tons of emails about the performance of iOS 7, iOS 7.0.2, and iOS 7.0.3. After the arrival of both iOS 7 and iOS 7.0.2, many of those emails were from iPhone and iPad owners denouncing the updates because of battery drain issues that they brought with them. After the iOS 7.0.3 update, I haven't heard the same outpouring of complaints about battery. There are still complaints, just not on the same scale as the other two updates.
I have no doubt that people are having issues with battery life but thus far, I haven't seen any of the issues that owners are complaining about. In fact, my iPad 3 has the same fantastic battery life that I've become used to getting. That means all day battery life and fantastic staying power when in standby mode. Nothing has changed really.
For whatever reason, I've never encountered these mysterious iOS battery issues that people seem to run into after iOS updates. I have, however, run into them after installing Android updates, so I'm not as lucky as some might think. I have just never run into them with iOS. That is not to say that I don't believe some people but I have a feeling that many of the issues are caused by apps or the user or a malfunctioning battery and not iOS. Just my two cents.
Bugs
We've reported on the many bugs that have been discovered lurking inside of iOS 7, iOS 7.0.2 and iOS 7.0.3. Every day, we hear about how bad the iOS 7.0.3 update is and about the issues that users are having. The Apple Discussion boards are full of complaints about iOS 7.0.3 and below. And yet, I haven't experienced  a single one of the bugs that people are talking about, save for one.
I complained about lag in my initial iOS 7 on the iPad 3 review. I also mentioned that the lag seemed to have calmed down after the iOS 7.0.3 update. And while it's a little better than it was back in September, there are still times where the slow down is enough to be annoying. Opening folders and apps takes far longer than it should take. iOS 6 felt much snappier than iOS 7 in this department. There is also the occasional lag when moving through home screens. This simply should not happen.
The best word I can use to describe this UI "bug" is sluggishness. As I've said numerous times, it's not a catastrophic bug that has me thinking about selling my iPad, it's an annoying bug that probably has given me a few more gray hairs.
I can't whine about too much because it feels like I am one of the lucky ones. I've heard from iPad 4, iPad 3 and iPad 2 owners from across the world who are experiencing some major bugs with iOS 7, none of which I see on my device.
As for bugs outside of Apple's control, I've been experiencing a number of issues with Netflix. The quality is often fuzzy and it often freezes for a good 30 seconds or so when it's first fired up. Given how popular Netflix is, you'd think the company would make bug fix updates a priority.
Connectivity
For the record, I do not own the LTE iPad 3 so I can't speak to how 4G LTE connectivity has been. Fellow editor Josh Smith claims that his 4G LTE connection on his iPad mini is still great, even after installing iOS 7.0.3, so there's that.
I can also say that the Wi-Fi connection on the iPad 3 has never lost a step in the transition to iOS 7 to iOS 7.0.2 to iOS 7.0.3 Things are working out just fine and I am able to stream movies and shows on Netflix with ease.
I am, like many others, hearing about the grayed out Wi-Fi issue and connectivity problems that iPhone and iPad owners alike are facing in iOS 7. It just hasn't happened on my iPad 3, at least not yet.
What I Like About iOS 7
New Look & Feel
After using iOS 7 for over a month, I can say, without a doubt, that iOS 7 looks and feels better than iOS 6 did. I've used this example before but I will use it again. It's the subtleties that really do it for me, subtleties like the color changes that occur when changing the lock screen or home screen background. I recently started using a photo I shot at a concert as my lockscreen photo and the numbers from the passcode lock compliment it perfectly.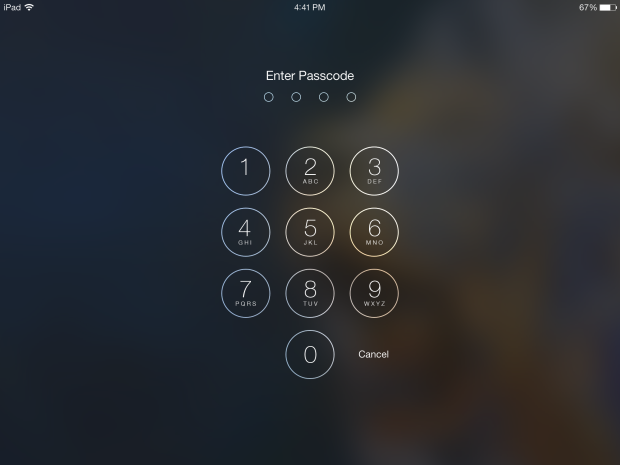 As for the overall feel, it hasn't taken long for me to feel comfortable using iOS 7. The first couple of days were a bit of a learning experience, just figuring out where things were, but the learning curve is minimal. A month later, iOS 7 feels like a piece of software I've used for months and not weeks. And that's a great thing not only for me, but for other users as well.
Control Center
Simply put, Control Center is the iOS 7 feature that I use the most. It's a feature that I absolutely love and one that should have been introduced a long time ago. I use it a ton on my iPad, mainly for quick access to volume controls and brightness. One of my main use cases with the iPad is consuming content and the ability to quickly change the brightness or lower the volume is game changing for me.
It also helps that I have easy access to features like Do Not Disturb, orientation lock and Bluetooth. The iPad has a ton of battery life and that makes it a fantastic option for streaming music through my Bluetooth speaker. If I want to turn it off, all I have to do is pull up the Control Center from the lock screen. Easy and well executed, like all software should be.
Camera/Photos
I don't use the camera on my iPad much but it's nice to know that when I do, I have access to a phenomenal camera application that is a huge upgrade over the previous one. Maybe best of all though is the new Photo application which offers a new interface that makes it easier to find photos from the past. I take a ton of photos with my iPhone but love looking at them on my iPad. The presentation in iOS 7 makes this simple and easy.
Multitasking
I hated the "multitasking" in iOS 6, particularly on the iPad where I felt Apple was wasting an opportunity given the size of the iPad's display. The new multitasking is not perfect but it's a massive improvement over iOS 6. The iPad's screen makes shifting to various applications extremely easy. Again, like Control Center, it works well and it's intuitive. I use it a ton.
Disappointments
Siri
Same old story with Siri. As someone who has never really taken advantage of Siri, other than to dictate messages to friends and family, it's not surprising that Apple's new features haven't enticed me to start using it. I thought it would be great to use Siri to open an application, but in reality, now that I have the feature, I never use it. Why? Execution. Siri is slow and inaccurate. And remember, this is supposed to be a service that is supposed to make things convenient for iPhone and iPad users.
It's a shame
Mail App
Nothing much to complain about other than the mail application remains virtually unchanged from iOS 6. While other applications got big time interface changes or useful features, the Mail application is as bad as it ever was. Nothing is easy to do with this application and it's no wonder that I am probably one of the only people left that continue to use it. It's not that I like it, it's that I haven't found anything that I like better. And no, the Gmail app is not good.
FaceTime Audio
I've said this many times. FaceTime Audio was one of the features I was looking forward to most with iOS 7 and unfortunately, Apple failed to execute the feature perfectly. While the experience on the iPad hasn't been as bad as the experience on the iPhone, I still get choppy sound when I use the service over Wi-Fi on the iPad.
I have a brand new router, the service should be working perfectly. It doesn't. When it does work, the audio is great and those I am talking to sound extremely crisp, better than an actual phone call. However, I would say that the service works less than 50% of the time. It's a disappointment to be sure though I am hopeful that Apple will work to improve it as time goes on.
Should iPad 3 Users Install It?
At this point, after using iOS 7 for a month, I am happy that I installed it. Are there issues? Yes there are issues. The lag and the problems with Netflix are headaches that need to be solved soon. However, in my opinion, the good of iOS 7 outweighs the bad and I honestly don't know what I'd do without some of the features that came along with Apple's new update.
However, I also understand that there are a ton of complaints about iOS 7, iOS 7.0.2 and iOS 7.0.3 out there. So maybe my experience is an anomaly. I can't say for sure. What I can say is that I can't predict whether something is going to break after making the upgrade but I hope that my overall experience can help some users inch closer to a decision.
Apple isn't putting a gun to anyone's head to make them update. It's optional. So anyone worried about bugs can simply hold out for a future iOS 7 update. I expect there to be quite a few of them over the next year or so.

As an Amazon Associate I earn from qualifying purchases.