iOS 7 on iPhone 5 Review: One Month Later
On September 18th, Apple finally released its iOS 7 update, the update that it announced at WWDC 2013 and the one that replaced iOS 6 as the company's latest and greatest. September 18th was a month ago and now, it's time to take a close look at how iOS 7 has fared on Apple's previous iPhone, the iconic iPhone 5.
In June, Apple announced iOS 7 to the world, showing off a number of its big time features including AirDrop, its revamped core features including Notifications and Weather, and of course, it's new look that is drastically different from any piece of software that Apple has ever released for the iPhone, iPad and the iPod touch.
The company attached a fall release date to the software, a sign that it would be coming alongside the new iPhone, and in mid-September, after an iPhone 5s launch, Apple pushed the iOS 7 update to owners of its iPhone 5, iPhone 4s, iPhone 4, iPad 2, iPad 3, iPad 4, iPad mini and the fifth-generation iPod touch. The update's release was unfortunately marred by installation issues but that didn't stop millions of users from installing the new software on day one.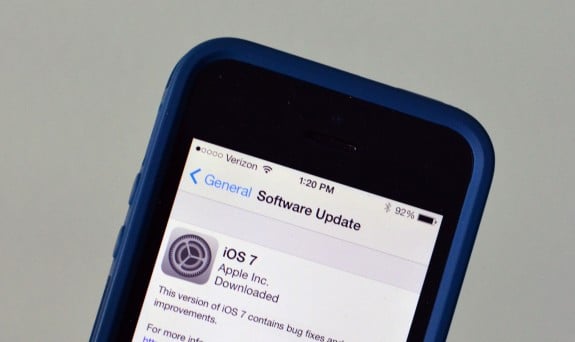 In the days after, we offered up our impressions and initial thoughts on the iOS 7 release, taking a look at the updates on the iPhone 5, iPhone 4s, iPad 3 and iPad mini in particular. Now a month later and just a day ahead of the iPad mini 2 and iPad 5 launch, it's time to take a look at how the iOS 7 experience has been for the past month.
Since the arrival of iOS 7, we've seen not one, but two iOS 7 updates in the form of iOS 7.0.1 and iOS 7.0.2. The latter of the two arrived for all iOS 7 users just a few weeks ago. Here now, we take a look at how iOS 7.0.2 and iOS 7 as a whole have held up over the course of the past few weeks and take a look at what we expect as we move forward into 2014.
Overall Performance
Battery Life
So far, I've had extremely good luck with iOS 7 battery life on the iPhone 5. While I've heard some horror stories about battery drain and what not from friends, family and from iPhone users around the globe, my device hasn't experienced any of the battery drain issues that are seemingly plaguing many iPhone users after installing iOS 7.
I am still able to get a full day of use on Wi-Fi. When I am strictly using 4G LTE, the battery life is noticeably worse but I still don't have to charge the phone until I am getting into bed. This is the same type of battery life that I got when using iOS 6 and it's the type of battery life that I was expecting from a brand new, overhauled mobile operating system.
In regard to the issues that others are having, perhaps I have really good luck. But I think it's more likely that it's the apps I use and how I use the phone that play into the fantastic battery life that I get.
Bugs
I haven't encountered any major issues with iOS 7 on the iPhone 5, save for one. While iPhone 5s owners are dealing with reboots, I haven't seen those. iPhone 4s owners are dealing with lag but the lag issues that I had have subsided on the iPhone. They still are present on the iPad. No, the only issue that has marred my experience is the iMessage bug.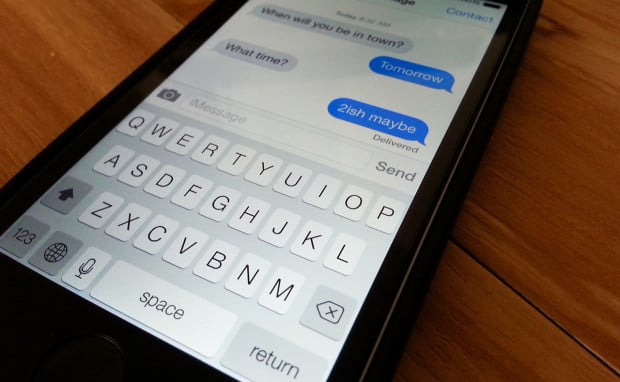 After installing iOS 7.0.2, my iMessage began to act funny. I was no longer able to send iMessages and had to depend on texts. It was something that was extremely frustrating given how reliant I have become on Apple's message service. As I found out later, this is a widespread issue and for some people, much worse than not being able to send iMessages.
Some people simply aren't able to receive iMessages from other iOS users. For many, this might seem trivial, but for those that have limited texting plans, it's a pretty raw deal. Fortunately, thanks to a temporary fix, I've managed the problem but it's still a problem nonetheless. Fortunately for those that have encountered it, Apple says that it will be fixing the flaw with an update.
Connectivity
Lots and lots of people are having issues with Wi-Fi in iOS 7. We've reported on it several times and it's a bug that has lingered since the introduction of iOS 6. There are some temporary fixes that owners can try but at this point, there is no clear cut fix for the issues and it's not clear if Apple is going to tackle the issue down the road.
Lucky for me, my iPhone 5 hasn't experienced any connectivity issues when it comes to Wi-Fi or 4G LTE. Both connections have been stable in unknown and known Wi-Fi networks and AT&T's 4G LTE network is as fast and reliable as it has ever been. Given the amount of people that are complaining about these issues, I feel fortunate.
What I Like About iOS 7
New Look/Apps
As many iPhone, iPad and iPod touch users know, the look of iOS 7 is different than the look of iOS 6. The UI is flatter, the icons are different and the colors are vastly changed. I liked the look of the software when I first saw it at WWDC and I liked it when I finally got hands-on with the final version of iOS 7 just a month ago. That hasn't changed.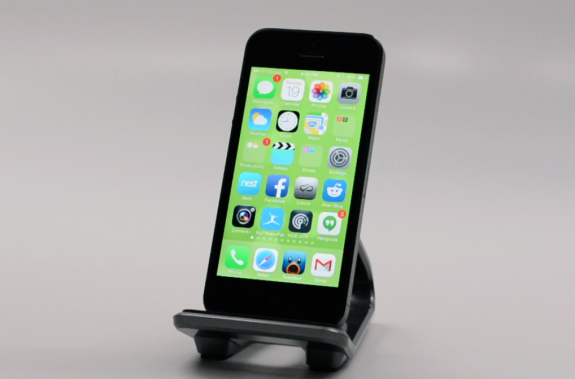 The look and feel of iOS 7 felt a little alien at first but over time, I have come to appreciate what Apple has done. The new icons have grown on me, even the garbage disposal looking Settings icon. And it's the little things like the color changes to match the background color that really make iOS 7 a piece of software to marvel at.
What I also love is the fact that many of the applications I use the most, Twitter for example, not only run beautifully but have receive massive design changes to match the operating system. Twitter looks fantastic, so does the Facebook app. Great looking applications that work, can't ask for much more.
Control Center
As I said in my initial review of iOS 7, Control Center, the little menu that can be pulled up with a swipe from the bottom of the screen, was going to be a feature I used, a lot, and that hasn't changed. I continue to depend on Control Center on a daily basis and it's, maybe pathetically, the feature that I find myself using the most.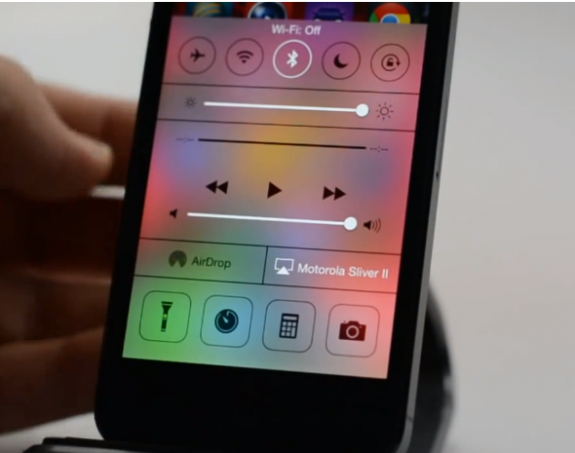 Whether it's adjusting the screen brightness when I am reading something in bed, turning off my Wi-Fi, turning on Bluetooth to enjoy music out of my speakers, I use Control Center. I can also appreciate the fact that I can now hide things like the Calculator application inside of a folder and bring other applications out onto my home page.
This is a feature that should have been inside iOS several updates ago. I'm just glad that it arrived in iOS 7 as it's something that I will be using, extensively, for years to come.
Camera & Photos
I go to see a lot of live music and I love to snap photos of the acts and of my friends. So having a fantastic photo application is important to me. Fortunately, I think that the Camera app and iOS 7's new Photos are drastic improvements over the previous versions.
The Camera app in particular, with its new filters, is impressive. It's more functional, offers more options and helps provide great photos and video. It's hard to complain. It's still not as fully featured as Samsung's camera application but the additions that Apple made in iOS 7 are a step in the right direction.
As for the Photos, it's now much easier to find a that needle in the haystack. The presentation is much more fluid and a huge improvement over Apple's previous solution. I use both of these extensively so it was great to find that these were two of the nicest changes inside iOS 7.
Notes
I use Notes, a lot. I jot down ideas for work, I use it to keep track of concerts that I'm going to be attending. I even plan out some of my day using Notes. And while Notes inside iOS 7 isn't that much different than the one found in iOS 6, it looks a whole lot better.
Before, it was supposed to resemble yellow legal paper, now, it's much easier on the eyes, something that I can appreciate. Even my colleague, Josh Smith, says that the has started using Notes more because of how good it looks. It helps that it's extremely easy to use. I have been using Notes a ton over the last month and there is no slowing down.
App Store
The design changes to the App Store are welcomed but it's the addition of automatic app updates that have been a godsend. Instead of having to go in an manually update all of my applications on a daily basis, I now rely on automatic updates to do the updating for me. It works as advertised and it saves time. It also ensures that my applications are constantly up-to-date. I highly recommend turning it on
Disappointments
Siri
I've never been a fan of Siri. When I first got it on my iPad 3, I could not find a way to merge it into my daily use. And the times that I did give it a chance, it failed me. Same thing happened when I bought the iPhone 5. iOS 6 brought about some neat changes to Siri but they still didn't save me any time in my normal routine. And when I did try to use Siri, she was slow and unreliable.
iOS 7 brought some likeable additions to iOS' on board personal assistant but none of them are practical, at least for me. It's simply faster for me to manually check my voicemail then to ask Siri, ask Siri again because she can't understand what I just asked, wait for servers to process my request, and then get my voicemail to appear. Nothing has changed with Siri in iOS 7.
FaceTime Audio
FaceTime Audio is a feature buried within iOS 7 and which allows iOS users to make audio calls using FaceTime over Wi-Fi or LTE. When it works, the service is phenomenal as the audio is crisp, better than a regular phone call. Problem is, the service isn't reliable. More often than not, service cuts in and out on both Wi-Fi and 4G LTE. It has had issues making the switch from Wi-Fi to 4G LTE and after turning Wi-Fi off, while on a call, I've had conversations cut out.
We've also been experiencing issues with Bluetooth headsets wherein we haven't been able to pick up an incoming call. It's an ongoing issue and it's not clear if Apple will fix things with an update.
If it worked, perfectly, one hundred percent of the time, I would use this over a phone call every single time. Unfortunately, Apple still has some work to do in order to get me on board as a permanent user.
Mail
For years, I've used Apple's default Mail application. Maybe I am an idiot, but to be honest, I haven't found any other applications to my liking. I hate the Gmail application, Sparrow isn't any better, and I've tried an assortment of other solutions that didn't pan out. So, due to lack of a better application, I use Apple's Mail app.
While other parts of iOS got significant upgrades, Apple's Mail application is essentially the same. It works, but it's nothing special. In its defense, no one seems to have figured out the perfect mail application yet but one would think that that would be the perfect motivation for Apple to release something special. Maybe in another update.
Should iPhone 5 Users Install It?
If you haven't installed iOS 7 already, it's probably best to wait a few days. Apple is likely going to be releasing either an iOS 7.0.3 or iOS 7.1 update to tackle some of these issues, iMessage problems included, and it should be a more stable version of software.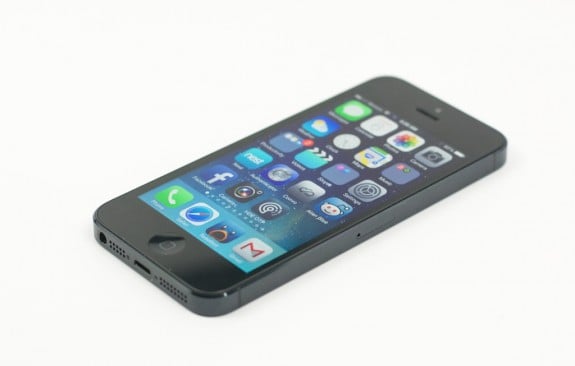 We highly recommend waiting a few days to see how well iOS 7.0.3 or iOS 7.1 performs before installing the upgrade. Apple does a good job of patching up its issues but often times, its incremental software updates bring more issues to the stable. Wait for the smoke to clear and if things are good, it's worth installing iOS 7.
It's an update that improves upon its predecessor in more ways than one. And while it still needs some polish, it's growing on me and iMessage issue aside, has improved the iPhone 5's usefulness.

As an Amazon Associate I earn from qualifying purchases.