iOS 7 Is Enough: No iPhone 5S at WWDC, No Problem
Apple announced a lot of new software and a pair of new MacBook Airs at WWDC 2013, but the company was mum on when we'll see the next generation iPhone. Though the iPhone 5 is relatively new, some Apple fans are itching for an upgrade and were hoping Apple would release an all-new iPhone 6 or a refreshed iPhone 5S. Apple didn't announce either of these products at WWDC, but that won't hurt Apple's iPhone sales. The iPhone 5S or iPhone 6 will surely make its debut in time for this year's holiday shopping season and iPhone loyalists will wait.
Most analysts are expecting Apple to sit tight with its latest design and launch the iPhone 5S this fall. There's an outside chance that Apple will introduce a completely redesigned iPhone 7 instead, but new hardware is less important than new software these days. The iPhone is after all pretty much a slab of glass that acts as a canvas for Apple and iOS developers to paint on.
Read: What iOS 7 Tells Us About the iPhone 5S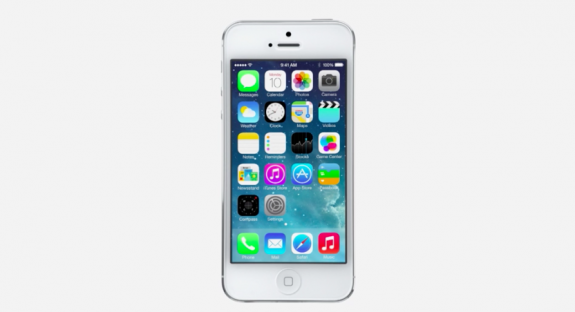 The mobile  operating system and the iPhone's ecosystem matter much more than the hardware itself. Yes, Apple needs to produce good-looking phones that perform reasonably well, but it doesn't need to match the competition's every last feature to succeed. Being able to buy and download their favorite TV shows and buy peripherals that are built specifically for the iPhone are much more important to must iPhone buyers than being able to brag about having the fastest processor or biggest screen.
Read: How To Get iOS 7 Beta Right Now
With the introduction of iOS 7 and some of Apple's other initiatives at WWDC 2013 there are now simply too many hooks in current iPhone users to keep them from easily jumping ship to Android.
Whether Apple decides to stick with the iPhone 5 design and push a relatively minor hardware update or release an entirely new iPhone 6, it'll continue to sell arguably the best-built phone available. The Galaxy S4, the iPhone 5's nearest competition, definitely has its merits, but many users complain about its cheap plastic construction. The HTC One is an example of a current Android phone that is on par or a little better constructed than the iPhone 5.
The longer people use any mobile operating system, the more difficult it is to switch to another. Some iPhone 5 owners have been using iPhones for six years now and have spent thousands of dollars on apps, games, in-app purchases and media. Most of those purchases simply can't be transfered over to Android or any other kind of phone.
Android has some clear advantages over iOS, such as better Google apps integration, but Apple continues to provide its users with the best ecosystem. It offers more music, movies and TV shows through iTunes than Google Play or any other provider. There are countless companies that make speaker docks, cases and other peripherals exclusively for Apple products. Apple's working with a dozen auto manufacturers to get iOS on car navigation systems within the next year. The biggest and baddest apps continuously launch on Apple's app store with Android perpetually 'coming soon.' And of course Apple's upped the ante by integrating iOS app notifications calls into OS X Mavericks.
Almost everyone in the United States that's using an iPhone 5 is on the front half of a two-year contract. Carriers are tightening their grips on subscribers by doing away with early upgrades. These users aren't going anywhere unless they're willing to pay expensive early termination fees.
As I mentioned before, there are plenty of reasons to buy Android phones. In fact, I own and use the Nexus 4, Galaxy S4 and HTC One. But none of them fit into my digital lifestyle as seamlessly as the iPhone 5. There are too many gotchas for iPhone users thinking of switching to Android. Sure, some switchers who are happy with Android, but more often than not it comes with a caveat or two of really missing something from iOS.
iOS 7 solves a lot of iPhone headaches and existing iPhone users who upgrade to it will appreciate the changes and be drawn to the iPhone 5S, no matter when it launches.

This article may contain affiliate links. Click here for more details.