iOS 7 Jailbreak: Apply SSL Patch Without Updating to iOS 7.0.6
Apple released a fairly critical security bug for iPhones and iPads in the form of iOS 7.0.6, making it one of the most important minor updates we've seen from Apple as of late. The patch fixes a bug that left your iPhone or iPad vulnerable to all sorts of nifty hacks.
If you've already jailbroken your iOS 7 device, it's kind of a pain in the rear end to update to iOS 7.0.6; you first have to lose your jailbreak by updating to the latest iOS version, and then you have to re-jailbreak and re-install all of your tweaks. Instead of doing that, you can actually install a jailbreak tweak from Cydia that fixes the nasty SSL bug.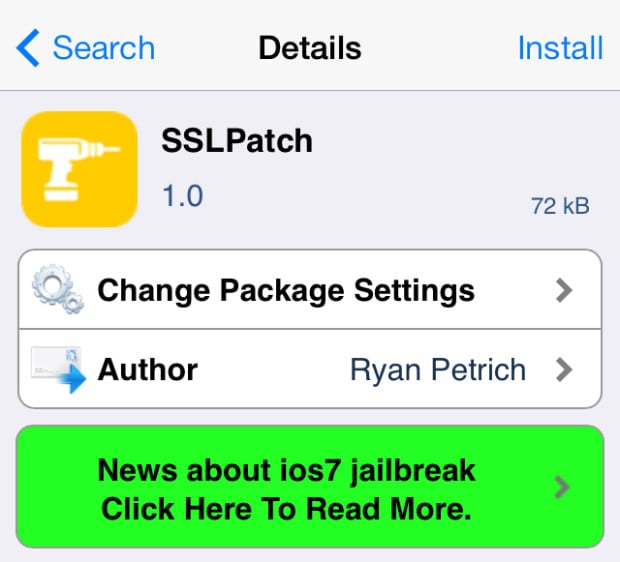 The tweak is called SSLPatch and you can find it my searching for the tweak in Cydia. You may have to add a certain repo in order for it to show up in search (https://rpetri.ch/repo). To do that, just open up Cydia and tap on the Manage tab. Then navigate to Sources > Edit > Add and type in that repo web address to add it to Cydia. This tweak also works on iOS 6 devices that are running iOS 6.0 through iOS 6.1.5 and it fixes the SSL patch that Apple also included in iOS 6.1.6.
Read: 7 iOS 7 Cydia Tweaks Worth Paying For
If you need proof that the patch worked on your jailbroken iOS device, just visit gotofail.com in your Safari mobile browser and it will let you know whether or not your device is still vulnerable or if it's now safe from harm.
This is likely the last update we'll see before iOS 7.1 finally lands. Several betas have already been released for developers, with one or two more possibly yet to arrive, as well as maybe a Gold Master version before the final version allegedly hits all iPhones and iPads at some point next month.

As an Amazon Associate I earn from qualifying purchases.