iOS 7 Multitasking Problem Plagues Older iPhones
An iOS 7 multitasking problem continues to frustrate older iPhone and iPad users who hope that an iOS 7.1 update will bring a fix.
You may remember when we provided our initial and overall impressions of iOS 7 running on the older iPhone 4s shortly after the revamped software was released back in September. While we didn't experience problems with the multitasking tray ourselves, it seems that a lot of iPhone owners rocking older models are having some issues.
According to a thread on the Apple Support Communities message boards, many iPhone and iPad owners are experiencing apps randomly refreshing when multitasking. For instance, one user reports that when they enter in a shipping address in the Amazon app and then go to the Contacts app to lookup an address, swapping back to the Amazon app will return the user to their shopping cart and the checkout process will get canceled. Other users have reported similar instances in Safari and even Google Maps.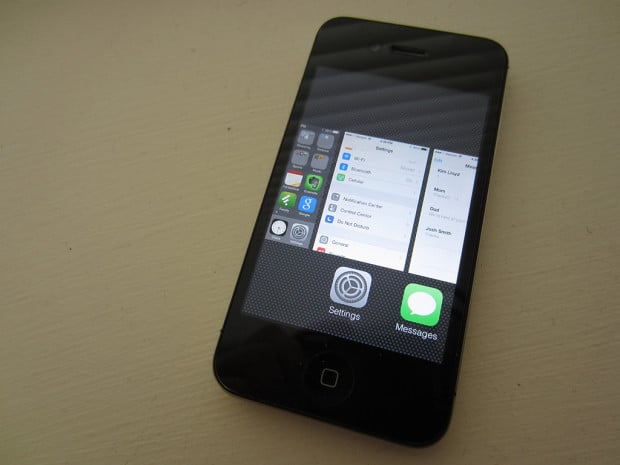 As one may first believe, the issue isn't actually related to the "Background App Refresh" setting  that you can turn on and off for specific apps, but rather users are claiming that it's a memory management issue and if you reboot your iPhone or iPad, it clears the memory and allows for smoother app switching.
Eventually, though, the memory will bog down the device and apps will no longer switch properly, which is probably why this issue has only been seen on older iOS devices with less memory under the hood. However, we've heard that a few iPad Air and iPad mini Retina owners are sometimes experiencing this problem.
Read: iPhone 5s Camera Problems Plague Users
Those with older devices can at least try and not have the problem happen again by limiting the number of apps they have in the multitasking tray. It seems that the more apps a user has open, the more likely it is that the problem will occur. With that said, power users are the ones that are experiencing the problem more often than casual users.
If you're wondering whether or not the issue will be fixed in iOS 7.1, it's unlikely, but it may increase performance of app switching a little bit. Those who tested out the betas of iOS 7.1 report that the issue still exists. Of course, there's still time for Apple to fix the problem, seeing as there will likely be at least one more beta on the way before a Gold Master hits, but we'll have to keep our fingers crossed.

This article may contain affiliate links. Click here for more details.