iOS 7 Release Date Could Mark Cut in Crime, Save Lives
Apple is getting ready to release the first version of its mobile operating system that's capable of making stolen iPhones worthless to criminals. If iOS 7's Activation Lock works as planned, it could make it difficult for criminals to use stolen iPhones or sell them. In my opinion, Activation Lock and other security measures are much more important than shiny new iPhones and the rest of iOS 7's new features.
How serious is the iPhone theft problem?  Law enforcement officials have called smartphone theft the fastest growing street crime in the United States, with phones being stolen in 40% of robberies in New York.
With people carrying less cash than they used to, it's not that surprising that thieves are targeting iPhones. They are worth hundreds of dollars and it is easy to sell stolen iPhones to trade-in services and unsuspecting individuals. A used iPhone 5 can fetch about $150 to $350 if it's in decent condition. It takes just a few minutes to wipe and activate a stolen iPhone. Once that happens, there's almost no chance to recover an iPhone. Wiping iPhones with iOS 6 kills the Find my iPhone tracking feature and any recovery messages sent to it.
https://youtu.be/SRmjUzcpLO0?t=1h52m8s
Above is a quick mention of iOS 7 Activation Lock at Apple's Worldwide Developers Conference in June (Jump to 1:52:09 in the video). With Activation Lock, it's impossible to wipe an iPhone or turn off the Find my iPhone app without the proper Apple ID password. That not only makes it difficult to sell, but it also means thieves won't want to hold onto stolen iPhones since police and owners could easily track them via GPS.
The iPhone theft problem is about as serious and widespread as it gets. Earlier this year a teenager was sentenced to 32 years in prison for murdering an elderly woman for her iPhone in Chicago. In Indianapolis two men were charged of killing a man who was trying to sell his iPhone 5 on Craigslist just a few days before Christmas.
Only a small fraction of violent iPhone thefts ever hit the news like the two murder cases mentioned above. Several of my friends and family members have been attacked for their iPhones or have witnessed such crimes, mostly in 'good' neighborhoods in San Francisco. For example, a cousin of mine was choked from behind by a thief as he walked home from work. This particular cousin is a big and strong guy that people don't typically mess with, but the thief used the element of surprise to his advantage. Another one of my cousins was held up for her iPhone at gunpoint in the same 'safe' neighborhood this summer. My aunt heard screams outside of her house and found a woman that had just been attacked for her phone. All of these incidents happened within six blocks of each other in a neighborhood where tear-down homes go for more than a million dollars, there are plenty of police patrols and where private shuttles often stop to ferry Apple and Google employees down to Silicon Valley.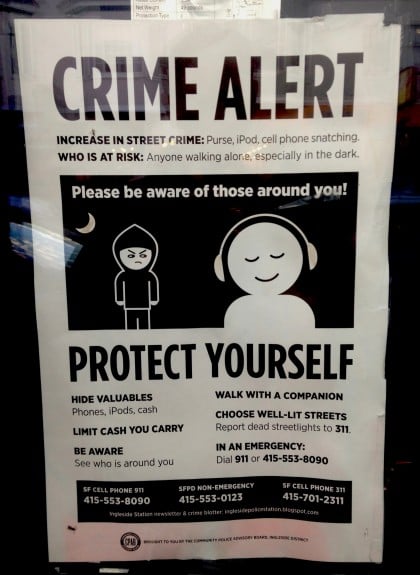 It's no surprise that these posters now adorn windows in cafes and stores in many parts of San Francisco. Police officers I've talked to have expressed a lot of frustration about iPhone thefts. Most victims don't have their iPhone serial numbers handy and thieves are smart enough to power down stolen iPhones immediately so they can't be tracked.
As I was writing this article, a relative from Maryland shared the following update on Facebook:

Perhaps upgrading to iOS 7 will help solve a problem that's much bigger than moving wallpaper and flatter icons.

This article may contain affiliate links. Click here for more details.