iOS 7 Sees Fastest Adoption Rate Ever, 58% After One Week
It's been a little over a week since iOS 7 released to the public, and according to app marketing company Fiksu, the adoption rate for Apple's new iOS version has been the fastest-growing adoption rate ever for iOS, with nearly 60% of iOS users now running iOS 7 after just a week of being available.
Fiksu shows that the adoption rate for iOS 7 is much higher than past iOS updates, with 58% of iOS devices running iOS 7 just 7 days after its release. To compare, iOS 6 hit 47% in the same timeframe and iOS 5 only hit 27%.
Last week, we reported that iOS 7 hit a 33% iOS market share in just 24 hours, according to app marketing and tracking company Mixpanel. Ever since iOS 7 released, there has been a clear increase in iOS 7 adoption, as well as an obvious decrease in iOS 6 usage. However, older iOS versions have remained at a steady 4% throughout the upgrade so far, so these are likely older iOS devices that no longer can upgrade to newer versions of iOS.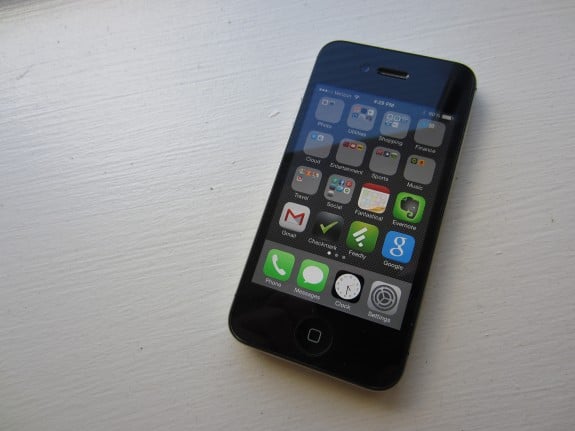 As for what percentage of iOS users are using the new iPhones, Fiksu reports that just 1% of iOS users own iPhone 5s devices, with 0.3% owning the new iPhone 5c. The majority of iOS users are using the iPhone 5, with 39% of the market share, followed by the iPhone 4s at 32% and the iPhone 4 at a surprising 24%. All older devices make up for 2.4% of the iOS device market share.
It's certainly not surprising that only 1.5% (roughly) of all iOS users have the new iPhones. They've only been out for a week, and the iPhone 5s is pretty much sold out anywhere you go, so users who are wanting an iPhone 5s are left waiting it out until more stock comes in. Once the next few months roll by, we're sure that percentage will increase, but it'll be interesting to see what percentage of iPhone 5c owners there are.
This 58% adoption rate for iOS 7 is already well over the adoption rate of Android Jelly Bean, which owns a little over 40% of the Android operating system market share currently. Of course, with Android's open-source tradition, it's a bit more difficult for Google's mobile OS to install on a majority of devices without working with other manufacturers and carriers first, so we can't blame them.
Eventually, in a few months, we should see iOS 7 soar into the 80 and 90% range once more and more users download the update. However, with so many problems that users have been having with the update, we wouldn't be surprised if the adoption rate plateaued earlier than expected.

As an Amazon Associate I earn from qualifying purchases.