iOS 7 Waterproof Feature Isn't Real
A hoax making the rounds claims that iOS 7 makes your iPhone waterproof, when if fact, it most certainly does not. The prank is said to have been started by the forum 4Chan, according to The Telegraph. 4Chan has been known to post a lot of fake content. The hoax consists of Photoshopped iOS 7 ads in the style of Apple's website that explain the fake waterproof feature to those wanting to know more about iOS 7.
The fake ads explain the waterproofing feature, saying that "in an emergency, a smart-switch will shut off the phone's power supply and corresponding components to prevent any damage to your iPhone's delicate circuitry." Of course, anyone with even a remote knowledge of electronics knows that even if power is shut off, water can still do damage to circuitry.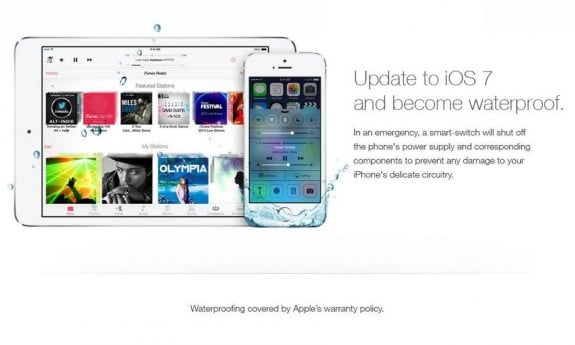 However, that didn't stop many iPhone users from trying it out on their own, by dunking their devices in water and discovering that their phone wasn't waterproof after all. For the record, a software update cannot make a device waterproof. The phone has to already have some type of waterproof material already installed, whether it be a case or a nano-coating from a company like Liquipel.
Of course, though, these trolls decided to prey on the naive and easily gullible, and get them to dunk their iPhones in water in order to give the new feature a spin, but those who try it out will quickly become disappointed. Twitter and Facebook have both been rampant with users praising the added feature.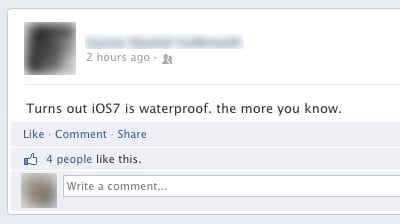 While iOS 7 does come with a slew of new features, waterproofing is not one of them. Instead, it comes with an all-new look, a new Notification Center, Control Center, a new Multitasking Tray, an improved Siri and tons more. The update has been out for almost a week, and millions of iPhone users have already updated to it. Just make sure you don't dunk it in water.
Along with iOS 7, Apple released the iPhone 5s and iPhone 5c, the former of which is the company's latest flagship smartphone, and the latter being their entry-level device that replaces the iPhone 5. The iPhone 5c comes with a new plastic body in a variety of colors. It's the first time that Apple has brought back the plastic shell since the iPhone 3GS in 2009.