iOS 7's Siri in the Car May Drive Hard Buying Choice for Tech Drivers
While consumers may welcome the familiarity of having their favorite smartphone operating system in their new vehicle, particularly with Apple's iOS 7 Siri in the Car announcement recently at WWDC, the answer isn't so simple. Though General Motors hasn't outlined its plans for iOS 7 in the car, the auto-manufacturer was on Apple's short list of partners for the new feature and was the first to market with Apple's earlier Siri Eyes Free car feature. It was for those reasons that I found it fitting to meet with GM in its home town of Detroit, MI to discuss what the potential for iOS 7, and even Android, in cars will be.
Siri Eyes Free
The first models from GM's fleet to include Siri Eyes Free are the Chevy Spark and the Chevy Sonic. Both models start around the $15,000 range and are considered more entry value cars in General Motor's fleet. The nice thing about including Siri Eyes Free is that GM is able to add voice control, a hands-free experience, and voice-guided GPS routing instructions to the entry level models without having to charge consumers an extra $2,000 or $3,000 premium for a typical in-car infortainment system that offers voice control and GPS navigation. Best part is that users still have access to a large display in their center console without paying for these extra frills.
However, the downside with such a system is that it's currently limited to the Spark and Sonic. It's an excellent value, as GM's head of infotainment PR says, for millennials who already rely so much on and are married to their smartphone experience. A great entry level price and smartphone integration may be the perfect ticket for these car buyers who may not be able to afford a pricier sedan or luxury make right now. But what about the more affluent tech crowd who wants a Cadillac with Siri or a Chevrolet Impala? So far, Eyes Free is limited to two models of GM's large fleet.
iOS 7 in the Car
Unfortunately, even with iOS 7 in the Car, it sounds like those luxury buyers may once again be left out in the cold again. This doesn't mean that some day we won't see iOS more fully integrated in a luxury model, but right now auto-makers like GM and Ford have good reasons why Android and iOS 7 won't be hitting the pricier cars just yet.
GM says that its luxury buyers are expecting an integrated experience, and the company is already delivering this with capacitive touchscreen controls on the Cadillac and an intuitive voice activated system. Users have a broad choice of apps and control with the luxury models and the smartphone can still be a host source for music and video files. This makes sense, considering the demographics for pricier sedans are older age-wise, and may not be as smartphone-savvy. These buyers may not remember to carry their smartphones with them everywhere, and expect their cars to function regardless of whether their phone is plugged into the car or not.
However, this means that if you want Siri Eyes Free–and potentially Siri in the Car in the future–you'll have to make a choice about the vehicle. It's akin to when the Apple iPhone is limited to AT&T–if you wanted the iPhone, be prepared to switch carriers. Here, if you want Siri, you'd have to settle on GM's entry level car even if your budget is for a Cadillac.
Rival Ford says that it's still trying to figure out a way to integrate Siri in its fleet. After having been a Microsoft partner for so long and designing its system around the Sync system, Ford says that it has to find a way to merge iOS 7's more limited in-car features with the more robust options offered through Sync.
Will Siri Cause More Distractions in the Car?
The problem with Siri Eyes Free and iOS 7 in the Car, at least in the limited experience I've had with testing the former feature while in Detroit, is that they are separate add-ons to existing infotainment experience. The problem then becomes having two systems that may need to operate in synergy with each other side-by-side, and if this doesn't happen it could lead to more distractions in the cockpit.
In our discussion with Ford, editor Josh Smith found out that Apple's in-car feature only controls certain things and other features, such as the standard radio or climate control features, were not accessible via Apple's iOS 7 in the Car, which is a reason why Ford is still evaluating iOS 7 and have not made any public announcements yet. So iOS 7 handles text messages, voice calls, and navigation, but not the other car stuff, like changing the AM/FM station, accessing the climate control, or changing any other car settings. And having two systems side-by-side may cause more distraction and confusion for the driver, who now must think which system to access for certain tasks.
This is particularly true with GM's Chevy Spark. While Siri Eyes Free, which is considered iOS 7 in the Car with even more limited features, was used, Siri was intelligent and offered me information such as weather, stock quotes, sports scores, the ability to send SMS messages, and voice-activated calling features. However, if I wanted to switch between AM/FM, use select apps, or even use the car's GPS, I had to once again rely on the car's voice system or touch the screen myself. The two disjointed systems may be fine for younger millennials, but an older, luxury car buyer may feel overwhelmed or confused.
Auto-Makers Will Control the App Experience
Speaking of apps, bringing iOS or even Android to the car will add another level of complexity when it comes to the app experience. Primarily, GM says this is for safety and to help reduce or avoid distracted driving.
But because Siri isn't wired to navigate inside apps, it's still a disjointed experience.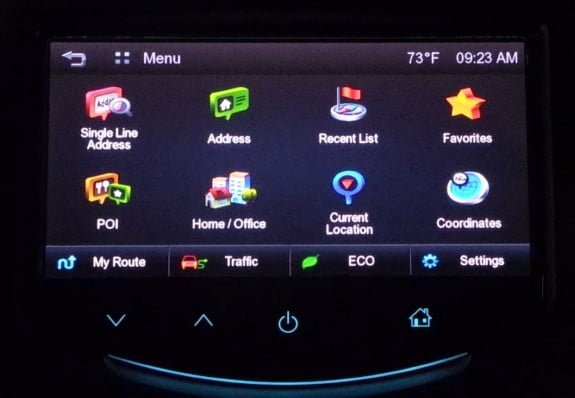 On the Spark and Sonic, users can download a $50 iOS GPS navigation app called GoGo Link that projects the app, running on your iPhone, onto the center console display. GoGo Link will provide visual and audio feedback for turn-by-turn guidance.
However, as GoGo Link resides on the phone, it's an iOS app, but one that must be integrated with GM's system to run in the car. It's wise to not allow games like Angry Birds to be playing when the buyer is supposed to be focused on the road, but not opening the doors to any number of third-party navigation apps–including TomTom, Navigon, Scout, TeleNav, Waze, Google Maps, Nokia Here, and others–may limit the potential of having a "smart car" with a smartphone OS. Still even with such limitations, the value proposition of having a $50 app that could turn a standard center console display into a more fully featured infotainment system worth thousands of dollars may still be worth it for many buyers.
Development Cycles
Another potential reason why it may take longer for iOS or Android to have any meaningful impact in the auto space is that development cycles for cars take a long time. While smartphone development cycles are typically 6-12 months, car cycles are about 5 years in length. GM's Scott Fosgard says that the company is trying to merge the two development cycle together to create a cycle that is meaningful for both parties. However, given that cars are designed with a 5-year cycle in mind, it's difficult to make changes to accommodate features like Siri, iOS 7, and Android mid-cycle, and things that are happening today behind the scenes may not show up for another five years.
This means that what we're seeing with the convergence of mobile and auto is only in the early stages. There's still plenty to come on how things will evolve in this market. GM recently announced that it's giving away 5 years of remote lock and auto-start features on its new cars through the OnStar service and the company had recently announced a partnership to bring AT&T's 4G LTE network into vehicles in the future. The potential is there for an always up-to-date vehicle as software updates can be delivered directly to users over-the-air, like on smartphones, without requiring a trip to the dealer. The value is huge for auto-makers like GM as the overall experience can be better for consumers and bugs and kinks can be quickly fixed.