iOS 8.0.1 on iPad Air: Impressions & Performance
A week after releasing iOS 8 for iPhone and iPad, Apple's released a new update dubbed iOS 8.0.1. The iOS 8.0.1 update is a small bug fix update aimed at fixing iOS 8 problems and here, we take a look at how it's performing thus far on Apple's current 9.7-inch iPad, the iPad Air.
Last week, after a lengthy beta process, Apple released the iOS 8 update for iPhone, iPad and iPod touch. As expected, the update delivered a number of big time changes including improvements to the Photos app, iMessage, battery usage, accessibility, and more. The iOS 8 isn't the massive overhaul that was iOS 7 but it's a big update nonetheless.
Over the past week, we've spent quality time with the iOS 8 update for iPad Air, Apple's newest 9.7-inch iPad. Our first impressions of iOS 8 were solid and the update seemed to be performing better than the iOS 8 update for older devices like the iPad 3, iPhone 5, and iPhone 4s, all of which are experiencing issues in Apple's latest update.
With iOS 8 problems mounting for iPhone and iPad users, Apple today released an iOS 8.0.1 update aimed at fixing at least some of these iOS 8 issues. The update, which rolled out about an hour and a half ago, is a small update that contains a number of fixes including fixes for iOS 8 keyboards, a fix for the Photo Library, a fix for unexpected cellular data usage when receiving SMS or MMS messages, and a ringtone fix amongst others. It's not a massive update but it's an iOS update nonetheless.
We've spent the last hour and a half poking and prodding the iOS 8.0.1 update for iPad Air for issues and here, we want to share our first impressions of an update that appears to have issues of its own. Here are our first impressions of iOS 8.0.1 for the iPad Air.
(Note: It does look like Apple may have pulled the update, at least for now, so those that weren't in the process of installing may not be able to get it. Consider this review a primer for a new iOS 8.0.1 update or iOS 8.0.2.)
Installing iOS 8.0.1
The iOS 8 installation process on the iPad Air was a frustrating experience and one that I wouldn't wish on anyone. It took well over and hour and had me jumping through a series of hoops just to get the update downloaded. This being an incremental iOS 8 update, I had a feeling that I wouldn't run into the same kinds of issues. And I didn't.
Apple's iOS 8.0.1 update is a 69MB update for the iPad Air. It requires about 1GB of free space to install Over-the-Air and those that don't have that amount of space are encouraged to install thru iTunes instead of deleting files. The process, from start to finish, took about 15 minutes. That's extremely fast for an iOS update.
While your experience might differ, don't expect to run into the same chaos that impacted last week's iOS 8 release. Smaller updates don't attract the same kind of attention and thus, Apple's servers tend to hold up in the minutes and hours after the initial release.
iOS 8 Performance
When it comes to the performance of iOS updates like iOS 8.0.1, I like to look at five different areas in particular. Those areas are: Applications and how they're performing post update, battery life and whether there is abnormal drain, random bugs or hiccups, Wi-Fi and Bluetooth performance, and overall speed. After spending some quality time with the iOS 8.0.1 update for iPad Air, here's what I've found.
Apps
I've been having a ton of app problems on the iPhone 5 and iPhone 4s though those app problems have not impacted me on the iPad Air. Problem apps like Google Chrome seem to be working well and thus far, I've yet to experience any random crashes after updating all of my applications and updating from iOS 8 to iOS 8.0.1.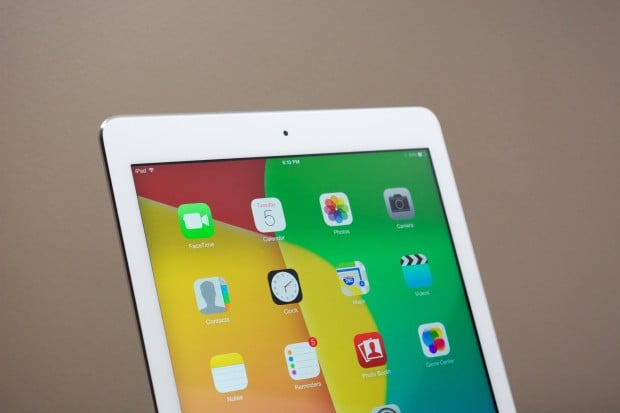 Obviously, I don't have every single app that you have so I've tested popular applications. They include Facebook, Twitter, Instagram, Google Chrome, Netflix, Spotify, Soundcloud, Google Maps, Google Hangouts, Pandora, The Weather Channel App, and YouTube. I also play a lot of games on the iPad so I've thrown in Angry Birds Space, Kingdom Rush, Tiny Wings, and a graphics intensive game called The Room 2.
All of these are working fine after iOS 8.0.1.
iOS 8 Battery Life
iOS 8 battery life has been fantastic thus far and I don't see anything catastrophic after installing iOS 8.0.1. That is to say that the device is charging normally and I'm not seeing any insane battery drain. This could change in the hours and days after the release but given how stable iOS 7 and iOS 8 have been, I'm confident that it will remain solid.
If you are experiencing abnormal battery life after installing iOS 8.0.1, you'll want to check out our iOS 8 battery life tips. These tips could help to alleviate iOS 8 battery life issues on your iPad Air going forward though as is the case with any unofficial fixes, mileage will vary.
Connectivity
I own a Wi-Fi only iPad Air so I can't speak to 4G LTE connectivity. What I can say is that both Bluetooth and Wi-Fi are both working as they should inside iOS 8.0.1. I'm able to pull down fast speeds on public and private networks and I was quickly and efficiently able to connect to several Bluetooth speakers to play music via Spotify.
Bugs & Issues
I've only had the iOS 8.0.1 update on my iPad Air for a limited time and while that's not enough time to deem iOS 8.0.1 bug-free, it is enough time for me to relay some feedback.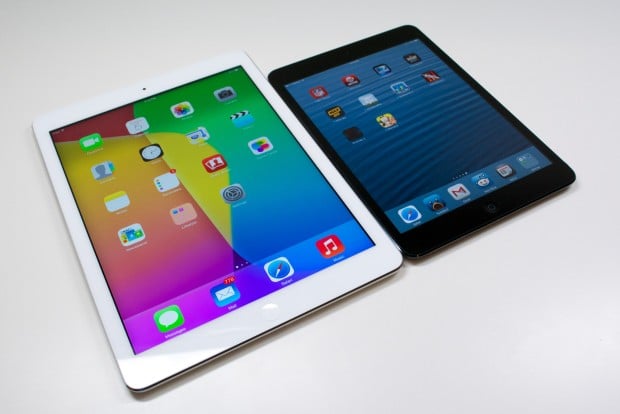 Thus far, I've yet to stumble upon any noticeable bugs, flaws or game changing issues. The update appears to be very stable for a major update though bugs typically show themselves in the days, weeks and even months after release. I should point out that my iOS 8.0 experience on my iPad Air was virtually flawless. I saw a few app crashes in my week with the software but I did not encounter any random weirdness.
Again, bugs will make themselves known in the hours and days after release but thus far, I've yet to stumble upon any hero level bugs that need immediate attention.
Speed
iOS 7 was fast on the iPad Air. iOS 7.1 was fast on the iPad Air. iOS 8 was fast on the iPad Air. iOS 8.0.1 is fast on the iPad Air. While iOS 8 is having issues on the iPhone 4s, I've yet to experience any abnormal sluggishness or slowdown on my iPad. The 64-bit A7 processor is holding up nicely and the performance is as good as it was in the hours and days before the release of iOS 8.0.1.
Should You Install iOS 8?
iOS 8.0.1 comes with a number of bug fixes and I've yet to see any performance issues emerge in my time with it. If iOS 8.0.1 is available for your iPad Air (and it may not be now that it has been pulled) and you're experiencing problems in iOS 8.0, my advice is to give it a go. It may fix more than what is listed on the change log.
If iOS 8.0 is running flawlessly, you might want to consider waiting. Apple never forces you to install and update and if you're nervous, you could always wait a few days or a few weeks to see how the update is performing then.
Look for Apple to release a new iOS update in the coming hours or days to fix cellular and Touch ID problems plaguing non-iPad Air users. My guess is that the experience on the new update will be similar to the experience on this version of iOS 8.0.1.

This article may contain affiliate links. Click here for more details.