iOS 8.1.1 iPhone 4s Reviews: Should You Install iOS 8.1.1?
Apple is back with the iOS 8.1.1 update that is supposed to be the best thing to happen to the iPhone 4s since iOS 7.1 earlier this year. Apple specifically focuses on improving the performance of the iPhone 4s with the free iOS 8.1.1 update. Early reviews of iOS 8.1.1 iPhone 4s reviews are very good, highlighting better speeds and other improvements.
After several days of iOS 8.1.1 on the iPhone 4s, users report overall good results from this small but important update. Not every user is happy, but an overwhelming number of iPhone 4s users do appreciate the upgrade.
The iOS 8.1 iPhone 4s update brought a large number of fixes to the iPhone 4s and other devices, but did not dramatically change the performance for all users.
This small iOS 8.1.1 update is the one that iPhone 4s owners have been waiting for and after reading through iOS 8.1.1 iPhone 4s reviews from users, it looks like it may be time to upgrade.
Here's a look at the iOS 8.1.1 iPhone 4s reviews from users who upgraded from iOS 8, iOS 8.1 and even some who upgraded from iOS 7.1 right to iOS 8.1.1 and whether or not you should install iOS 8.1.1 on the iPhone 4S.
iOS 8.1.1 Installation
There are not many specific reports about installing iOS 8.1.1 on the iPhone 4s. That's a good thing, as many times users take to support forums and Twitter to complain about problems.
Users without enough space on the iPhone 4s can plug-in to iTunes and update without the need to delete photos or apps to free up space.
You can expect to spend 15 to 30 minutes downloading and installing iOS 8.1.1 on the iPhone 4s.
iOS 8.1.1 on iPhone 4s Performance
For the most part the iOS 8.1.1 performance on the iPhone 4s is solid. Many users report faster performance on the iPhone 4s, and are thanking Apple for the upgrade. This is a change from the initial iOS 8 update that caused slow downs and other problems for some users.
These iOS 8.1.1 iPhone 4s reviews come from regular users on Twitter, Reddit and Apple Support forums where we learn about how iOS 8.1.1 performs for multiple users.
iOS 8.1.1 iPhone 4s Speed
Many users report the iPhone 4s is faster on iOS 8.1.1. This includes speed improvements from iOS 7.1, which came out almost a year ago, and speed enhancements from more recent updates like iOS 8.1 to iOS 8.1.1.
https://twitter.com/Rob__McCallum/status/535165702702104576
On Reddit tj713 reports, "I just updated my 4s to iOS 8.1.1 from 8.1 and there is definitely a speed difference. Less lag and smoother animations!" In a separate thread s182 also notes the improvement, sharing, "Great update on my 4s. Feels like a new phone. Still gets slow every once in awhile, but massive improvement. Previously the phone was barely usable. I was going to buy a new phone, but I'll keep my existing one for another year."
Reports continue to roll in on Twitter as more users upgrade to iOS 8.1.1 on the iPhone 4s, including this thank you to Apple.
Dear Apple: thank you for iOS 8.1.1. If you have the iPhone 4S, I highly recommend you install it. Things are noticeably faster.

— Wade Hellyer (@wadehellyer) November 18, 2014
In the Apple Support Forums, ste6776 shares a very positive iOS 8.1.1 iPhone 4s review,
"Having installed the latest update on my 4s to 8.1.1 and all I can say is – WOW!

Lightning fast!  No lag, no crashes, and seems to be bug-free!  I'm really impressed!"
On Reddit Patronu asks, "I am the only one unable to notice any promised performance improvements on the 4S?, and he's not alone. While many users report speed boosts Majkel.99 wishes for iOS 7.1.2 again writing in the Apple Support forums, "for me nothing change… still lagging.. when i wont to do  photo.. I`m waiting.. 1 missisipi, 2 missisipi, 3 misssisipi.. my god.."
iOS 8.1.1 Battery Life
So far there are only sporadic reports of iOS 8.1.1 iPhone 4s battery life, including one on Twitter claiming it is better when in standby and one on Reddit where a user did not see a difference in battery life, but did notice improved speed.
One thing I have noticed in the #iOS 8.1.1. update is that my battery life on stand-by is much better on my #iPhone4S. Thanks #Apple!

— David Becker (@iBeckTech) November 18, 2014
iOS 8.1.1 WiFi, Bluetooth and Apps
This is one area where we are short on user comments. Normally a lack of complaints is a good thing as it means there are not overwhelming iOS 8.1.1 WiFi or Bluetooth problems but with a collection of common iOS 8.1.1 problems there is a chance we are just not able to surface these parts of an iOS 8.1.1 iPhone 4s review yet.
Should You Install iOS 8.1.1 on the iPhone 4s?
Anyone already on iOS 8 on the iPhone 4s should upgrade to iOS 8.1.1. This free update includes fixes for problems and delivers improved performance for most iPhone 4s owners. Combine this with the lack of iPhone 4s specific problems and there is a clear reason to upgrade to iOS 8.1.1 on the iPhone 4s.
For users on iOS 7.1 or iOS 7.1.2 it is still a tougher call. With improved performance, and iOS 8 features outlined in the slides below, there are plenty of reasons to upgrade, but there is no iOS 8.1.1 jailbreak yet and there is no way to go back to iOS 7.1.2.
Most users can prepare and update to iOS 8.1.1 without waiting any longer, but if you aren't sure you can wait to see how iOS 8.2 performs. Apple just started beta testing this update, but there is no firm release date.
What's New in iOS 8
iOS 8 vs iOS 7 Walkthrough - Home Screen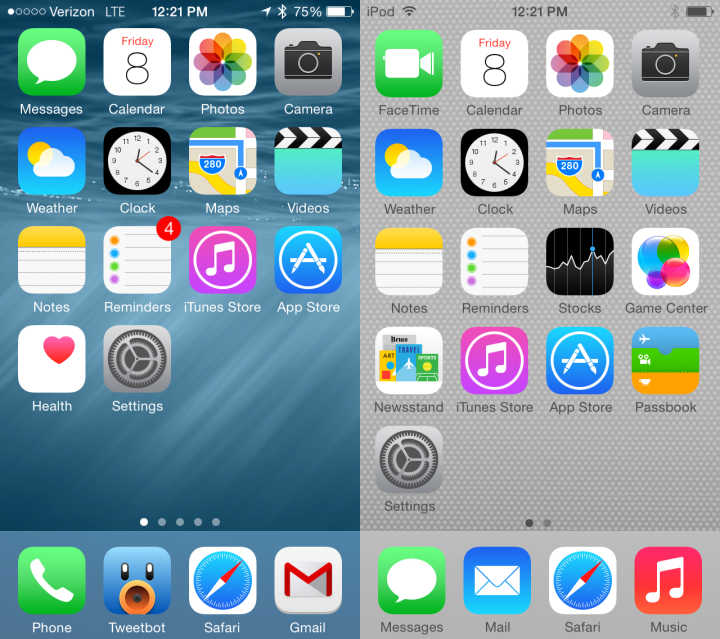 We start our iOS 8 vs iOS 7 walkthrough with the iPhone home screen, which is where you'll start your iOS 8 experience after an update this fall.
These screens are incredibly important as you see them anytime you turn on the iPhone or need to choose an app to launch. There is no way around using them, so Apple needs to make sure they work just right.
As you can see in the iOS 8 vs iOS 7 comparison above, there is no change between the home screen in the new iPhone software. Apple changed the status bar and some other small visual changes in iOS 7, but there are no updates for iOS 8.
We could see Apple change the home screen slightly for iOS 8 for the iPhone 6. The new iPhone will feature a larger 4.7-inch display with a higher resolution. This is something Apple may use to add more icons to the screen. Or they could stick with the current layout, it's tough to tell.