iOS 8.1.1 on iPhone 6 Plus: Impressions & Performance
The iOS 8.1.1 release delivers small fixes and a number of performance improvements to the iPhone and iPad. Although most of the publicized fixes are aimed at older devices, we're taking a look at how iOS 8.1.1 handles on the iPhone 6 Plus. This is our early iOS 8.1.1 review on the iPhone 6 Plus.
For the last two months iPhone 6 Plus users put up with a collection of iOS 8 problems. Even though Apple fixed some of these issues and bugs with iOS 8.1, there are still lingering problems for the iPhone 6 Plus. With issues and problems continuing to frustrate owners of these new devices, Apple offers a new update that is now available to all iPhone and iPad users on iOS 8.
Read: iPhone 6 Plus Review
The iOS 8.1.1 update is small and aimed at fixing bugs and improving performance on older devices like the iPhone 4S and iPad 2. Apple tested the small update in a developer beta for the last several weeks, possibly to make sure there was not a repeat of iOS 8.0.1, which knocked out cell service on the iPhone 6 and iPhone 6 Plus.
Starting yesterday around 1 PM Eastern Apple started rolling out the iPhone 6 Plus iOS 8.1.1 update, along with updates for the other devices compatible with iOS 8. The roll out started with all devices and after preparing my iPhone 6 Plus, I installed iOS 8.1.1 and tested it to see if the update delivers a good experience.
This is not a final iOS 8.1.1 review, which will come after using the new software for several days or a week, but it does serve as a quick overview to help you decide if you should install the iOS 8.1.1 update today, or wait.
Here are our early impressions of iOS 8.1.1 on the iPhone 6 Plus.
iOS 8.1.1 Installation
The iOS 8.1.1 installation on the iPhone 6 Plus went smoothly and completed in about 15 minutes. This was updating from iOS 8.1, so the update was small at around 64MB. Traditionally installation problems come on major iOS release days with large updates.
Overall this was a smooth update and the iPhone 6 Plus was ready to use again shortly after I started the download. If you experience issues, you can use this guide to fix many installation errors and problems.
iOS 8.1.1 on iPhone 6 Plus Performance
Even a small bug update like iOS 8.1.1 can dramatically change the performance of an iPhone. Apple claims it delivers speed boosts to older iPhones and iPads, so it's clear that small updates matter. These types of updates can also bring down performance of new and old devices if something is wrong, and as we've seen there is a chance to lose features when an update goes bad. The good news is that, so far the iOS 8.1.1 update on the iPhone 6 Plus is solid without the loss of basic features and there appears to be a fix for a lingering problem.
Apps
I updated to iOS 8.1.1 on iPhone 6 plus in the middle of sharing my best iPhone 6 Plus apps, so i was testing more apps than normal over the last 24 hours. This includes media streaming apps for music and video, fantasy football apps and many others.
I am not experiencing any odd app behavior in iOS 8.1.1 on the iPhone 6 Plus. This is not unexpected, but it is good news considering the possibility of app crashes.
iOS 8.1.1 Battery Life
It's too early to make any definitive statements about the iPhone 6 Plus battery life on iOS 8.1.1, but for the last 12 hours there was no odd battery drain and overall it seems to be on par with the iPhone 6 Plus battery life over the last several months. I'll continue to monitor this and share more in our full iOS 8.1.1 review for the iPhone 6 Plus in the near future.
WiFi, Cellular & Bluetooth
iOS updates have a habit of breaking Bluetooth, WiFi or cellular data. So far it seems there are not major problems with the iOS 8.1.1 update. My AT&T iPhone 6 Plus continues to connect to 4G and 4G LTE without any issues and Bluetooth also works with headphones. I've not been able to test this in a car yet, but Apple fixed a Bluetooth bug with iOS 8.1.1 so hopefully that stays squashed.
WiFi is running nice and smoothly on the iPhone 6 Plus after updating to iOS 8.1.1. Unfortunately WiFi problems tend to be hit or miss, so while I am not experiencing any problems there is still a chance that some users will run into connectivity issues. If this is a problem, expect to see many complaints over the next week.
Bugs & Issues
Overall there are no iOS 8.1.1 bugs or issues yet, and the update appears to fix my lingering landscape issues. Over the last several weeks, even on iOS 8.1 there were times when the iPhone 6 Plus would get stuck in landscape or portrait mode. Typically this happened once a day, but so far this did not happen on iOS 8.1.1.
It is very possible that some bugs will appear as I use the iPhone 6 Plus more over the next several days. These annoying problems, but not necessarily deal breaking ones, can appear after extended use.
Speed
The iPhone 6 Plus is an incredibly smooth and fast device, and after installing iOS 8.1.1 the speed remains. There is no slow down to the iPhone 6 Plus, and overall the iPhone 6 Plus continues to deliver the same fluid animations and snappy performance it has for the last two months.
Should You install iOS 8.1.1
If you have any of the annoying iOS 8 problems or iOS 8.1 problems, you should download and install iOS 8.1.1 today. After initial testing there are no show-stopping issues immediately evident and overall this appears to be a very solid update.
For users who are enjoying a perfect iOS 8.1 experience on the iPhone 6 Plus, it may be good to wait a few days, just to make sure there are no problems lurking in the update. Many times we discover a bug or issue after several days of use, even though the iPhone ran fine for the first day or two.
7 Awesome iPhone 6 Plus Cases
Spigen iPhone 6 Plus Cases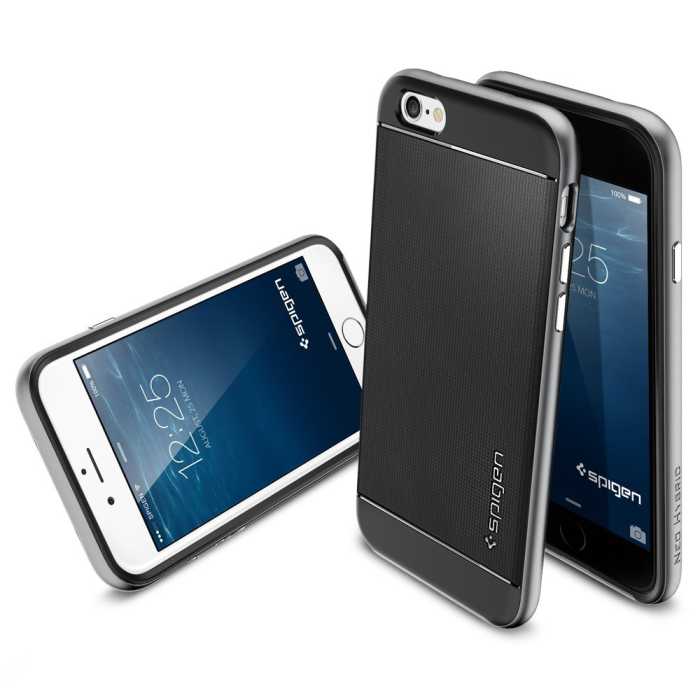 If you need an affordable iPhone 6 Plus case, Spigen is one of the best options you will find. Spigen offers a wide variety of iPhone 6 Plus cases from super thin to protective options and even a few iPhone 6 Plus wallet cases.
The company also offers an iPhone 6 Plus case with a kickstand, which is an excellent way to easily use that big screen for movies, videos and FaceTime.
Check out all of the Spigen iPhone 6 Plus Cases on Amazon starting at $7.99.

As an Amazon Associate I earn from qualifying purchases.