iOS 8.1.1 to Improve iPhone 4s & iPad 2 Performance
The iPhone 4s and the iPad 2 are two devices that have seen degraded performance with iOS 8, but a new upcoming update in the form of iOS 8.1.1 could fix many of the issues that these older devices are experiencing.
Apple released the first beta of iOS 8.1.1 to developers yesterday, and while it's meant to mostly just fix some smaller bugs, it looks like the update will also improve performance on the iPhone 4s and iPad 2, which are the two oldest devices that support iOS 8.
Many owners of older iPhones have been reporting slowdowns ever since updating to iOS 8, mostly because the latest version of Apple's mobile operating system is aimed at newer devices. The iPhone 4s is the oldest iPhone that iOS 8 supports, so it's no surprise that users who have this phone are complaining about performance, as it was just like this last year when iOS 7 was released for the iPhone 4.
According to Ars Technica, the preliminary release notes suggest that iOS 8.1.1 will come with a handful of bug fixes and performance improvements that will greatly impact performance on the iPhone 4s and the iPad 2.
As for what exact performance improvements will come with the update, it's not clear, but users should at least look forward to experiencing a much quicker user interface on the older devices.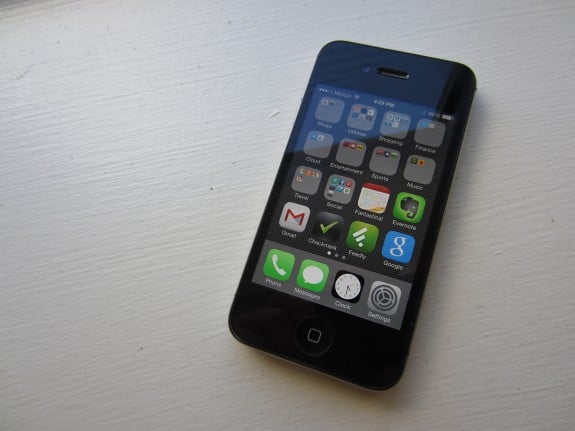 Until the update releases, though, iPhone 4s users don't necessarily need to suffer that much. There are actually things you can do and settings that you can adjust to increase the performance of your iPhone 4s running iOS 8, most of which are fairly easy to change.
Usually the biggest culprits for sluggish performance on older iPhones are the animations and pretty effects that make iOS 8 look really good. However, if you have an older iPhone, they're only making things worse. Your iPhone 4s's processor probably can't keep up with everything that's going on, so it's usually a good idea to turn off animations and get rid of those pretty effects.
You can navigate to Settings > General > Accessibility > Reduce Motion. Tapping on Reduce Motion will open up another screen with a toggle switch that you'll flip on.
This feature turns off parallax effect. The parallax effect is turned on by default and was a new feature introduced on iOS 7 that gives the home screen a neat 3D look, so when you move your phone around in your hand while keeping your head still, it looks like you're looking "around" the app icons onto the wallpaper, almost like you're looking through a windows out into the iOS 7 world. But it's really nothing more than the OS and the gyroscope/accelerometer working together to create such an illusion.
While it isn't that impressive, it's something that's cool at first, but users can quickly get bored with. Plus, it's even more annoying knowing that it hogs up processing resources, thus decreasing battery life.
Another setting you can change is getting rid of transparency across iOS 8. This gets rid of the glass look that appears when Control Center pops up or when the iOS keyboard appears. It's really not integral with how you interact with iOS 8 and is really only for looks. Thus, it's best to just disable it.
To do this, open up the Settings app and navigate to General > Accessibility > Increase Contrast > Reduce Transparency and turn it on.
Of course, the difference in performance may be negligible, as it's simply an older phone that's reaching the end of its life cycle. However, squeezing as much performance out of it as you can will at least give the device another year or so before you will absolutely need to upgrade to a newer device.

As an Amazon Associate I earn from qualifying purchases.