iOS 8.1.2 Review: Here's How It's Holding Up
Several weeks ago, Apple pushed out its iOS 8.1.2 update to the iPhone and iPad. iOS 8.1.2 is a small bug fix update that tackles at least one iOS 8 problem but has the potential to fix, and cause, more problems on iPhone and iPad. Today, we want to revisit iOS 8.1.2 and take a look at how it's performing on several different devices including the iPhone 5s, iPhone 6 and iPad Air.
Back in September, Apple's new iOS 8 update pushed out with new features and enhancements on board. And while iOS 8 brought a lot of good with it, iOS 8 problems started almost immediately for owners of the iPhone, iPad and iPod touch. This is typical of a major iOS update but so are immediate bug fixes from Apple. So, it came as no surprise that iOS 8.0 was soon replaced by iOS 8.0.1.
Unfortunately, Apple's iOS 8.1.2 update did not produce the intended results. While it did deliver some fixes, it also broke cellular connectivity and Touch ID for some iPhone users. These issues forced Apple to go back to the drawing board and quickly release an iOS 8.0.2 update that tackled those problems and delivered the rest of the fixes to those that did not move to iOS 8.0.1.
iOS 8.0.2 did not fix everything. Complaints about iOS 8 have continued well past its release and over the past couple of months, Apple's worked hard to squash the remaining iOS 8 problems.
First, the company pushed out a massive iOS 8.1 bug fixer. The company then followed that up with an iOS 8.1.1 update that, unlike most smaller updates, went through the beta program. Then, a little more than three weeks ago, Apple pushed out iOS 8.1.2, a small bug fixer aimed at countering a problem with iTunes ring tones.
We continue to get bombarded with questions about iOS 8.1.2's stability and questions about whether or not its worth installing. People still want feedback and many others want to know if it's worth the risk. We've spent a ton of time with the iOS 8.1.2 update on a number of devices over the past month or so and today, we want to relay feedback for several different devices.
iOS 8.1.2 Review: How It's Holding Up
Before we get into our latest review of iOS 8.1.2, it's important to note that mileage is going to vary from device to device, user to user. We probably don't have the same apps on board and we may use our devices a little bit differently. So consider these short reviews general guides and general feedback about Apple's current iOS update. We encourage you to seek out more feedback from other sites and other iPhone and iPad users.
iPhone 6
For three weeks, the iOS 8.1.2 update was running flawlessly on several of our iPhone 6 models. A few days ago, we once again started noticing an issue that popped up immediately after the iPhone 6 release back in September. Yes, the landscape issues are back. On multiple devices.
We've outlined this problem numerous times in the past and it's an issue that's affected many iPhone 6 and iPhone 6 Plus users around the world. It's also a problem that seems to go away in the days, and weeks, after an iOS release only to return with a vengeance a few weeks later. It's extremely annoying, especially because it occurs when using core apps like Google Hangouts and Messages.
Other than those landscape issues, the iOS 8.1.2 update is performing quite well on the iPhone 6. Battery life is solid, so is connectivity. Our most recent review of iOS 8.1.2 will fill you iPhone 6 users in on all of the details but just know that this update is extremely solid minus the landscape problems that Apple can't seem to fix.
iPhone 6 Plus
Oddly enough, we aren't seeing the landscape issues on the iPhone 6 Plus. We say odd because the issues used to be far more prominent on the larger iPhone 6 model. We have seen an odd issue where the iPhone 6 Plus displays a notice about a non-compatible device being plugged in and we suspect that it might be a Lightning port problem. It's isolated and sporadic.
Over the past month or so, the iOS 8.1.2 update has performed admirably on the larger iPhone 6 Plus. Battery life remains very stable. So do connectivity, app experience. The iPhone 6 Plus is also extremely fast. We haven't noticed any major bugs on any of our iPhone 6 Plus models and as we noted, there's really only one weird bug that we've run into.
Keep in mind, while we've done a ton of digging, smaller bugs are often isolated and hard to find. So while we may not be experiencing any issues, it doesn't mean that iOS 8.1.2 is bug free. It just means that the software is extremely stable on our iPhone 6 Plus variants.
iPhone 5s
The iOS 8 update was the iPhone 5s' first major update and thus, an extremely important one for users who have bought into Apple's former flagship. With another year or so to go before coming off contract, stability is vital.
So far, so good. The iPhone 5s is still fast. It still is in possession of fantastic battery life. We haven't run into any Wi-Fi, LTE or Bluetooth problems. And we haven't discovered any killer bugs. That's precisely what you want from an incremental bug fix update like iOS 8.1.2. It's extremely solid.
iPhone 5
iOS 8.1.2 hasn't killed the iPhone 5's battery life. It hasn't introduced any debilitating bugs. It hasn't disrupted connectivity. It hasn't broken down the app experience on the now two year old smartphone. And yet, it's a difficult update to recommend.
We're still running into speed issues with iOS 8.1.2 a month into its life. The interface is still clunky and slow and transitions and animations simply haven't delivered the speeds we grew accustomed to after iOS 8.0's arrival and more importantly, with iOS 7.1.2 on board. The drop in performance isn't too surprising given the device's age but it's disappointing nonetheless.
This makes the iOS 8.1.2 iPhone 5 update the toughest sell of them all. There's no telling how the update will affect your device. It's possible that it will have a positive effect but it's also possible that it will deliver the same speed issues that we've been seeing since iOS 8.1's arrival. At this point, you're probably better off waiting. Read our full review for more.
iPad Air
Not much to say here. The iOS 8.1.2 update's performance on the iPad Air (first-gen) has been excellent across the board. If you're having problems on iOS 8.1.1 or below, you'd be wise to make the move. It's an extremely stable update and we have yet to detect any major issues. If you need more information, take a look at our full review.
iPad mini 2
Same goes for the iPad mini 2. iOS 8.1.2 is holding up nicely a month into its life and it's an update that we recommend to those dealing with iOS 8 problems. If you're still sitting on iOS 7, now might be the time to make your move.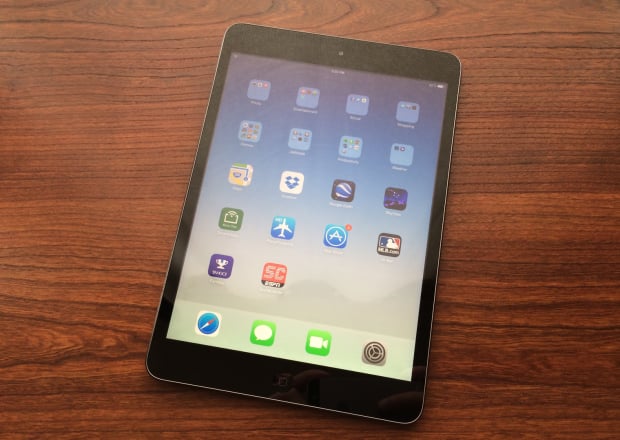 This is a very stable update and iOS 8 delivers a number of improvements for the iPad. For more information, you can check out our full review.
iPad 3
We've also been using the iOS 8.1.2 update on the iPad 3. And it, like the iPad mini and iPad Air iOs 8.1.2 updates, has been nothing short of stellar. Battery life, connectivity, speed, everything. iOS 8.1.2 is treating the iPad 3 very well. Well, at least our iPad 3. Again, it's an update that isn't necessary but it's one that we recommend if you're dealing with issues.
iOS 8.1.2: What You Need to Know
At this point, the iPhone 5's update is the only one that we can't recommend outright. The software is performing well on all of our other iPhones and iPads, at least for the moment. A few things to keep in mind:
You do not need to install the update. In fact, it's probably only worth it to those of you that are experiencing issues on iOS 8.1.1 and below.
iOS 8.2 is on the way. It should arrive in a few weeks. If you're unsure about iOS 8.1.2, you can consider waiting.
iOS 8.1.3 could arrive sometime soon as well. Same deal. If you don't need to make a move, wait for a larger update and perhaps more important update to arrive.
Finally, you always are going to assume some risk when you download and install an iOS update. It's a fact of life. While iOS 8.1.2 is mostly stable for us, there are definitely people having iOS 8.1.2 problems.

As an Amazon Associate I earn from qualifying purchases.