iOS 8.1 Could Kill Emulators for Good
Apple's iOS 8.1 operating system could kill off a large segment of the iPhone and iPad gaming community for good. Early testing of iOS 8.1 indicates that Apple has plans to close a crucial loophole that allowed iPhone and iPad users to install classic GameBoy emulators for games like Pokemon and Mario.
Dario Sepulveda posted about coming changes in the iOS 8.1 update in earlier today. In that post, entitled, "Apple is Slowly Killing Everything We Love," says that testing on the iOS 8.1 beta that Apple began offering to developers earlier this month makes it harder for users to download game emulators like his own GBA4iOS.
"It was reported to me almost immediately by a source that the date trick wasn't helping at all in installing GBA4iOS 2.0." The Date Trick, as Sepulveda calls it, is a way of updating and distributing gaming emulators. Apple effectively tried to kill off emulators in the iTunes App Store already – mostly due to concerns on emulator makers supporting piracy and not necessarily seeking permission from copyright holders before making their games and technology available to iPhone owners.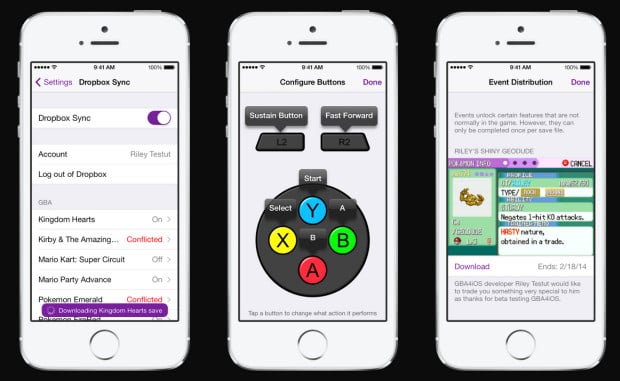 The Date Trick allowed iPhone owners to skate around this issue by changing their system date to a day in the past. In doing so, iOS let the emulators install. Without the Date Trick Sepulveda argues that the future of emulators on iPhones and iPads is bleak.
For the most part, emulators are a byproduct of the advanced smartphone. With an emulator iPhones, Windows Phones and devices running Android can be loaded with games that were never intended to run on them. GBA4iOS is one of the most popular ones available in Apple's iPhone and iPad ecosystem. Getting GBA4iOS running on your iPhone is a step towards playing classic games you love that were made for handheld consoles like the GameBoy, GameBoy Advance and even Sony's first PlayStation. They're important because these video game consoles have been out of production for a very long time. For example, the only way to play the original Pokemon Blue for the GameBoy color now would be to search on Ebay for a working copy of the game console to play it on.
Nintendo and other game publishers have worked to stamp out the emulator community for years. While many users simply load up games they already own, accusations that emulators encourage piracy of classic games have flown around for ages. It's one reason why Apple, Google and Microsoft have been so careful with the community that supports them. Apple practically has a zero-tolerance policy for emulators. The Google Play Store and Windows Stores allow emulators, but presumably, those available are in constant threat of being removed should either Microsoft or Google ever receive a take-down notice from a copyright holder.
Sepulveda originally tested iOS 8.1 beta 1 to see if the Date Trick would work. Since then he's tested the latest publicly available build of the operating system iOS 8.1 beta 2. He also confirms that the Date Trick doesn't work inside it either. Only Apple truly knows whether the final version of the iOS 8.1 update will kill off the iOS emulator community for good.
Read: iOS 8.1 Release: 5 things Users Need to Know
So far, the most communion theory is that iOS 8.1 will arrive on the iPhone and iPad when Apple launches Apple Pay. That's the wireless payment system that it revealed alongside the iPhone 6 and iPhone 6 Plus. Apple and many of its partners have already confirmed Apple Pay will arrive sometime this month.
Users who wish to keep their emulators running when iOS 8.1 arrives are better off not updating to the operating system. That means staying on iOS 8.0.2 until there's a work around or a jailbreak in place that allows users download iPhone and iPad apps outside the iTunes App Store.