iOS 8.1 on iPad mini 2: Is It Worth Installing Now?
Several weeks ago, Apple pushed out its second major iOS 8 update dubbed iOS 8.1. iOS 8.1 delivers new features and bug fixes to iPhone and iPad users though it's not without its faults. After using iOS 8.1 for more than two weeks, we want to take another look at how the update is performing on the iPad and offer a clear cut answer to the all important question: Is iOS 8.1 worth installing on the iPad mini 2?
Earlier this year, Apple released its iOS 8.1 update into the beta program. For several weeks Apple, and its developer partners, poked and prodded the update ahead of its highly anticipated public release date. In mid-October, Apple took the stage to announce several new products and there, it confirmed an October release for the iOS 8.1 upgrade for iPhone, iPad and iPod touch.
Several weeks ago, Apple's iOS 8.1 update rolled out to iPhone, iPad and iPod touch users all over the globe and, as we've noted in our reviews, the updates tackled some of the annoying problems that emerged last month with Apple's iOS 8.0 update. And while iOS 8.1 did squash some bugs, it appears that it failed to eradicate them all.
We've received feedback from many iPhone and iPad users, many of whom are dealing with assorted iOS 8.1 problems. We've also heard from iPhone and iPad users who, after hearing about these issues, are still on the fence about downloading and installing the iOS 8.1 update. If that sounds like you, we don't blame you. In fact, if you waited, you probably did the right thing
iOS problems tend to show up, or dissipate, in the weeks after the initial release and now that we're at the two week mark, we feel like we have a pretty good gauge on iOS 8.1's performance across most of Apple's iOS 8 devices including several former flagships.
Today, we want to revisit the iOS 8.1 update on the iPad mini 2, Apple's 7.9-inch model from last year, and give a definitive response to those iPad mini 2 users still on the fence about a move from iOS 8.0.2 and below. Here's a look at how iOS 8.1 is performing on the aging iPad mini 2 after two weeks.
iOS 8.1 Review on iPad mini 2: Two Weeks Later
Over the past two weeks, I've spent a ton of time with iOS 8.1 on iPad mini 2. Before getting into this updated review, I should note that mileage is going to vary from device to device, person to person. That is to say, I probably don't have the same apps installed and there's a chance that I use Google Chrome, games, or my home screen more than you do. So consider this updated iOS 8.1 review a general guide as you try to decide whether iOS 8.1 is worth installing on your iPad mini 2.
iOS 8.1 Performance
When it comes to the performance of iOS updates, I like to focus on five different elements. They include performance of applications, battery life, connectivity including Wi-Fi and Bluetooth, assorted bugs and issues, and overall speed.
iOS 8.1 Apps
I've been using iOS 8.1 on the iPad mini 2 for a couple of weeks now and my experience has been similar to the experience that I'm having on the iPad Air. That is to say that I haven't experienced any long term issues with third-party applications and all of them have been performing quite well after making the move from iOS 8.0.2.
Literally every single key application that I use, Netflix, Chrome, and various games, has been performing well with iOS 8.1 on board. I should note that Instagram, Facebook, Twitter, YouTube, Google Hangouts, Spotify, Soundcloud, Google Maps, The Weather Channel, and Dark Sky are all working fine as well. I ran into one hiccup with Netflix one night where it wouldn't load but the problem has since dissipated.
As I've noted, I experience a number of problems with apps inside iOS 7 and the stability of iOS 8 is a bit surprising and certainly refreshing. There was a point in time in iOS 7 where my girlfriend couldn't use the Pinterest application for more than a minute without it crashing. She hasn't seen a single crash with iOS 8 on board.
Now, I understand that I don't speak for everyone that owns an iPad mini. What I mean by that is, I know that there are some iPad mini users dealing with app issues with iOS 8. If you are dealing with app problems inside iOS 8, my advice to you is to update your apps to the latest version. You'd be surprised how many problems get solved just by updating your applications. It has worked for me in the past.
iOS 8.1 Battery Life
After two weeks with iOS 8.1 on board, I haven't seen any drastic changes emerge. The iPad mini 2 battery life with iOS 8.1 on board is about the same as it was on iOS 8.0.2, iOS 8.0 and iOS 7.1.2. That is to say that I can get a full day of use out of it when switching between Wi-Fi and LTE with Wi-Fi being the primary connection. Extended LTE use has the tendency to wreck havoc on battery life.
This high quality battery life has come in handy on recent trips where my girlfriend and I were heavily dependent on the iPad during travel. The device held a charge quite well and its standby charge held steady as well. I'm not seeing any massive changes here.
As I've noted many times before, iOS updates are not supposed to bring battery life problems to iPhones or iPads. Typically, bad battery life is caused by third-party apps or users themselves. We've outlined a number of strategies to get better battery life inside iOS 8 and the same advice applies to Apple's latest iOS 8.1 update. Try them before you take your iPad mini  2 down to a Genius Bar or complain on social media.
iOS 8.1 Connectivity
We own the AT&T LTE + Wi-Fi version of the iPad mini 2. In the past two weeks, we've continued to get high quality connectivity out of the tablet. Wi-Fi is still fast and effective, the device is able to quickly and efficiently connect to Bluetooth speakers, and AT&T's LTE network is fast and reliable when we don't have a solid Wi-Fi connection.
I've experienced some iOS 8.1 Wi-Fi issues on my iPhone 6 but for whatever reason, my iPad mini 2 and iPad Air have been able to avoid them. At least for the time being.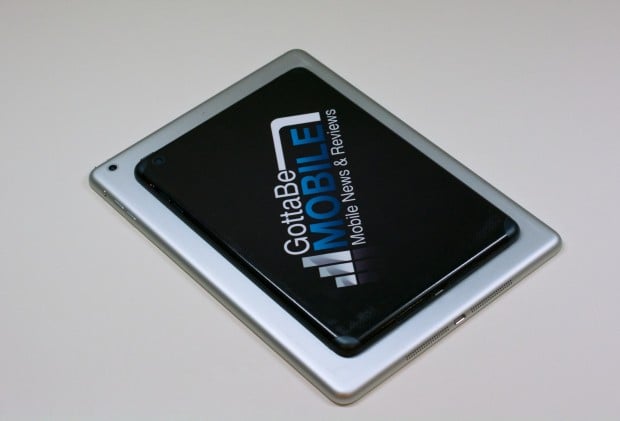 Our potential iOS 8.1 Wi-Fi fixes seem to have helped iPhone and iPad users in need though there's always a chance they won't permanently fix things. Wi-Fi issues have been problematic in iOS for a long time and unfortunately us iPad users are never in the clear. My hope is that the experience I'm having right now inside iOS 8.1 is the experience I'm having months, even years, down the road.
iOS 8.1 Bugs
I'm still haven't a very stable iOS 8.1 experience on the iPad mini 2. That is to say that I haven't run into any bugs or issues that have destroyed the overall performance of the software. My iPad mini 2 doesn't get stuck in landscape mode, messages send out when they're supposed to and I haven't seen my keyboard disappear. All of those are issues on the iPhone.
Of course, iOS-related bugs have a habit of laying dormant and then exposing themselves when you least expect it. So, while I'm clear of bugs right now, there's always a chance that something will emerge in the weeks and months after the iOS 8.1 release for the iPad. If you do run into issues, take a look at our iOS 8.1 bug fix list.
iOS 8.1 Speed
The speed of iOS has remained consistent during my year with the iPad mini 2. iOS 7 was very fast and iOS 8.0, iOS 8.0.2 and iOS 8.1 have all been very fast and fluid as well. It's not surprising. Apple loaded up its iPads with high quality hardware that's built to last. Just look at the iPad 2, a device that's now four years old and running iOS 8.
In iOS 8.1, folders open up without jagged animations and I haven't seen any abnormal slowdown in my many hours with the software. My hope is that this performance continues.
iOS 8.1 on iPad mini 2: Is It Worth Installing Now?
Sure is. In addition to the iOS 8.1 update's bug fixes, you'll also get Continuity features and new features for photos including Camera Roll. All of these things are a plus to those of you on iOS 8.0.2 and below. It also helps that I haven't noticed any kind of performance drop after installing it. For the moment, it's working out fine.
If you're at all concerned, you can simply hold out for iOS 8.1.1. Apple's next iOS 8 update is currently in the beta process and it looks like it will aim to tackle some of the remaining problems found in iOS 8.

This article may contain affiliate links. Click here for more details.