iOS 8.1: 5 Things iPhone 5s Users Need to Know
Earlier this month, Apple released its second major iOS 8 update in the form of iOS 8.1. iOS 8.1 brings new features and bug fixes to iPhone users including owners of the iPhone 5s. With iOS 8.1 moving into its second week of existence, we want to take a look at the five most important things iPhone 5s users need to know about their iOS 8.1 update.
Earlier this year, Apple released the iOS 8.1 update into the beta program. For several weeks Apple, and its developer partners, poked and prodded the update ahead of its public release date. In mid-October, Apple took the stage to announce several new products and there, it confirmed an October release for the highly anticipated iOS 8.1 upgrade for iPhone and iPad.
Just over a week ago, Apple released the iOS 8.1 update to iPhone, iPad and iPod touch users all over the globe. As we've noted in our reviews, the iOS 8.1 update seems to have tackled some of the annoying problems that emerged last month in iOS 8.0 on the iPhone and iPad. However, as is the case with all iOS updates, the iOS 8.1 update failed to squash all the bugs lurking inside Apple's brand new iOS update. These issues have left some iPhone users wavering.
iPhone users, particularly owners of last year's iPhone 5s have been speaking up in the days since iOS 8.1′s release and many users are still struggling with a decision about whether to upgrade. We don't blame them. The iPhone 5s experience on iOS 8.0.2 and below has been pretty solid in all areas including battery life, speed, and connectivity. No one wants to ruin a good thing.
With that in mind, we want to take a look at the most important things that iPhone 5s users need to know about their iOS 8.1 update, an update is small in size but one that has a ton of potential.
iOS 8.1 on iPhone 5s Stable, For Now
While we've run into some iOS 8.1 issues on the iPhone 6 Plus, the iPhone 6 and the iPhone 5, we haven't run into as many issues on last year's flagship. The iPhone 5s appears to be less buggy than its three counterparts and we've yet to run into any debilitating bugs or problems that have wrecked iOS 8.1's experience on the iPhone 5s.
It's strange, we usually expect to run into a few noticeable bugs, but there's really no reason to complain at this point. Of course, bugs have a habit of emerging in the weeks after a release which means that while our iPhone 5s is doing fine now, there's a potential for trouble in the future. You're never really in the clear when it comes to iOS problems.
At this point though, the lack of noticeable issues is a good sign for iOS 8.1 and for the iPhone 5s' future. It also means that the update is probably going to be worth the install for many of you, especially those of you struggling on iOS 8.0.2 and below. To get a feel for the iOS 8.1 on iPhone 5s update, take a look at our full impressions.
Strong iOS 8.1 Performance
As for performance in key areas like Wi-Fi, battery life, Bluetooth, and overall speed of the operating system, our iPhone 5s has passed with flying colors. Wi-Fi connectivity is still very strong inside iOS 8.1 as is 4G LTE. Bluetooth, which was problematic in iOS 8.0.2 and iOS 8, seems to be far more stable with iOS 8.1 on board.
Battery life is about where it was prior to the iOS 8.1 update (all day with a mixture of Wi-Fi and LTE), that's a good thing, and the overall speed of the software is still very fast and fluid. That is to say that we haven't encountered any abnormal slowdown. We also haven't noticed any random reboots, something that's plagued the iPhone 6 and iPhone 5.
Essentially, the iOS 8.1 update delivers iOS 7's performance with iOS 8′s new features. And you really can't ask for much more than that from Apple. In other words, those of you thinking about a move from an older piece of software shouldn't anticipate much of a difference between iOS 8.0.2 or iOS 7.1.2. iOS 8.1 is holding up quite nicely on the iPhone 5s.
iOS 8.1 Features for iPhone 5s
In our reviews, we've focused on performance and bugs. However, iPhone 5s users need to know that there are some new features that Apple's baked into iOS 8.1, features that will make it worth your while.
First of all, the company brought back Photo Roll. Photo Roll is one of our most used features on the iPhone and it's one that we desperately missed in iOS 8.0. It's back in iOS 8.1 and we couldn't be happier about it because it picks up right where it left off.
iOS 8.1 also adds iCloud Photo Library and the ability for iPhone users to send and receive SMS and MMS messages from the iPad and the Mac. That last feature is absolutely huge for those of you that live in the Apple ecosystem. Apple Pay doesn't work with the iPhone 5s though iPhone 5s users will be able to take advantage once the Apple Watch comes along.
You Do Not Need to Install iOS 8.1 Right Now
We feel the need to remind you iPhone 5s users that you simply do not need to install iOS 8.1 right now. In fact, some of you probably shouldn't install iOS 8.1 right now. iOS 8.1 for iPhone 5s isn't going anywhere any time soon and that means that there's really no reason to rush into things. Especially those of you who are still enjoying yourself on iOS 7.1.2 and below.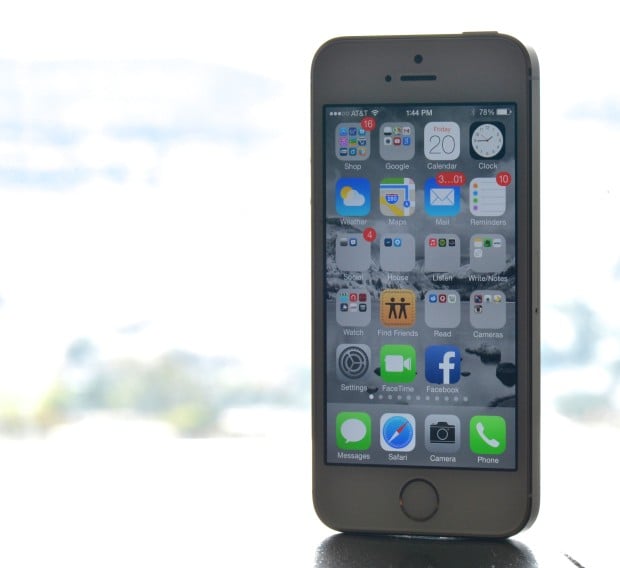 Remember, there is also no way to downgrade from iOS 8 to iOS 7 or below so you'll need to think about that before jumping in with the update. If you're already on iOS 8, then there's really no reason to skip this update. Not only does it come with bug fixes it comes with the aforementioned features for Camera and Continuity.
iOS 8.1.1 and iOS 8.1 Fixes
Finally, if you've already updated to iOS 8.1, you should know that the iOS 8.1.1 update for iPhone 5s is still in the shadows. iOS 8.1.1 is presumably going to be the first update to fix iOS 8.1 problems though it remains unannounced at this point. We haven't even seen a pick up in our analytics, something that typically happens as Apple ramps up testing ahead of a release.
So what does this mean for iPhone 5s iOS 8.1 users? It means that if you've made the move to iOS 8.1 and you start to experience iOS 8.1 problems, you are going to need to rely on temporary fixes. Our fixes for common iOS 8.1 problems should help at least some of you overcome the difficulties you're having with iOS 8.1 after download.
For those of you that haven't already moved to iOS 8, well, then you're going to absolutely have to do your research before you make your move. For many of you, iOS 8.1 will be worth the upgrade. Just remember, mileage is going to vary from device to device so a lot of the performance stuff is going to have to do with luck and how well you prepared for the move.

This article may contain affiliate links. Click here for more details.