iOS 8.1 Review: Everything You Need to Know
On Monday, Apple took the iOS 8.1 update for iPhone, iPod touch and iPad out of beta and released it to the public for the first time. The update's first week has been quite a whirlwind and today, we want to review all of the important things iPhone and iPad users need to know about Apple's first major iOS 8 update, iOS 8.1.
Back in September, just a few weeks after iOS 8.0 came out of the beta program, Apple released iOS 8.1 beta. Apple did not attach a public iOS 8.1 release date to the beta leaving consumers wondering when the update would arrive. iPhone and iPad users put great importance on iOS 8.1 release due to a number of iOS 8.0 issues and iOS 8.0.2 issues on board Apple's iOS 8 update.
Last week, Apple announced a public iOS 8.1 release date with a release set for October 20th. As promised, Apple released the iOS 8.1 update for the iPhone, iPad and iPod touch. The iOS 8.1 update is a sizable upgrade that comes packed with new features and fixes for those touting iOS 8 powered devices. It also appears to have some bugs of its own on board.
Over the past week, we've been poking and prodding Apple's new update in an effort to bring iPhone and iPad users feedback in the aftermath of its release. After spending a ton of time with Apple's iOS 8.1 update, we've come up with a number of pertinent details that we think every iPhone and iPad user should know about after iOS 8.1's first week.
This iOS 8.1 review will go over iOS 8.1 problems, iOS 8.1 fixes, and our iOS 8.1 impressions. It will help bring you up to speed just in case you've been lagging or if you're still trying decide on the update.
iOS 8.1 Impressions
For five days, we've been putting iOS 8.1 through its paces in an attempt to get a read on its overall performance. We've taken a look at the performance on the iPhone 6, iPhone 6, iPhone 5s, iPhone 5, iPad Air, iPad mini 2, and iPad 3 and we've also provided some feedback in regard to the iPhone 4s iOS 8.1 update and iPad 2 iOS 8.1 update.
After a week, we've come away pretty impressed by the iOS 8.1 update. Our experience across devices has, for the most part, been solid with the only hiccups emerging on the iPhone 5 and the iPad Air.
iOS 8.1's performance, particularly on the iPhone 6 and iPhone 6 Plus, has been stellar and we've come to the conclusion that iOS 8.1 is the update Apple should have released alongside the iPhone 6 back in September. It's that good. Those of you that need guidance would be wise to check out our detailed iOS 8.1 impressions.
Of course, we're a tiny sample. There are millions of iOS 8.1 users out there and unfortunately, many of those users are having terrible experiences inside Apple's latest update.
iOS 8.1 Problems
iOS updates, even big bug fixers like iOS 8.1, typically aren't immune from bugs of their own. Lo and behold, iPhone and iPad users have been complaining about an assortment of iOS 8.1 issues over the past five days.
Numerous iPhone and iPad users are complaining about installation issues that have prevented them from getting the iOS 8.1 update installed on their iPhone or iPad. These issues are different than the server issues that we encountered in the minutes after the iOS 8.1 release earlier this week. iPhone and iPad users say that their installations have stopped abruptly during the process. Fortunately, there is a fix for these issues, one that we relayed shortly after its arrival.
iPhone 5s users are reporting random reboots after iOS 8.1. An iPhone 5 user told us that his iMessages stopped sending immediately after installing the iOS 8.1 update. We're also hearing about Wi-Fi issues including Wi-Fi speeds seemingly being throttled on the iPhone 5s and iPhone 6 and erratic connection speeds.
iOS 8.1 users also say that they aren't able to move their mail into the trash, assorted Apple Pay problems, Bluetooth issues, AirDrop issues, problems with iOS 8.1′s hotspot feature, random stability issues in Safari, Bluetooth issues in the car, issues opening files in Mail, Spotlight suggestion problems, and a whole lot more. These are just the tip of the iceberg. Apple's discussion forums have been flooded with complaints about Apple's new update.
Fortunately, none of these issues appear to be widespread. That is to say that they don't seem to be affecting millions of iOS 8.1 users. Many of them appear to be affecting a select few. Select few or not, there are iOS 8.1 problems though with an iOS 8.1.1 update still out of the picture, iPhone and iPad users dealing with problems need to rely on unofficial fixes.
iOS 8.1 Fixes
We haven't been experiencing many iOS 8.1 problems ourselves but that doesn't mean that we don't have advice for those of you struggling on Apple's latest iOS 8 update. In fact, we have a laundry list of potential fixes for the most common iOS 8.1 problems. These fixes include remedies for Wi-Fi problems, issues with battery or cellular data, even problems with AirDrop.
Now, bear in mind, these fixes aren't going to work for everyone. Many of these have worked for us, and others, in the past though there is never any guarantee when it comes to non-Apple bug fixes. If none of these fixes work for you, you'll either want to hold out for the inevitable iOS 8.1.1 update, take the device into an Apple Store to get diagnosed or perform a factory reset.
Apple Pay
Apple Pay, maybe the biggest feature on board the iOS 8.1 update, allows iPhone 6 and iPhone 6 users to buy goods and services simply by hovering the device over a terminal and using Touch ID. The feature allows users to link multiple credit cards to the phone and so far, we've had nothing but good experiences with Apple's brand new payment program. That doesn't mean that everyone has though.
Apple Pay problems continue to plague iPhone 6 and iPhone 6 Plus users though companies are working hard to alleviate these initial bumps in the road. In fact, Apple is also working on one of Apple Pay's biggest problems, a lack of support from smaller banks.
While NFC and mobile payments are nothing new, they are new for Apple and its extensive customer base. And as the year goes on, support for Apple Pay is will start to grow as companies get their ducks in a row and partner up with Apple. Look for Apple Pay to be massive by the time Apple's Watch comes out in early 2015.
iOS 8 Jailbreak
An iOS 8 jailbreak is now available though it comes with some caveats. First, it's aimed at developers and not the general public. Second, it comes without Cydia, the iOS jailbreak's ever so important unofficial app store. Fortunately, Saurik (the active developer for Cydia), says that he's working on it and a release should arrive at some point down the road.
It also looks like the jailbreak is only compatible with Windows rather than OS X though an OS X compatible jailbreak should arrive in the future. As we've noted, this is the same path that Pangu jailbreak developers took earlier this year with the jailbreak's release for Apple's iOS 7.1 update. It's nothing out of the ordinary.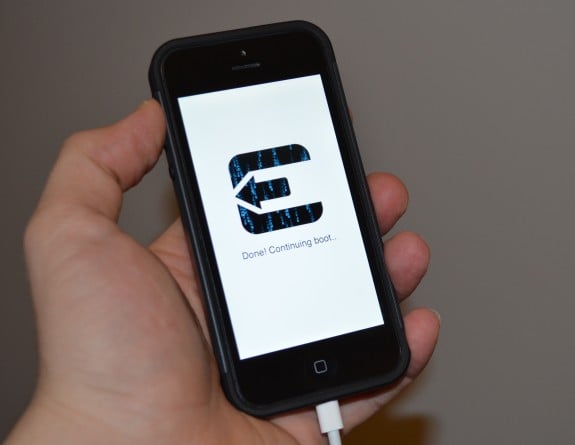 The good news is that this iOS 8 jailbreak will work with all devices that are capable of running iOS 8, including the iPhone 6, iPhone 6 Plus, iPad mini 3, and iPad Air 2, as well as older devices like the iPhone 5s and iPad Air. That's huge and means a large swath of iOS users can now dig in. We don't recommend installing until Cydia support arrives but the option is definitely there.
Should You Install iOS 8.1 Right Now?
This is the question that we attempted to answer with our initial iOS 8.1 impressions. Key words being "right now" a week after the iOS 8.1 release. After spending some quality time with the iOS 8.1 update, we've come up with a list of reasons why and why not to install the iOS 8.1 update right now. Those of you on the fence about the iOS 8.1 update should check those out before committing to Apple's latest and greatest.

This article may contain affiliate links. Click here for more details.